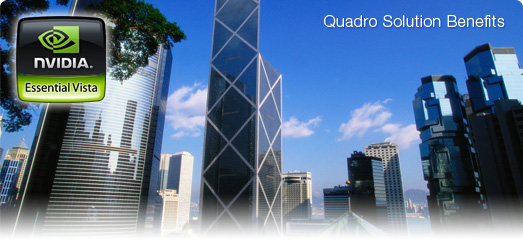 NVIDIA Quadro® graphics boards, the industry standard for performance and quality, are certified on all leading professional CAD, DCC, and visualization applications. Paired with NVIDIA nForce® Professional motherboards, NVIDIA professional solutions deliver optimized 32- and 64-bit application performance for the best Windows Vista experience.
Benefits of NVIDIA Quadro solutions:
Premium 3D User Experience

Drives the Windows Vista Aero user interface
Second processor for the PC dedicated to graphics, offloading the work from the CPU for better performance in multimedia-rich environments

Faster Application Performance

Directly accelerates Open GL and DirectX applications on Vista™
Faster desktop response time and efficient multi-tasking
Instant access to multiple open windows

Optimized for 64-bit Architecture

Native NVIDIA® OpenGL ICD drivers enable full benefits and performance of 64-bit Windows Vista™
Large frame buffer up to 1.5GB paired with 64-bit architecture enables interactive visualization of large datasets

Highest Image Quality

Up to 32x FSAA for highly realistic scenes
Maximum visual real-estate
Support for multiple monitors

Certified on All Industry-leading Applications

Designed for current and next generation 64-bit applications
For a complete list of NVIDIA solutions for Windows Vista, please visit our
Solutions
page.