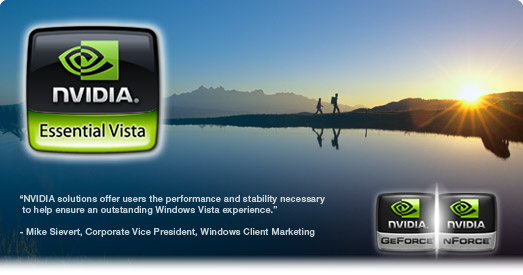 Windows Vista™ is the first Windows operating system that directly utilizes the power of a dedicated GPU (graphics processing unit).

NVIDIA® GeForce® GPUs are essential for accelerating the Windows Vista experience by offering an enriched 3D user interface, increased productivity, vibrant photos, smooth, high-definition videos, and realistic games.

To fully experience Windows Vista, Microsoft® and other industry experts recommend using a PC that is 10 times* more powerful than those required by previous generations of Windows. NVIDIA nForce®-based PCs and workstations deliver uncompromising performance, quality and reliability to fully drive the Windows Vista OS.

In addition, NVIDIA now powers Preface™, the premiere Sideshow Gadget platform for Windows Vista, which gives users the freedom to access information from their PC away from their screen and keyboard.

NVIDIA solutions, world renowned for innovation, stability, and award-winning performance, are the choice of reviewers, professionals and consumers worldwide and are essential ingredients for a great Windows Vista experience.



Get all the latest Windows Vista news on our community page here, or, to receive periodic newsletters regarding NVIDIA's Windows Vista programs and deployment, please subscribe to our email list.



Windows and Windows Vista are either registered trademarks or trademarks of Microsoft Corporation in the United States and/or other countries.