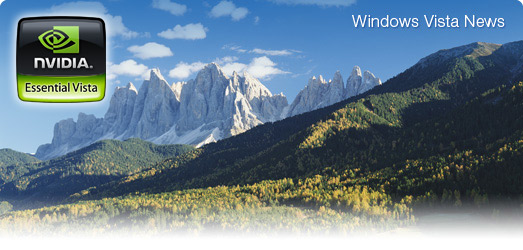 Can your PC handle Windows Vista?
"If you have a computer with the weaker specs, Vista will still give you enhanced security and built-in desktop search. But you won't get the dramatic new graphical look and feel ..."
Walter Mossberg - Wall Street Journal's tech columnist
READ MORE
Half of corporate PCs can't run Vista
"If you want to get Windows Vista when it comes out, you probably should be thinking about new hardware."
-Gartner
READ MORE
Want Windows Vista Beta 2? Better Boost Your Graphics.
"...I'm talking about the necessity for a decent graphics card, without which Vista simply won't run its vaunted new Aero user interface. … you'll need much better graphics performance than you may have on your current machine, to run four out of the five versions of Vista that Microsoft is planning."
Alexander Wolfe - TechSearch
READ MORE
What Is a 'Vista Capable' PC?
"Bottom Line: Spend an extra $100 or so for a decent graphics card, and you won't be sorry. Sure, an integrated-graphics system will be capable of running Vista--in much the same way that I'm "capable" of hitting a single off Randy Johnson."
Steve Bass - PC World
READ MORE
All hail the Graphics Processing Unit
"DirectX 10 will be able to do significantly improved performance because of that backwards compatibility break, so we're anticipating a 6x performance increase with DirectX 10, even 2x performance increase would be pretty good I think."
Chris Donahue, Group Manager - Windows Gaming and Graphics.
WATCH THE INTERVIEW
The beauty is in the visuals – not your grandma's graphics
Take a look at some screenshots from Paul Thurrott's "SuperSite for Windows", and see what the user interface will look like on an NVIDIA GPU.
CLICK HERE
NVIDIA GPUs = The Real Deal
"If you've got a DirectX 9 graphics card with 128MB of RAM or more, you'll be able to enable the "Aero Glass" desktop in Vista. This is the real Vista desktop..."
READ MORE
You snooze you lose – tap into the full power of Windows Vista with an NVIDIA GPU
"On the PC side, Microsoft will also be pitching computer makers to qualify machines not just for a basic Windows Vista label, but for a special Vista Premium logo that will go only on machines that can take full advantage of Vista's high-end graphics capabilities."
READ MORE

Windows Vista: How Your Motherboard Makes a Difference
NVIDIA's Drew Henry and George Meyers introduce NVIDIA nForce-based motherboards, the stable, reliable, high-performance foundation for Windows Vista Capable PCs. Get the details on how the combination of NVIDIA nForce-based motherboards and NVIDIA GeForce GPUs are essential ingredients for a great Windows Vista experience.
(8.5 MB)


Inside Windows Vista Beta 2: Features, Drivers, and FAQs
NVIDIA's Andrew Fear and Lew Wagman discuss Windows Vista Beta 2, covering the latest features like Flip 3D and Windows Aero. In addition, NVIDIA answers frequently asked questions regarding NVIDIA GPUs and Windows Vista.
(7.73 MB)
Are you ready for Windows Vista?
NVIDIA Software Product Manager, Andrew Fear, introduces you to NVIDIA's software and hardware solutions, making sure you are ready for Microsoft's Windows Vista.
(10.7 MB)
PC gaming to hit new high with Windows Vista
NVIDIA sits down with top game developers at the 2006 Game Developers Conference to discuss the latest PC games, Windows Vista, and NVIDIA GPUs.
(7.3 MB)
NVIDIA unveils extreme high-definition gaming
General Manager of NVIDIA GeForce GPUs, Ujesh Desai, introduces you to the NVIDIA GeForce 7900 GTX, GeForce 7900 GT, and GeForce 7600 GT bringing extreme high-definition gaming to multiple market segments.
(6.45 MB)