The Integrated Graphics to Video Solution for Broadcast, Video and Film Production Professionals



NVIDIA Quadro® SDI, option card is the ideal solution for digital broadcast professionals, who use various applications such as virtual-sets, sports, and weather news systems to composite live video footage onto virtual backgrounds and send the result to live video for TV broadcast. NVIDIA Quadro SDI solutions also allow film production, post-production, and finishing professionals to preview the results of 3D compositing, editing, and color grading in real time on high definition (HD) broadcast monitors. This graphics-to-video-out solution delivers uncompressed 8-, 10-, or 12-bit SDI from programmable graphics, enabling a direct connection to broadcast monitors, switchers, tape decks, or SDI projectors.
Available Solutions: Quadro FX 5800, 5600, 4800, and 4600
Quadro FX 5800 SDI
Quadro FX 5600 SDI
Quadro FX 4800 SDI
Quadro FX 4600 SDI
Memory Size
4GB
1.5GB
1.5GB
768MB
Memory Interface
512-bit
384-bit
384-bit
384-bit
Graphics Memory Bandwidth
102 GB/sec.
76.8 GB/sec.
76.8 GB/sec.
76.8 GB/sec.
Graphics Bus
PCI Express x16
PCI Express x16
PCI Express x16
PCI Express x16
The Quadro SDI solutions provide two channels—fill or key—of 8-, 10-, or 12-bit uncompressed SDI in 2K, HD, or SD formats, and analog and digital house synchronization. It supports both Microsoft® Windows® and Linux, and works on top of existing applications, or can be easily integrated within a broadcast or video editing application through the NVIDIA API.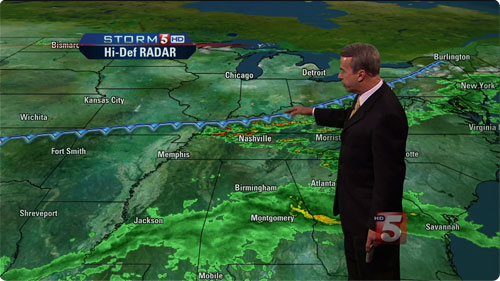 Image courtesy of WTVF station and WSI Corporation.