Essential for the Ultimate HD Movie Experience
Blu-ray and HD DVD movies are bringing a new level of movie-viewing experience, with high-definition image quality far surpassing standard-definition DVDs. To deliver the ultimate HD movie experience when playing Blu-ray and HD-DVD, NVIDIA developed PureVideo™ HD technology, available with NVIDIA® GeForce® Series 7 and 8 GPUs.
PureVideo HD technology features hardware acceleration, integration with leading movie players, and is designed to meet the HDCP specification for output protection management and security specifications of Blu-ray and HD DVD movie formats. NVIDIA PureVideo HD technology delivers superb picture quality for all video formats, as well as stunning HD DVD and Blu-ray movies—with low CPU utilization and power consumption.
It is the essential ingredient for the ultimate high definition movie and video experience on a PC.
Revolutionary New Video Processing Architecture
NVIDIA GeForce 8400, 8500, and 8600 GPUs for Desktop and GeForce 8400M and 8600M for Notebooks, incorporate a revolutionary new video processing architecture, making them the world's first GPU video processors to offload 100% of Blu-ray and HD DVD H.264 video decoding from the CPU.** This added processing power gives PureVideo HD technology the ability to support more complex features as they are added to Blu-ray and HD DVD movies, including "picture-in-picture" movies, interactive games and menus, and higher bit-rate / higher quality movie pictures.
**Currently supported in Windows Vista only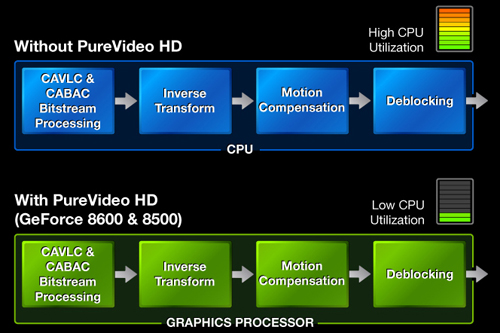 Low CPU Utilization and Power Consumption
PureVideo HD technology offloads the CPU and 3D engine of the complex video decoding tasks, allowing the user to run other applications while playing a high definition movie. Lower CPU utilization can result in reduced power consumption, heat and noise, and longer battery life.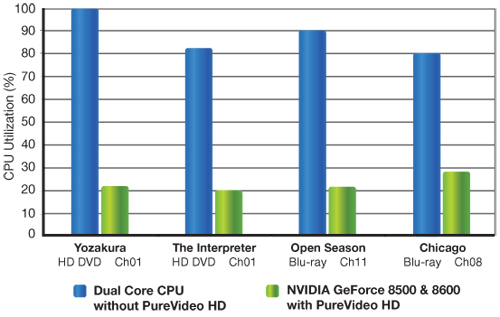 Superb Picture Quality
NVIDIA PureVideo HD technology delivers outstanding picture clarity, ultra-smooth video, vivid color, and precise image scaling for video and HD DVD and Blu-ray movies. PureVideo HD accelerates and enhances high-definition movies in H.264, VC-1, WMV, and MPEG-2 formats, delivering life-like images that have up to six times the detail of standard DVD movies. High definition post-processing features, including advanced de-interlacing, noise reduction, and edge enhancement, provide spectacular picture clarity at resolutions up to 1080p—the highest HD resolution available.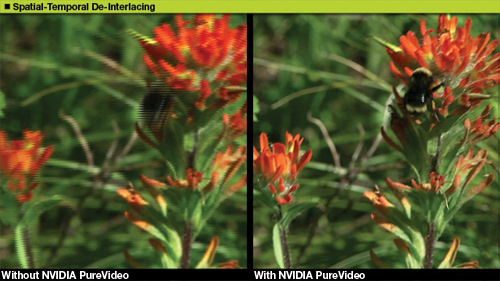 The Core of a Complete Blu-ray/HD DVD Solution
Featuring hardware acceleration, post-processing, HDCP circuitry, and integration with leading HD movie software players, PureVideo HD technology is a core ingredient for delivering a visually stunning movie viewing experience on a PC. NVIDIA is working closely with software developers, graphics cards manufacturers, and optical disk drive manufacturers, to help PC manufacturers build the ultimate PC for high-definition movie playback. Leading OEMs including Dell, HP, Toshiba and Acer have adopted NVIDIA GeForce GPUs with PureVideo HD technology to power their Blu-ray and HD DVD PCs.