nForce3 Go120
Enabling a New Generation
of Ultra-Portable Computers
Imagine a palm-sized ultra-portable computer (UPC) with the same functionality as your notebook or desktop PC: it runs Microsoft® Windows® XP and the same applications as your desktop, with the convenience of being able to carry it in your shirt pocket. The NVIDIA nForce3 Go120 brings together all the features required to deliver the power and functionality of a full-fledged PC into a convenient UPC. Support for a combination of industry standards as well as NVIDIA crafted technologies make this possible, including:
NVIDIA StreamThru technology for superior networking and broadband communications
Advanced storage technology providing for efficient storage of media and other data files
USB 2.0 support for a standard plug-and-play interface with external devices
Support for multi-channel audio
HyperTransport low-power memory interface maximizes application performance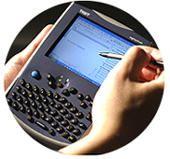 Industry Leading Low-Power Solution
In addition, the NVIDIA nForce3 Go120 MCP uses innovative power management technologies to maintain system performance and long battery life. A host of power-saving features, including NVIDIA's PowerMizer™ dynamic power modulation technology, enable the highest performance while maintaining system power budgets.
Enables NVIDIA GeForce Graphics Performance
The NVIDIA nForce3 Go120 is the industry's first MCP enabling high-performance AGP graphics on low-power UPCs, delivering true-to-life digital entertainment experiences and uncompromised performance through a number of architectural advances. The NVIDIA nForce3 Go120 MCP brings a new level of PC power to ultra-portable computing. When combined with an NVIDIA GeForce Go GPU, it delivers a fast, efficient, and robust digital media experience—without sacrificing features, affordability, compatibility, or future upgradeability. UPCs powered by the NVIDIA nForce3 Go120 deliver the capabilities of a desktop or notebook PC in the convenience of a handheld device.