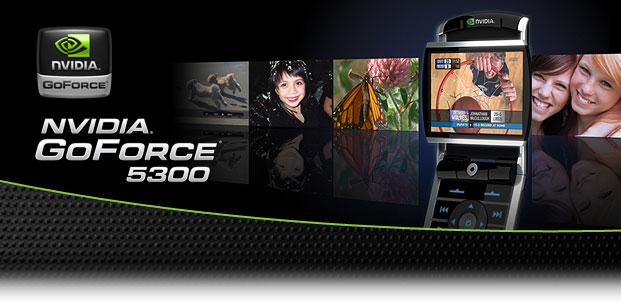 Delivering Exceptional Video Features to the Mainstream Mobile Market

With the NVIDIA® GoForce® 5300 GPU mobile phone users will have an indispensable multimedia and communications companion to:

enjoy highest resolution quality video encode and decode for sharing the fun on sites like YouTube
use their phone as a top-tier camcorder for those spontaneous moments, whenever and wherever they may be
cheer on their favorite sports team in live digital TV on-the-go
engage in real-time video conference with their family while traveling on the road

While the GoForce 5300 GPU naturally delivers on the NVIDIA legacy of uncompromised visual and audio quality, it is most celebrated for enabling high-end media features to the mainstream market. Now, in a single device, consumers will have the convenience of a mobile phone that also the ability to access playlists, watch or capture video, take impromptu photos, display content on a TV, and more - all with less drain on talk-time. Whether it be traveling out of town, while on vacation, or enjoying a night on the town – consumers will have an indispensable multimedia and communications companion they can use to share the moments, record the experience, and capture the memories.



Cost reduced high-tier level Video/Audio GPU

Audio/Video features derived from GoForce 5500

New level of multimedia experience to the mainstream audience with:

Highest resolution video recording quality for social networking (like YouTube service) on the mobile phone
Mobile Digital TV
Multi-standard Video Playback
H.264 Video Telephony
Rapid Multishot Digital Camera
Audio Playback with Crossfade for music and ringtones
TV-out

System design flexibility – available in several package options
Ultra-thin design – package height as low as 0.9 mm