Telling Better Stories with NVIDIA Professional Graphics Solutions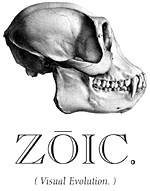 A storyteller has an idea—an idea for a mutant creature in an upcoming episode of a science-fiction series, or an idea about how the streets of Los Angeles will look in the year 2054. A director wants to bring these ideas to life on the screen, but some ideas cannot be captured by a live-action camera. The director depends on today's artists, using sophisticated digital techniques, to interpret the imagination of the storyteller onto film. By producing mind-blowing computer-generated (CG) results, the artists can bring the storyteller's original vision to life.
Zoic Studios is a rising star in the digital production business. Directors and writers count on Zoic to take their ideas and create award-winning results. In turn, the artists and software designers at Zoic count on NVIDIA Quadro® FX graphics to help them create a unique style that sets them apart from other digital production studios.

The Mission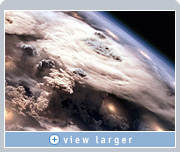 Photorealistic effects, enabled by NVIDIA graphics, are Zoic trademarks, as shown in this groundbreaking Battlestar Galactica shot seemingly filmed from outer space.

"Our mission is to apply art and technology for digital production—to use digital production to make storytelling more effective," explains Loni Peristere, chief executive officer at Zoic Studios. "To do that, we are pushing the evolution of visualization techniques, and NVIDIA Quadro technology is a great enabler."
Zoic has already won Emmy and Visual Effects Society (VES) awards for its work on the Firefly series. The studio has also contributed to well-known productions including Buffy the Vampire Slayer, Angel, and CSI Miami. For each production, Zoic has relied exclusively on NVIDIA professional graphics solutions.

The studio creates digital effects for high-impact episodic television shows whose production teams often require all-digital, very complex visualizations to complete a scene or sequence. Zoic uses NVIDIA Quadro FX technology to give its clients much more detail, much earlier in the film production process. With NVIDIA-powered visualizations of CG characters, scenes, and sets, production teams can quickly bring ideas alive. Zoic can also better flesh out a detailed storyboard up front, saving clients significant production dollars because of NVIDIA Quadro graphics.
"We are excited about our relationship with NVIDIA—NVIDIA professional graphics solutions are helping us grow efficiently and protect our investments in tools and solutions," says Peristere. "Our partnership with NVIDIA is also helping us expand into feature film and long-form animation, as well as evolve visualization techniques that can greatly enhance gaming. NVIDIA is helping us grow while maintaining our creative atmosphere and signature quality."
Zoic Uses NVIDIA Graphics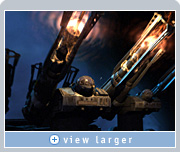 Zoic artists use NVIDIA professional graphics solutions to bring antispacecraft robots into the fight in Battlestar Galactica.

Zoic used NVIDIA graphics to create CG characters, scenes, and set extensions. The SciFi Channel's new
Battlestar Galactica
miniseries leverages Zoic's creativity and NVIDIA's technology to bring film-quality effects to television. The show employs a documentary camera style so viewers feel they are a part of the action and story. Made popular in movie footage like theNormandy beach landing in
Saving Private Ryan
, the documentary-style camera work requires careful planning. To set up the numerous, complex camera positions and moves required for each scene, Zoic created very detailed, large-scale, virtual models.
"NVIDIA Quadro FX graphics solutions let us load up a scene, with photorealistic quality, and go through the camera moves quickly," explains Emile Smith, visual effects supervisor at Zoic. "We can tune each shot during the preproduction phase, letting the director and camera crew preview shots for various camera positions. We can also show them how adjustments to lighting will affect the scene. Because of smart planning enabled by NVIDIA technology, we can pass along significant cost savings to our clients by speeding up camera setup and filming during production."
For Battlestar Galactica, Zoic used NVIDIA Quadro FX graphics to create set extensions that combine live action with CG backdrops and characters. Blending reality with fantasy requires many manual adjustments. Numerous points in the CG background or add-in elements must be matched to the correct position on the real set. When the camera moves, the background has to smoothly track in three dimensions with the foreground, maintaining realistic parallax views in order to fool the eye of the viewer.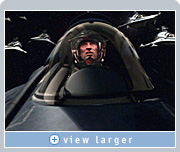 Zoic's attention to detail, like matching CG spaceships in the background to the reflections on this pilot's cockpit, creates a believable Battlestar Galactica shot.

As Smith says, "Some moving shots in Battlestar Galactica involved more than two-million polygons working in the background and an actual 100 by 100–foot set for the foreground. To match the foreground to the CG background, we go through many manual adjustments. NVIDIA's Quadro FX graphics accelerate these adjustment cycles considerably—great graphics performance keeps us on schedule and contributes to our reputation for achieving the impossible without slowing down production."
Produced by and aired on the SciFi Channel, Battlestar Galactica represents some of the best digital effects work being done in the broadcast industry. In one scene, viewers witness the Battlestar's flight deck going back for a half mile with numerous ships in motion—and live-action characters walking down stairs in the foreground. Talented artists, NVIDIA technology, and many other CG scenes like this made Battlestar Galactica the SciFi Channel's most viewed broadcast of 2003.
The Tools of the Trade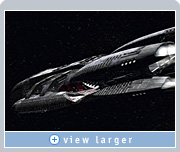 Zoic used NVIDIA Quadro FX graphics to create spaceships with detailed surfaces and realistic propulsion effects in Battlestar Galactica.

The Zoic creative team tested several graphics technologies before standardizing on NVIDIA Quadro FX solutions. As Peristere explains, "We conducted beta tests, speed tests, and quality tests. We noted which products dropped and did not drop frames—we took due diligence seriously. And during the entire evaluation cycle, NVIDIA Quadro graphics stood head and shoulders above competitive solutions. We started with NVIDIA graphics and are still on NVIDIA today because they let us set a scene and render the scene in real time in a photorealistic way. That's what it's all about."
Because the nature of their work involves pushing the limits of hardware and software, Zoic artists are excited about high-end solutions like the NVIDIA Quadro FX 3000, which meets the requirements of their latest projects. NVIDIA solutions provide the flexibility, speed, and quality they need. The working relationship between the Zoic creative teams and NVIDIA is also a vital component of the total graphics solution for Zoic. "Our partnership with NVIDIA is something we depend on for turning around the images that become our signature artwork. Without NVIDIA's support, we would be out there looking for answers on our own and we'd be slower. We couldn't deliver the impossible like we do now," says Peristere.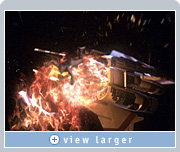 Zoic used NVIDIA Quadro graphics to blend foreground action (person flying away from the explosion) with background action (explosion and spaceship) in Battlestar.

Delivering the impossible involves fast turnarounds for Zoic. Peristere explains, "With our NVIDIA Quadro development platform, I feel confident that I can deliver a product in a short period of time. And NVIDIA gives me the high quality I need, so that it's going to look good to the client. That's the main thing—I can walk into the room with a cassette and know I will make everyone happy, even when I've been asked just the day before to change something of immense scale."
NVIDIA Quadro graphics allow Zoic artists to work directly with writers and directors on each project, interactively adjusting scenes. Smith explains, "We're currently working on a midseason series for Universal Studios and CBS.CenturyCity is about a law firm inLos Angeles, but the show is set in the year 2054. CBS asked us to help them create the large-scale futuristic urban scenes that they'll need forCenturyCity. We'll also be creating effects for the show's 'hollow room'—a conference room where live characters are blended with holographic images of other characters. To collaboratively design these scenes and effects, we rely on NVIDIA Quadro graphics to give us the best possible interactive performance. Very often, the director and creative team will sit at a workstation with us as we discuss and adjust a scene. Since we are known for achieving photorealistic results, the high-quality output we get with NVIDIA Quadro FX graphics is imperative to keep our clients satisfied."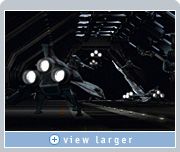 NVIDIA graphics allowed Zoic to help the director plan Battlestar Galactica shots, interactively position background and foreground objects, and adjust lighting.

Zoic is using NVIDIA professional graphics to integrate photorealistic set extensions and CG characters into live-action scenes in Century City. The actors will be real; most sets will be real. But Zoic will use NVIDIA Quadro graphics to insert futuristic elements, like highways that automatically pilot cars, to set the story in another time—without requiring a production budget from the future. According to Smith, "a project likeCenturyCity makes NVIDIA's high-quality results even more vital because we are blending urban scenes familiar to everyone with CG futuristic elements."
Opening Digital Worlds and Increasing Interactivity
According to Peristere, "Visualization for feature films, TV, games, and advertising is blending together. Already, we see games that mimic scenes and action from films. NVIDIA graphics, today's image-based modeling, and high-dynamic-range technology is allowing us to render reality so effectively that we are creating a seamless merging of CG worlds and photo-based worlds. That's the future of digital production—opening up digital worlds and increasing the level of interactivity so that when someone tells a story, the audience can actually enter into the story world and explore it, even past the storyline."
Until then, Zoic will continue to evolve visualization so that anything that can be imagined can be brought to life digitally. As Peristere summarizes, "Customers should never be afraid to ask us for the impossible. NVIDIA Quadro graphics technology has allowed us to be confident that we can give them what they dream of. It's really that simple—turning a dream into reality."
Contact Information
For more information about NVIDIA Quadro solutions, please visit:
//www.nvidia.in/quadro
.
For more information ZOIC Studios, please visit: //www.zoicstudios.com.


Zoic used NVIDIA Quadro FX graphics to blend CG characters, like this enemy Cylon, into scenes with live actors in Battlestar Galactica.

Zoic relies on NVIDIA Quadro graphics to give their clients the realism required for effective storytelling. This Battlestar Galactica shot combines a futuristic skyline in the background, with real water footage in the foreground.

Zoic artists used NVIDIA Quadro graphics, affording the Battlestar Galactica director flexibility in planning camera angles and views.
Images courtesy of SciFi Channel