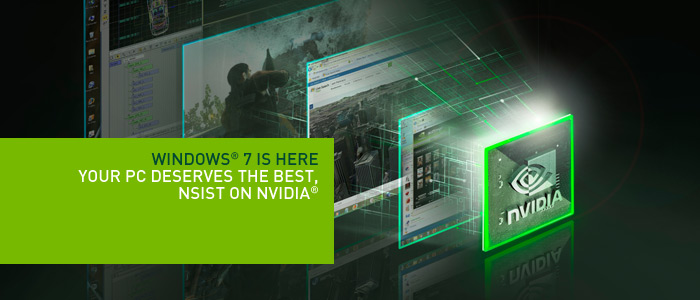 | | |
| --- | --- |
| Get the most out of Windows® 7. An NVIDIA® ION™, NVIDIA® GeForce®, or NVIDIA® Quadro®* graphics processor in your PC will enable you to take advantage of all the new and compelling features included with Windows 7. NVIDIA GPUs drive a visually stunning, premium experience on desktop and notebook PCs. For the best computing experience, NSIST ON NVIDIA™. | |
Explore Windows 7
FOR HOME
Whether you use your PC to enhance photos, edit videos, watch movies, play games, or if you simply desire a fast and efficient desktop, NVIDIA GeForce and ION graphics processors provide a superior experience under Windows 7.

FOR PROFESSIONALS
Whether you're a designer developing the latest automobile, a 3D artist working on the next blockbuster film, or a financial trader on Wall Street, NVIDIA Quadro solutions deliver unmatched power and performance from a rock-solid stable platform for Windows 7.
"We expect Windows 7, coupled with NVIDIA's graphics technologies, to deliver the fundamental performance our mutual customers have come to expect. NVIDIA's graphics technologies enable applications to take advantage of the visual capabilities in Windows 7 such as manipulating photos, video, and 3D graphics. With the expertise NVIDIA has in visual computing, they have been a key contributor to the development of Windows 7."
Mike Nash
Corporate Vice President of Windows Product Management
Microsoft Corporation
*For a list of complete supported GPUs, please click here.
Terminator Salvation image used with permission from The Halcyon Company and EGI – Equity Games Production AG. All rights reserved.