VMWARE HORIZON VIEW 5.2 WITH VSGA
Enterprise IT organizations can dramatically improve user productivity with VMware Horizon View 5.2 with Virtual Shared Graphics Acceleration (vSGA). VMware Horizon View now allows multiple users to share a graphics accelerator so that virtual desktops for knowledge workers up to light 3D users can work on an accelerated desktop with the performance they've come to expect at their desk1. By harnessing the power of NVIDIA GRID users can take advantage of the thousands of applications that run DirectX 9 or OpenGL 2.1.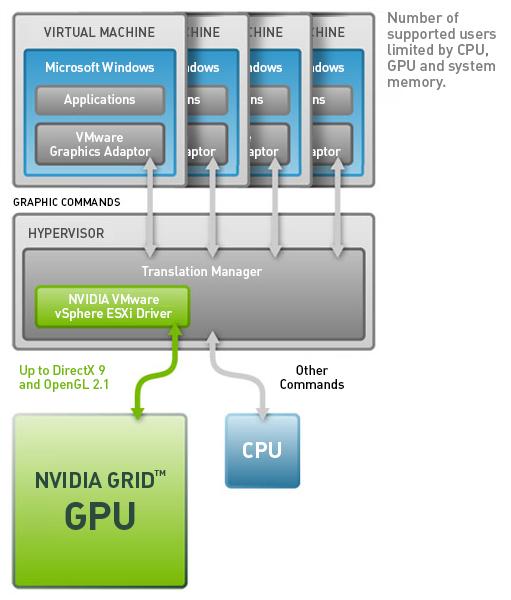 WHAT IS VMWARE HORIZON VIEW?
vSphere 5.1 introduced GPU virtualization, enabling multiple VMs to simultaneously share a single, physical GPU. This feature, termed vSGA (Virtual Shared Graphics Acceleration), is compatible with all key VMware technologies, including vMotion, and enables the recently released View 5.2 to support GPU-backed virtual desktops. The support for hardware accelerated 3D graphics delivers significantly higher performance in a 3D environment.
Source: VMware website
1 - Hypervisor intercept model adds some latency
CONTACT US
On-demand Webinars