>
>
>
>
VMware Horizon 6 and vSphere


VMware vSphere® Now Supports
NVIDIA GRIDTM vGPUTM
With more than 500,000 vSphere customers worldwide, VMware is the market leader in virtualisation, while NVIDIA is the world leader in visual computing with more than 12 million professional users and 300 professional applications certified and accelerated by NVIDIA GPUs.
In February 2015 VMware announced the availability of NVIDIA GRID™ vGPU™ with VMware Horizon® and vSphere®.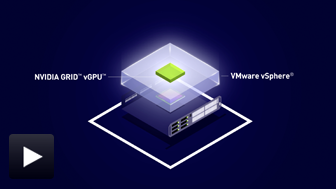 VMware Horizon® and NVIDIA GRID™
VMware Horizon 6.1 now supports NVIDIA GRID vGPU for their virtual desktop users.
With the introduction of vGPU capability for VMware Horizon, NVIDIA and VMware are eliminating the traditional cost vs. performance trade-off that's existed for GPU-accelerated desktop virtualisation. Organisations can now deliver immersive 3D graphics from the cloud, to enable secure, global collaboration on large datasets, with performance and a user experience that's equivalent to physical PC, delivered with the cost-effectiveness of GPU sharing across multiple users.
GRID vGPU is the industry's most advanced technology for sharing true GPU hardware acceleration between multiple virtual desktops including entry level Chromebooks—without compromising the graphics experience. Application features and compatibility are exactly the same as they would be at your desk.
HOW IT WORKS
With NVIDIA GRID vGPU technology, the graphics commands of each virtual machine are passed directly to the GPU, without translation by the hypervisor. This allows the GPU hardware to be time-sliced to deliver the ultimate in shared virtualized graphics performance.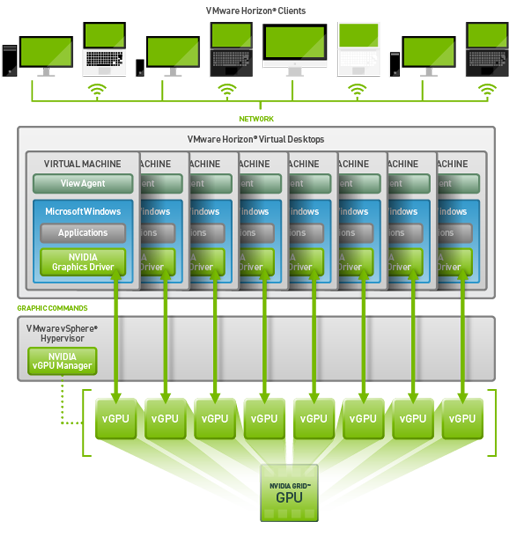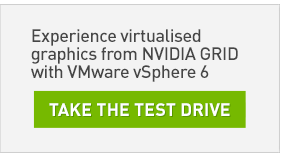 NVIDIA and VMware Resources
VIDEOS
VMware Blog