>
>
Virtual Reality Technology
Virtual Reality
Technology


Virtual Reality
With GeForce Experience and GameWorks VR, GeForce GTX delivers the ultimate graphics platform for Virtual Reality.
GeForce GTX is the ultimate graphics platform for VR. Enter a new world of immersive gaming with blazing-fast performance, plug-and-play compatibility, and industry-leading NVIDIA GameWorks™ VR technology that only high-end GTX cards can provide.
Virtual Reality (VR) is poised to change the way we play and experience games by placing us in the games, directly in the action, with a full 3D world all around us. As your head moves your view changes, and as you use special VR controllers in compatible games your avatar reaches out and naturally uses their hands to interact with objects. It sounds like a gimmick, but once you've experienced the unprecedented immersion and realism that VR delivers you'll 'get' it, and you'll instantly want your very own VR headset.
For VR to deliver that immersive experience a considerable amount of GPU processing power is required. As an example, the upcoming Oculus Rift will run at 2160x1200, at 90 frames per second, which is a little over three times as demanding as a 1920x1080 monitor running at 30 frames per second. If a consistent 90 frames per second isn't achieved the game will stutter and input lag will occur, ruining the experience, straining eyes, and potentially causing headaches.
To this end, NVIDIA has been working to increase performance and improve the VR experience.
GeForce GTX GPUs
2nd Generation NVIDIA Maxwell-based GeForce GTX GPUs are built to deliver the raw frame rates and high resolution required for demanding VR experiences. With full support for the next generation DirectX 12 graphics API, and a Maxwell multi-projection architecture that enables new rendering techniques for VR, GeForce GTX GPUs are designed for amazing VR experiences.
GameWorks VR
To help improve the VR experience, we've created "GameWorks VR" a software development kit (SDK) for VR headsets and game developers that improves performance, reduces latency, and improves compatibility. GameWorks VR includes the following technologies:
Multi-Res Shading: An innovative new rendering technique for VR whereby each part of an image is rendered at a resolution that better matches the pixel density of the final 'warped' image (VR images are an oval instead of a rectangle, as seen on a desktop monitor). By using Maxwell's multi-projection architecture to render multiple resolutions in a single pass, substantial performance improvements are seen in VR games.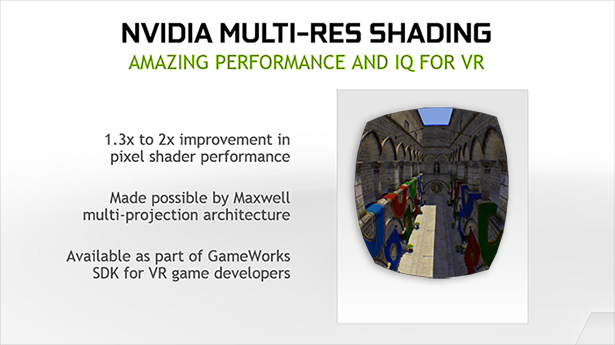 Context Priority: Enables control over GPU scheduling to support advanced virtual reality features such as asynchronous time warp, which cuts latency and quickly adjusts images as gamers move their heads, without the need to re-render new frames. This results in a smoother, more responsive experience that makes VR more comfortable to use, especially over longer play sessions.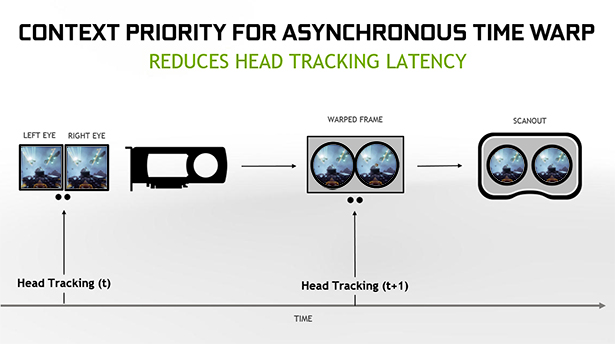 VR SLI: With VR SLI, multiple GPUs can be assigned a specific eye to dramatically accelerate stereo rendering. VR SLI even allows scaling for PCs with more than two GPUs.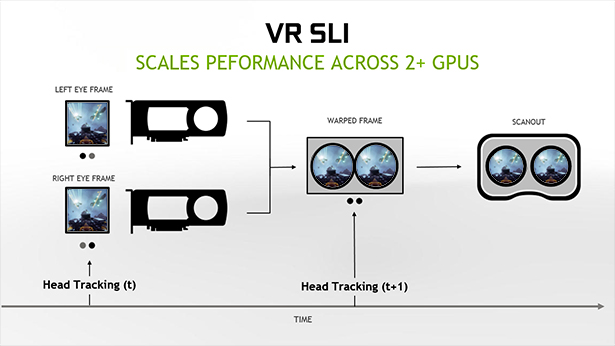 Direct Mode: Plug and play support for upcoming virtual reality headsets ensures instant support the second they're connected to a PC and treats them as separate device, rather than an extension of the Windows desktop as currently seen on some system configurations.
Front Buffer Rendering: Lets the GPU to render directly to the front buffer to reduce latency.
GeForce Experience
To date, GeForce Experience has delivered driver updates, game profiles, and optimal settings to tens of millions of desktop and notebook gamers around the world. When VR officially launches, GeForce Experience will expand to include optimal settings for virtual reality games, enabling players to configure their systems for demanding VR experiences with a single click. This will help to ensure a smooth, consistent 90 FPS experience for the latest VR games.