NVIDIA Quadro Accelerates Tippett Studio VFX Creation
From CG Wolves in "The Twilight Saga: Eclipse" to Fluid Effects for "Immortals,"NVIDIA Quadro Pro Graphics Enable Tippett to Work Faster, Iterate More Frequently
Tippett Studio, located in Berkeley, Calif. recently upgraded over 200 of their artist workstations to NVIDIA Quadro professional graphics solutions, enabling them to work up to five times faster. With the upgrade to Quadro, Tippett's artists are better equipped to work with sophisticated creative tools from companies such as Pixologic and The Foundry, and overcome the bottlenecks posed by high-geometry models.
Tippett Studio, founded in 1984 by Academy Award-winner and recipient of the Visual Effects Society Pioneering award, Phil Tippett, is one of the oldest and most well-respected effects facilities in the world. In their work on "The Twilight Saga: Eclipse," the studio was tasked with building a particularly challenging sequence that involved a fight in the snow between a computer generated (CG) wolf and a live action human.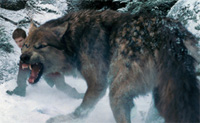 Image from "The Twilight Saga: Eclipse" courtesy of Tippett Studio.
"On the production of 'Eclipse' having immediate access to high quality previews was essential, as the wolf sequences in particular required multiple iterations to achieve the exact look that the director wanted," explained Scott Singer, lead FX animator, Tippett Studio. "Creating snow clinging to fur is a very complex computer graphics challenge, yet with Quadro cards, we didn't have to wait for our renders to come back in order to preview our shots."
On "The Twilight Saga: Eclipse," Tippett's artists used NVIDIA Quadro to display and rotate visualizations of CG fur created in their in-house system, dubbed "Furator." This newfound ability saved the team valuable time in developing their pipeline and hammering out approaches to render the photorealistic fur and snow on this production.
"Making the transition from GeForce to Quadro has had a huge impact," said Tippett CTO, Sanjay Das, "Not only on existing project work, but also in looking toward the future as we explore GPU accelerated rendering and the options presented by the outcropping of new high-end VFX tools that take advantage of Quadro GPUs."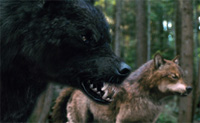 Image from "The Twilight Saga: Eclipse" courtesy of Tippett Studio.
"The types of problems visual effects studios are trying to solve are examples of computational visualization – the merging of physical simulation and advanced rendering," said Dominick Spina, technology product manager, Digital Film Group, NVIDIA. "Tippett's internal pipeline tool 'Furator,' in particular, stands to see orders of magnitude improvement in performance from our Fermi-class Quadro solutions based on our NVIDIA CUDA architecture, which are designed specifically to take complex algorithms and make them interactive."
Tippett currently uses Autodesk Maya, an in-house programming language called "Mu" for character animation and procedural modeling, and Pixar's Renderman to output final renders. Tippett Studio's current slate of visual effects projects includes: "Priest," "The Smurfs," "Immortals," and "Hemingway & Gellhorn."