Steven Spielberg's Adventures of Tintin Features Groundbreaking Use of Shadows and Lighting, Thanks to GPU Technology
Paramount Pictures' animated action-adventure, The Adventures of Tintin, was brought to life by the Academy Award™-winning team of director Steven Spielberg, producer Peter Jackson, and senior VFX supervisor Joe Letteri. The movie is based on one of the most beloved comics of the 20th century, and follows Tintin (Jamie Bell) and Captain Haddock (Andy Serkis) on their action-packed quest around the world to uncover the treasure of the long-lost ship The Unicorn. The movie premiered in Europe in October 2011, then in the U.S. on December 23, 2011.
The near-magical shadows and light that suffuse Tintin came to life with the assistance of a ray tracing software solution developed by Weta Digital and NVIDIA called PantaRay.
Challenge
"The transition between light and shadow, the penumbra, is difficult to compute accurately," said Luca Fascione, rendering research lead at Weta. "We relied heavily on PantaRay to create lighting nuances that set the tone for the film. It would have been hard to deliver the lighting quality we wanted for the movie without NVIDIA GPUs." Fascione added that ray traced shadows require 100 to 1000 times more computation than traditional shadow-map based solutions.
Joe Letteri, senior VFX supervisor at Weta Digital, said: "The next challenge for us after Avatar was handling interior lighting in an all-digital environment. We evolved our handling of indirect specular and diffuse lighting to accurately address bounce light and we changed the way we sample lights to get the soft shadows that were important for the lighting look we settled on with Steven. We used PantaRay to calculate the shadow data and the efficiency helped us achieve a better look in our shadow design process."
Solution
Weta and NVIDIA started collaborating three years ago to develop PantaRay – which utilizes NVIDIA® professional GPUs in Weta's rendering pipeline to allow quick, dynamic re-computation of image-based lighting. The tool – initially used in Avatar and more recently on Rise of the Planet of the Apes – was further developed for Tintin to compute ray traced shadows from small sources as well as major light sources, such as windows and chandeliers that cast softer shadows.
Impact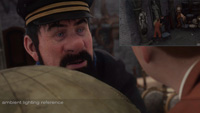 The film's lighting has been credited with defining Tintin's magical sense of realism. As Variety magazine stated, "With immense sensitivity, the animators have translated Herge's spare, elegant drawings into a multidimensional world that seems realistic, especially in its use of chiaroscuro lighting, which plays wonderfully with sunlight and shadows throughout…"