>
>
UK, Thai Researchers Enlist NVIDIA Tesla GPUs to Fight the Next H1N1 Epidemic
UK, Thai Researchers Enlist NVIDIA Tesla GPUs to Fight the Next H1N1 Epidemic
High-Performance GPU Cluster Used to Identify Keys to Combating Drug-Resistant H1N1 Virus Mutations
For more information, contact:
Vivek Padiyar
Perfect Relations
M +91.98923.06446
O +91.22.2436.7155
nvidia@perfectrelations.com
+44 (0) 118 903 3078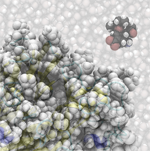 Tamiflu (top right) approaches the active site of the flu enzyme neuraminidase (bottom left). (Courtesy: University of Bristol)
HAMBURG, Germany—ISC'12—June 18, 2012—NVIDIA today announced that its GPUs are playing an integral role in research that's shedding new light on ways to prevent future epidemics of the deadly H1N1 influenza virus.
A major difficulty in combating H1N1 has been the frequent and rapid onset of new virus mutations that rendered anti-influenza drugs, such as Tamiflu® (oseltamivir) and Relenza® (zanamivir), ineffective.
However, using computer simulation, researchers at the University of Bristol, in the United Kingdom, and the Bansomdejchaopraya Rajabhat and Chulalongkorn Universities in Bangkok, have observed how H1N1 mutations can cause changes in the chemical and biological structural dynamics of a key enzyme of the virus, revealing, for the first time, the mechanism of resistance to existing anti-influenza drugs. With this breakthrough, it will be possible to identify new ways in which inhibitor drugs can be quickly designed to address these mutations, and possibly reduce the deadly impact of future epidemics.
Using a small cluster equipped with high-performance NVIDIA® Tesla® GPUs running advanced simulations using the AMBER molecular dynamics application, the research team uncovered the H1N1 mechanism of resistance in half the time and using one-fifth the servers that it would have taken using a CPU-only cluster.1
A paper detailing the researchers' findings has been published in a recent edition of Biochemistry.
"The four-node, eight-GPU cluster allowed us to quickly run and repeat a much larger number of complex simulations than otherwise would have been possible to perform," said Dr. Christopher Woods, lead investigator of the U.K. research team. "This enabled us to exhaustively explore all virus mutations of interest, building up a detailed picture that allowed us to quickly identify the key steps in the mechanism of resistance. A comparable CPU-only system with 16 to 24 CPUs would have taken twice as long, at best. And, it would have been practically impossible for our team to monopolize all this time on the cluster, given the high demand for compute cycles by other researchers across the university."
Following the outbreak of H1N1 influenza cases in 2009, which infected as many as 89 million people and killed up to 18,300,2 researchers worldwide have been racing to discover how virus mutations led to the ineffectiveness of leading anti-influenza drugs. However, studying viruses in laboratory experiments is difficult because reactions are often too fast and delicate to capture. And, advanced computer simulations of these systems have previously been beyond the reach of researchers without access to expensive, high-powered supercomputers.
"Until now, the use of computer simulations for drug discovery and disease prevention has been limited because of the large, expensive supercomputers required to study the biological systems," said Sumit Gupta, senior director of the Tesla business at NVIDIA. "Today a small, affordable GPU-based server gives researchers dedicated access to a high-performance system in-house to power a range of scientific discovery."
To help more researchers experience the power of GPU-accelerated research, NVIDIA has launched the GPU Test Drive program. It enables computational chemists and biologists to experience GPU acceleration of their molecular dynamics simulations for free on a remotely hosted GPU cluster. To learn more or to register, visit the GPU Test Drive website.
About NVIDIA Tesla GPUs
NVIDIA Tesla GPUs are massively parallel accelerators based on the NVIDIA CUDA® parallel computing platform. Tesla GPUs are designed from the ground up for power-efficient, high performance computing, computational science and supercomputing, delivering dramatically higher application acceleration for a range of scientific and commercial applications than a CPU-only approach.
More information about NVIDIA Tesla GPUs is available at the Tesla website. To learn more about CUDA or download the latest version, visit the CUDA website. More NVIDIA news, company and product information, videos, images and other information is available at the NVIDIA newsroom. You can also follow us on Twitter (@NVIDIATesla).
About NVIDIA
NVIDIA (NASDAQ: NVDA) awakened the world to computer graphics when it invented the GPU in 1999. Today, its processors power a broad range of products from smartphones to supercomputers. NVIDIA's mobile processors are used in mobile phones, tablets and auto infotainment systems. PC gamers rely on GPUs to enjoy spectacularly immersive worlds. Professionals use them to create 3D graphics and visual effects in movies and to design everything from golf clubs to jumbo jets. And researchers utilize GPUs to advance the frontiers of science with high performance computing. The company has more than 5,000 patents issued, allowed or filed, including ones covering ideas essential to modern computing. For more information, see www.nvidia.in.
# # #
Certain statements in this press release including, but not limited to statements as to: the impact and benefits of NVIDIA Tesla GPUs; and the effects of the company's patents on modern computing are forward-looking statements that are subject to risks and uncertainties that could cause results to be materially different than expectations. Important factors that could cause actual results to differ materially include: global economic conditions; our reliance on third parties to manufacture, assemble, package and test our products; the impact of technological development and competition; development of new products and technologies or enhancements to our existing product and technologies; market acceptance of our products or our partners products; design, manufacturing or software defects; changes in consumer preferences or demands; changes in industry standards and interfaces; unexpected loss of performance of our products or technologies when integrated into systems; as well as other factors detailed from time to time in the reports NVIDIA files with the Securities and Exchange Commission, or SEC, including its Form 10-Q for the fiscal period ended April 29, 2012. Copies of reports filed with the SEC are posted on the company's website and are available from NVIDIA without charge. These forward-looking statements are not guarantees of future performance and speak only as of the date hereof, and, except as required by law, NVIDIA disclaims any obligation to update these forward-looking statements to reflect future events or circumstances.
© 2012 NVIDIA Corporation. All rights reserved. NVIDIA, the NVIDIA logo, CUDA and Tesla are trademarks and/or registered trademarks of NVIDIA Corporation in the U.S. and other countries. Other company and product names may be trademarks of the respective companies with which they are associated. Features, pricing, availability, and specifications are subject to change without notice.
_____________________________________________________
1 The research team ran 10 simulations on the H1N1 mutations, which took approximately one month to complete vs. two months on CPUs.
2 Source: CDC.gov: //www.cdc.gov/h1n1flu/estimates_2009_h1n1.htm