>
>
>
>
Computational Chemistry


COMPUTATIONAL CHEMISTRY
NVIDIA® Tesla® GPU Accelerators enable computational chemistry and biology researchers to push the boundaries of discovery. Compared to CPUs, Tesla GPUs run common molecular dynamics, quantum chemistry, visualisation, and docking applications more than 5 times faster.
WHY TESLA GPUS FOR COMPUTATIONAL CHEMISTRY:
Gain deeper insights by running larger systems, more systems or longer simulation timeframes.
Replace several CPU cluster nodes with single GPU node.
Access supercomputer scale performance without waiting for shared resources.
Cost effective with higher simulation performance per dollar and per watt.
HEAR FROM LEAD APPLICATION DEVELOPERS WHY THEY CHOSE TO DEVELOP ON TESLA GPUS: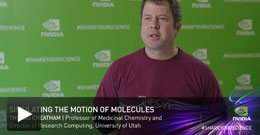 Video: Thomas Cheatham, Processor of Medicinal Chemistry and Director of Research Computing, University of Utah. (2:24)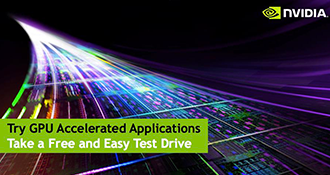 TRY APPS ON KEPLER GPU CLUSTER FOR FREE.
GPU Accelerated Computational Chemistry Applications