NVIDIA SLI application Profiles using Coolbits*:
NVIDIA has created an extensive set of optimized application profiles which enable games to run automatically and optimally in SLI mode. There are currently over 260 of these NVIDIA pre-defined profiles. These games run in SLI mode out-of-the-box with no action required from end-users.
For games without a pre-defined profile, NVIDIA allows customers to create their own SLI application profiles:
Step 1. Open the NVIDIA Control Panel by right-clicking on the desktop and selecting 'NVIDIA Control Panel'
Step 2. Select '3D Settings'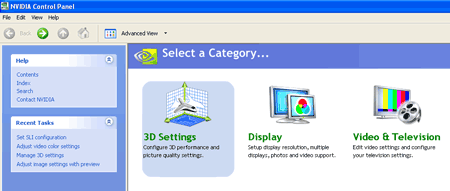 Step 3. Select 'Manage 3D Settings'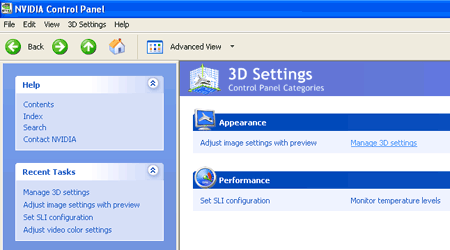 Step 4. Click 'Add'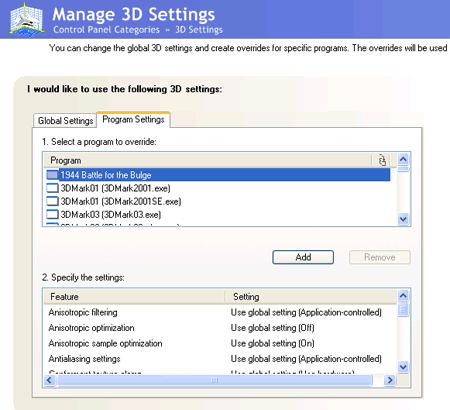 Step 5. Locate the executable file on your computer for the application you wish to create the profile for. The profile will be added to the list. In the example "NewGame.exe"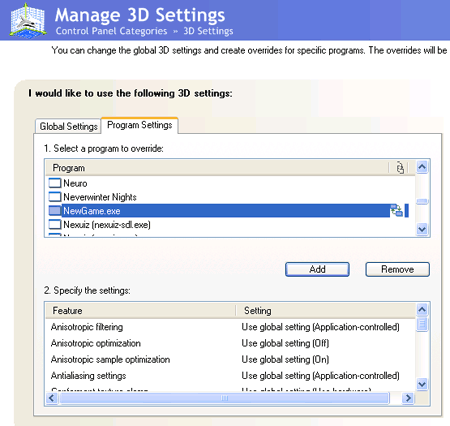 Step 6. Select your preferred SLI performance mode or SLI antialiasing mode. Besides 'Single-GPU', there are three performance modes to choose from:
Split frame rendering
Alternate frame rendering 1
Alternate frame rendering 2*

*Alternate frame rendering 2 is an alternate version of AFR that may provide better performance than AFR 1 on some applications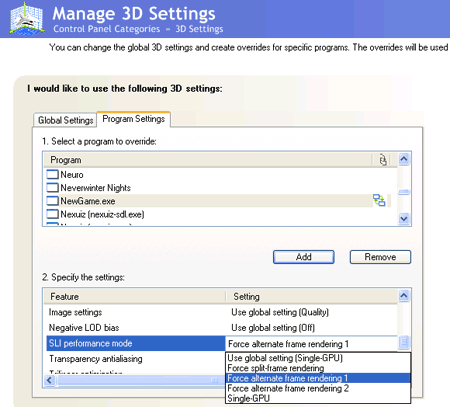 You also have the option to choose an SLI antialiasing mode instead of an SLI performance mode. If you do so, the SLI performance mode will be disabled. The SLI antialiasing modes can be found under 'Antialiasing settings'
Step 7. Click "Apply" and your new SLI Application Profile is ready for use!