Real gaming goes beyond detonating powerful bombs and obliterating enemies. It requires keen decision-making skills and intelligent investments. Put your money into hardware that matters when it comes to achieving the ultimate in gaming performance. By investing in SLI instead of an overrated CPU, you get a faster gaming PC for less money. So while your opponents may feel indestructible showing off their "cool" new CPU, that will all change when they're crying for mercy after you've wrought destruction on them, their convoy, and all of their special forces. Game smart and game to win with NVIDIA SLI.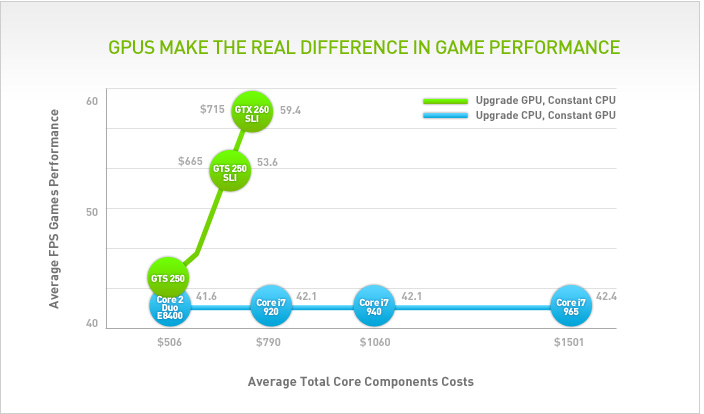 SLI Optimised Games
NVIDIA® SLI™ technology can be enabled for every gaming application. NVIDIA has created an extensive set of custom application profiles which enable SLI technology automatically and optimise scaling performance. These optimised applications are enabled automatically with no control panel changes required.
If you want to create your own optimised application profile to enable SLI, simply follow these quick instructions.
13th Century

1701 A.D.

1944 Battle of the Bulge

2006 FIFA World Cup

25 to Life

A.I.M. Racing

Aces High

Act of War: Direct Action

Act of War: High Treason

Adrenalin: Extreme Show

Advent Rising

Aerial Strike: Low Altitude - High Stakes

Aerial Strike: The Yager Missions

Agatha Christie: Murder on Orient Express

Age of Conan: Hyborian Adventures

Age of Empires III

Age of Mythology

Air Conflicts

Alarm for Cobra 11 Nitro

Alice

Alien Arena 2006

Alpha Prime

America's Army

America's Army: Soldiers

America's Army: Special Forces

Anabiosis

Ankh

Ankh: Heart of Osiris

Anno 1701

Apocalyptica

AquaNox 2: Revelation

ArchLord

Area 51

Arena Wars

Armed & Dangerous

Armed Assault

Armies of eXigo

Arthur and the Invisibles

Asheron's Call 2

Assassin's Creed

Audition

Auto Assault

Bad Day L.A.

Baghdad Central: Desert Gunner

Bard's Tale, The

Battle Engine Aquilla

Battlefield 1942

Battlefield 1942: Road to Rome

Battlefield 1942: Secret Weapons of WWII

Battlefield 2

Battlefield 2: Special Forces

Battlefield 2142

Battlefield Heroes

Battlefield Vietnam

Battlestations: Midway

Bet on Soldier

Beyond Divinity

Beyond Good and Evil

Big Mutha Truckers

Bionic Commando

Bionic Commando Rearmed

BIONICLE Heroes

BioShock

Black & White 2

Black and White 2: Battle of the Gods

Blazing Angles: Squadrons of WWII

Blood & Magic

BloodRayne 2

BlowOut

Boiling Point: Road To Hell

Bone

Breed

Brian Lara International Cricket 2007

Bridge It

Broken Sword 3: Sleeping Dragon

Broken Sword: The Angel of Death

Brothers In Arms

Brothers in Arms: Hell's Highway

Burnout Paradise: The Ultimate Box

Cabal

Cabal Online

Caesar IV

Call of Cthulhu: Dark Corners of the Earth

Call of Duty

Call of Duty 2

Call of Duty 2

Call of Duty 4: Modern Warfare

Call of Duty: MultiPlayer

Call of Duty: United Offensive

Call of Duty: World at War

Call of Duty: United Offensive

Call of Juarez

Captain Blood

CellFactor

Chaos League: Sudden Death

Chaos Legion

Chaser

Chronicles of Narnia

Chronicles of Narnia, The

Chronicles of Riddick, The: EFBB

City Life

City of Heroes

City of Villains

CivCity: Rome

Civilization IV

Civilization IV: Beyond the Sword

Civilization IV: Colonization

Civilization IV: Warlords

Clive Barker's Undying

Codename: Panzers

Codename: Panzers, Phase Two

Cold Fear

Cold War

Colin McRae Rally 04

Colin McRae Rally 2005

Colin McRae Rally 4

Comanche 4

Command & Conquer Renegade

Command & Conquer: Generals

Command & Conquer: The First Decade

Command & Conquer: Tiberium Wars

Command & Conquer: Zero Hour

Command and Conquer: Generals

Command and Conquer: Zero Hour

Commandos 3

Commandos Strike Force

Company of Heroes

Company of Heroes: Opposing Fronts

Conan

Condemned: Criminal Origins

Conflict: Denied Ops

Conflict: Desert Storm

Conflict: Desert Storm 2

Conflict: Global Terror: Storm

Contract J.A.C.K.

Counter-Strike: Source

Crashday

Crazy Kickers

Crazy Machines 2

Crazy Racing Kart Rider

Cricket 2005

Crime Life: Gang Wars

Cryostasis Sleep of Reason

Crysis

Crysis Warhead

Cycling Manager

Cycling Manager 5

D&D Online: Stormreach

Dark Age of Camelot: Atlantis

Dark Age of Camelot: Catacombs

Dark Age of Camelot: Frontiers

Dark Age of Camelot: Shrouded Isles

Dark and Light

Dark Messiah Might and Magic

Dark Messiah of Might and Magic

Darkstar One

David Douillet Judo

Dawnspire: Prelude

Day of Defeat: Source

Day of Sail

D-Day

Dead Space

Dead to Rights

Death to Spies

Dekaron

Delta Force Xtreme

Delta Force: Black Hawk - Team Sabre

Delta Force: Black Hawk Down

Demonik

Desert Rats vs. Afrika Korps

Desperados 2: Cooper's Revenge

Deus Ex: The Invisible War

Devil May Cry 3: Dante's Awakening

Devil May Cry 4

Dirt Track Racing 2

Distant Guns: The Russo-Japanese War at Sea

Doom 3

Doom 3: Resurrection of Evil

Dragon's Tale Online

Dragonshard

Dream Pinball 3D

Dreamfall: The Longest Journey

Dreamlords

Dredd vs. Death

Driv3r

Dungeon Cleaners

Dungeon Lords

Dungeon Runners

Dungeon Siege 2: Broken World

Dungeon Siege II

Dungeons and Dragons Online

EA Sports Rugby 2005

Earth 2150: The Moon Project

Earth 2160

El Matador

Elder Scrolls III: Morrowind

Elder Scrolls IV: Oblivion

Elder Scrolls, The: Oblivion

Emergency 4

Empire Earth II

Empire Earth II: The Art of Supremacy

Empire Earth II: The Art of Supremecy

Empire Earth III

Enclave

Enemy Territory: Quake Wars

Enter the Matrix

Eragon

EVE Online

EverQuest

EverQuest II

EverQuest II: Desert of Flames

EverQuest II: Kingdom of Sky

EverQuest: Omens of War

EverQuest: Prophecy of Ro

Evil Genius

F.E.A.R - Extraction Point

F.E.A.R.

F.E.A.R. 2: Project Origin

F.E.A.R. Extraction Point

F.E.A.R. Perseus Mandate

F.E.A.R.

F1 Challenge 99-02

Fable: The Lost Chapters

Faces of War

Fallen Lords: Condemnation

Fallout 3

Far Cry

Far Cry 2

Fast Lane Carnage

FIFA Online

FIFA Soccer 06

FIFA Soccer 2005

FIFA Soccer 2007

FIFA World Cup Germany 2006

Final Fantasy XI

Final Fantasy XI: Chains of Promathia

Final Fantasy XI: Treasures of Aht Urhgan

Fire Captain

Flat Out

Flat Out 2

FlatOut

FlatOut 2

Flight Simulator 2004

Flight Simulator X

Ford Racing 2

Ford Racing 3

Fort Boyard

FPS Creator X10

Freaks! Slammin' Traffic


Free Realms

Freedom Fighters

Freedom Force vs. the 3rd Reich

Freelancer

Frontlines: Fuel of War

Full Spectrum Warrior

Full Spectrum Warrior: Ten Hammers

Full Spectrum Warrior: Ten Hammers

Fury

Future Force Company Commander

Gangland

Gears of War

Getting Up: Contents Under Pressure

Ghost Master

Ghost Recon: Advanced WarFighter

Gladiator: Sword of Vengance

Glory of the Roman Empire

GodFather: The Game

Goliath

Gorky Zero: Beyond Honor

Gothic 2

Gothic 3

Gothic III

Granado Espada

Grand Theft Auto 3

Grand Theft Auto III

Grand Theft Auto IV

Grand Theft Auto: San Andreas

Grasen

Ground Control II : Operation Exodus

Ground Control II: Operation Exodus

GT Legend

GTI Racing

GTR

GTR 2

GTR FIA Racing

Guild Wars

Gun

Gun Metal

Gunship: Apocalypse

GunZ: The Duel

Half-Life

Half-Life 2

Half-Life 2: Episode One (Aftermath)

Half-Life 2: Lost Coast

Half-Life: Source

Halo 2

Halo: Combat Evolved

Hard Truck Apocalypse: Rise of Clans

Hard Truck: Apocalypse (ExMachina)

Harry Potter and the Goblet of Fire

Harry Potter and the Prisoner of Azkaban

Hellgate: London

Heroes of the Pacific

Hidden and Dangerous II

High Heat Major League Baseball 2004

Hitman 2: Silent Assassin

Hitman Blood Money

Hitman: Blood Money

Hitman: Contracts

Homeworld2

Horse Racing Manager 2

Hunting 4

Huxley

Hyperball Racing

Ice Age 2: The Meltdown

IL-2 Sturmovik: Ace Expansion Pack

IL-2 Sturmovik: Forgotten Battles

Imperator

Imperial Glory

Indigo Prophecy

Indigo Prophecy (aka Fahrenheit)

Infernal

I-Ninja

Jade Empire

Jing Yong Online 2

Joan of Arc: Wars & Warriors

Joint Operations: Escalation

Joint Operations: Typhoon Rising

Joint Task Force

Jonathan Danter: Belief and Betrayal

Juiced

Junk Metal

Just Cause

Kane & Lynch: Dead Men

kill.switch

King Kong

Knights of the Temple

Kohan II: Kings of War

Krabbit World Labyrinth

Kwonho

Left 4 Dead

Left Behind: Eternal Forces

LEGO Indiana Jones

LEGO Star Wars 2

LEGO Star Wars II: The Original Trilogy

LEGO Star Wars: The Video Game

LEGO Star Wars: The Video Game

Line of Fire

Lineage II

Lineage II - Chronicle 3 Rise of Darkness

Lineage II: Rise of Darkness

Lineage II: Scions of Destiny

Lineage II: The Age of Splendor

Lineage II: The Chaotic Chronicle

Live for Speed

Lock On

Lord of the Rings Online: Shadows of Angmar

Lord of the Rings Online: Shadow of Angmar

Lord of the Rings: Battle for Middle-earth

Lord of the Rings: Battle for Middle-earth II

Lord of the Rings: Battle for Middle Earth

Lord of the Rings: Battle for Middle Earth II

Lord of the Rings: Return of the King

Lords of Everquest

Lost Legends

Lost Planet Colonies

Lost Planet: Extreme Condition

Lunia

Mabinogi

Madden NFL 06

Madden NFL 2003

Madden NFL 2004

Madden NFL 2005

Madden NFL 2007

Made Man

Mafia

Mage Knight Apocalypse

Mage Knight: Apocalypse

Manhunt

Massive Assault Network 2

Master of Epic

Matrix Online

Matrix: Path of Neo, The

Max Payne

Max Payne 2: Fall of Max Payne

MechWarrior 4: Mercenaries

Medal of Honor: Allied Assault

Medal of Honor: Allied Assault Breakthrough

Medal of Honor: Allied Assault Spearhead

Medal of Honor: Breakthrough

Medal of Honor: Pacific Assault

Medieval II: Total War

Medieval Lords

Megami Tensei Online - Imagine

Melbourn Cup Challenge

Men of Valor

Metal Gear Solid 2: Substance

Michael Schumacher World Tour Kart 2004

Micro Machines V4

Microsoft Flight Simulator X

Microsoft Train Simulator

Midnight Club II

Midway: Naval Battles

MiniGolf Mania

Mirror's Edge

MKZ

Moorhuhn Karts 2 XS

Moto GP 2

Moto GP3

MotoGP 3: Ultimate Racing Technology

MTX Mototrax

MTX: Mototrax

MU

MU Online

MVP Baseball 2005

Myst IV Revelation

Myst V: End of Ages

Mythos

Nascar Racing 2003

NASCAR SimRacing

NASCAR Thunder 2004

NBA 2003

NBA Live 06

NBA Live 07

NBA Live 2005

Need for Speed Most Wanted

Need for Speed ProStreet

Need for Speed Underground

Need for Speed: Hot Pursuit 2

Need for Speed: Ultimate

Need for Speed: Undercover

Need for Speed: Underground

Need for Speed: Underground 2

Neon

Neosteam

Neverwinter Nights

Neverwinter Nights 2

Neverwinter Nights 2: Mask of the Betrayer

Nexuiz

Nexus

Nexus: The Jupiter Incident

NFL Head Coach

NHL 06

NHL 2003

NHL 2005

NHL 2007

No One Lives Forever 2

Nobunaga's Ambition Online

NTE: Strike and Retrieve

Nurien

Officers: Gott Mit Uns

Open Season

Operation Flashpoint

Operation Matriarchy

Orange Box, The

Pacific Fighters

Pac-Man World 2

Pac-Man World 3

Painkiller

Painkiller: Battle from Hell

Painkiller: Battle Out of Hell

Painkiller: Black Edition

Pangya

Panzer Elite

Panzer Elite Action

Parabellum

ParaWorld

Pariah

Pathologic

PDC World Championship Darts

Penguins

Penumbra - Overture

Perimeter

Pirates of the Burning Sea

Pirates of the XXI Century

Pitfall: The Lost Expedition

Planetside

Planetside: Core Combat

Port Royale

Powerdrome

Prey

Prince of Persia

Prince of Persia: The Sands of Time

Prince of Persia: Warrior Within

Prism: Guard Shield

Prison Tycoon 2

Pro Cycling Manager

Pro Evolution Soccer

Pro Evolution Soccer 5

Pro Evolution Soccer 6

Pro Rugby Manager 2004

Pro Rugby Manager 2005

Project Offset

Project Snowblind

Psi-Ops: The Mindgate Conspiracy

Psychonauts

PsychoToxic

PT Boats


PT Boats: Knights of the Sea

Quake 4

Quake III

R2: Reign of Revolution

Race - The WTCC game

RACE 07

Rag Doll Kung Fu

Ragnarok 2

Railroad Tycoon

Railroad Tycoon 3

Rainbow Six 3: Raven Shield

Rainbow Six: Lockdown

Rainbow Six: Vegas

RalliSport Challenge

Rayman 3 Hoodlum Havoc

Red Faction II

Red Orchestra

Red Orchestra: Ostfront 41-45

Re-Mission

Republic: The Revolution

Reservoir Dogs

Return to Castle Wolfenstein

Return to Castle Wolfenstein: Enemy Territory

RF Online

rFactor

Richard Burns Rally

Rig n Roll

Rise & Fall: Civilizations at War

Rise and Fall

Rise of Nations: Rise of Legends

Robin Hood: Defender of the Crown

RoboBlitz

Rogue Trooper

RollerCoaster Tycoon 3

Rome: Total War

Rome: Total War - Barbarian Invasion

Rush for Berlin

S.T.A.L.K.E.R.: Clear Sky

S.T.A.L.K.E.R.: Shadow Of Chernobyl

S.T.A.L.K.E.R: Shadow of Chernobyl

Sacred

Sacred 2: Fallen Angel

Sacred II

Saga of Ryzom, The

San Guo Online

Santa Ride! 2

Sauerbraten

Savage: The Battle for Newerth

Scarface: The World is Yours

Scrapland

Second Life

Secret Files: The Tunguska

SEGA Rally Revo

Sensible Soccer 2006

Serious Sam II

Serious Sam: The Second Encounter

Settlers II: 10th Anniversary Edition

Settlers: Heritage of King

Settlers: Heritage of Kings

Settlers: Rise of an Empire

Shade: Wrath of Angels

Shadowgrounds

Shadowrun

Shellshock: Nam '67

Ship Simulator 2006

Sid Meier's Pirates!

Sid Meier's Railroads!

Silent Hill 2

Silent Hill 3

Silent Hill 4: The Room

Silent Hunter III

Silent Storm

Silverfall

Sims 2

Sims 2 Nightlife Expansion

Sims 2 University Expansion

SiN Episodes

Ski Alpine Racing 2007

Sniper Elite

Soldier of Fortune II

Soldier of Fortune II: Double Helix

Soldiers: Heroes of World War II

Soldner: Secret Wars

Sonic Riders

Special Force

Speedball 2 - Tournament

SpellForce

SpellForce 2

SpellForce II: Blend of Perfection

Splinter Cell

Splinter Cell Double Agent

Splinter Cell: Chaos Theory

Splinter Cell: Pandora Tomorrow

Spore

Spore Galactic Adventures

Sprint Cars: Road to Knoxville

Stalin Subway: The Red Veil

Star Wars Battlefront

Star Wars Galaxies

Star Wars Galaxies: Jump to Lightspeed

Star Wars Galaxies: The Total Experience

Star Wars, Republic Commando

Star Wars: Battlefront

Star Wars: Battlefront II

Star Wars: Empire at War

Star Wars: Knights Of The Old Republic

Star Wars: Knights Of The Old Republic II

Star Wars: Republic Commando

Star Wolves 2

Stargate SG-1: The Alliance

Starship Troopers

Steel Fang

Steel Monsters

Stoked Rider: Alaska Alien

Stolen

Stranger

Street Racing Syndicate

Stronghold 2

Stronghold Legends

Stubbs the Zombie

Sudden Attack

Sudden Strike 3: Arms for Victory

Sudeki

SUN

SUN (Soul of the Ultimate Nation)

Supreme Commander

Supreme Commander: Forged Alliance

SWAT 4

SWAT 4: The Stetchkov Syndicate

Switchfire

Sword of the New World

Sword of the Stars

Tabula Rasa

Taikodom

Teenage Mutant Ninja Turtles

Terminator 3: War of the Machines

Terra Firma

Terra Wars

Test Drive Unlimited

The Bard's Tale

The Blob

The Chronicles of Riddick

The Guild II

The Incredibles

The Mark

The Matrix: Path of Neo

The Movies

The Precursors

The Regiment

The Secret Files: Tunguska

The Ship

The Simpsons: Hit & Run

The Sims 3

The Stalin Subway: Red Veil

The Suffering: Ties that Bind

The Witcher

Theos

Thief: Deadly Shadows

Tiger Woods PGA Tour 06

Tiger Woods PGA Tour 2003

Tiger Woods PGA Tour 2004

Tiger Woods PGA Tour 2005

TimeShift

Titan Quest

Titan Quest: Immortal Throne

ToCA Race Driver 2

ToCA Race Driver 3

TOCA: Race Driver 3

Tom Clancy: End War

Tom Clancy: HAWX

Tomb Raider Anniversay

Tomb Raider: Legend

Tomb Raider: The Angel of Darkness

Tomb Raider: Underworld

Tony Hawk: American Wasteland

Tony Hawk's Pro Skater 4

Tony Hawk's Underground

Torino 2006

Tortuga: Two Treasures

Total Overdose

TrackMania

Trackmania Nations

TrackMania Nations ESWC

TrackMania Sunrise

Trackmania: Sunrise

Trackmania: United

Trainz Railroad Simulator 2004

Tribes Vengeance

Tron 2.0

Trophy Bass 2007

True Crime: Streets of LA

Tycoon City: New York

UberSoldier

Universe at War

Unreal

Unreal 2

Unreal Tournament 2003

Unreal Tournament 2004

Unreal Tournament 2007

Unreal Tournament 3

Uru: Ages Beyond Myst

U-WARS

Vampire: Bloodlines

Vampire: The Masquerade Bloodlines

Vanguard

Vanguard: Saga of Heroes

Victi

Vietcong 2

Virtual Skipper 3

Virtual Skipper 4

Vivesector

Vivisector

War Front: Turning Point

War on Terror

War Rock

WarBirds 2006

Warcraft III

Warcraft III - The Frozen Throne

Warhammer 40,000: Winter Assault

Warhammer 40k: Dark Crusade

Warhammer 40k: Dawn of War

Warhammer 40k: Dawn of War 2

Warhammer Online: Age of Reckoning

Warhammer: Mark of Chaos

Westerner, The

Wolfhound

World Championship Rugby

World in Conflict

World of Warcraft

World Racing 2

World Soccer Winning Eleven 8

World Soccer Winning Eleven 9

WorldShift

Worms 3D

Worms 4: Mayhem!

X2: the Threat

X3: Reunion

Xiah: Oriental Fantasy

XIII

X-Men Legends II: Rise of Apocolypse

X-Men: The Official Game

Xpand Rally

Xpand Rally Xtreme

Xtreme Moped Racing

You Are Empty

Zera

Zoo Tycoon 2

Zoo Tycoon 2: Endangered Species