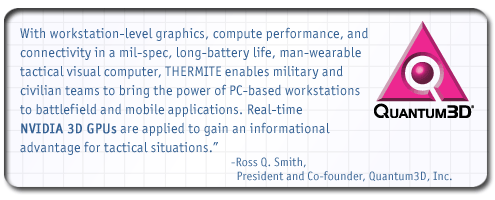 The Simulation-Training Game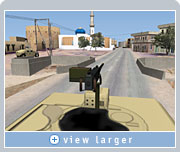 Quantum3D embeds NVIDIA graphics technology to create its man-wearable and vehicle-based Quantum3D® THERMITE™ tactical visual computer (TVC) for in-field mission rehearsals and other training operations. For example, THERMITE lets a soldier see an out-the-window synthetic environment view on a helmet-mounted display and execute practice runs of complex urban engagements. The goal is to increase confidence levels for the troops and achieve higher levels of success for actual battlefield missions. When forces deploy, the same TVC can accompany the soldier in a supporting role, in applications such as 3D moving map display or for control of Unmanned Arial Vehicles (UAV).


Image: Courtesy of Quantum3D

Tanks, helicopters, jet fighter planes, aircraft carriers — the successful deployment of complex mission-critical equipment, systems, and tactics demands exceptional training solutions. Today's training markets rely on the extensive use of visual simulations to control costs while maximizing the user experience. Quantum3D, a leading developer and manufacturer of interactive, open-architecture visual computing solutions, delivers revolutionary image generation (IG) technology that enables a variety of training solutions for the visual simulation and training (VST) market. Quantum3D's hardware and scene management software also enable visual computing solutions for the embedded training (ET) market, including mobile simulators that can be deployed on an actual battlefield.
Quantum3D relies on NVIDIA® graphics technology to continually advance the realism that can be achieved for simulated environments. Today, NVIDIA professional graphics solutions and shader technology allow Quantum3D to efficiently incorporate complex effects such as smoke, water, and shadows that can be rendered in real time.
A Wearable Solution
Recent Quantum3D offerings include the first man-wearable, multi-role, real-time 2D/3D tactical visual computer-the Quantum3D® THERMITE™ system-for leading-edge training, mission rehearsal, and deployed command, control, communications, computer, intelligence, surveillance and reconnaissance (C4ISR) applications. THERMITE brings the power of PC-based workstations to battlefield applications, and can also be deployed for in-field training that can take advantage of vehicles-such as tanks-that are not in use.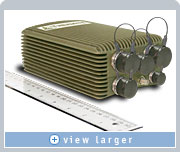 Packaged in a sealed, ruggedized alloy enclosure that is smaller than a cigar box, THERMITE operates in the hostile environments encountered by military and public safety personnel.


Image: Courtesy of Quantum3D

The graphics requirements for the THERMITE system came down to a balance of power usage and 3D capabilities. To immerse the user in a believable world required a minimum of game-quality graphics, but the performance could not come at the cost of battery consumption. The THERMITE system must deliver high performance 3D capabilities all day using only battery power. Jamey Dobbins, vice president of systems engineering at Quantum3D, states, "We originally formed a working relationship with NVIDIA because of its position as a market leader and its OpenGL library. We also recognized that NVIDIA was moving in the right direction. By focusing not only on gaming but also on professional graphics, NVIDIA was able to support sophisticated 3D effects with the levels of precision and accuracy that our applications require. With NVIDIA, we have been able to get the high quality, low-power solutions that we need for breakthroughs like THERMITE."
Breaking Out of the Box

Quantum3D
Leading provider of interactive visual computing solutions, image generators, and embedded graphics subsystems.

Target markets: visual simulation and training, embedded systems
The Challenges
Scalability: multiple graphics processing units (GPUs) and displays

Balancing high performance with low-power consumption (for mobile solutions)
The NVIDIA Solution
NVIDIA® GPUs combined and synchronized to create a high-performance graphics channel supporting multiple displays

Embedded NVIDIA GPUs for real-time man-wearable training systems
The Results
Expensive simulators replaced with much lower-cost PC-based solutions

Increased realism with NVIDIA shader technology and real-time rendering

The VST and ET markets have seen radical advances in recent years. Simulations that used to require a cluster of expensive workstations and customized graphics hardware can be implemented today with PC-based solutions. Many challenges still exist and Quantum3D has collaborated with NVIDIA to pioneer innovations in several graphics-related areas:
Scalability: Quantum3D configures racks of dozens of GPUs and has worked with NVIDIA to advance the synchronization and interconnect solutions and solve the heat dissipation and cooling problems for high-density configurations.
Multiple displays: An application such as a tank simulator requires that scene data be driven to multiple displays for the out-of-window views. NVIDIA and Quantum3D engineers collaborated to develop solutions for driving as many as 40 displays. The outputs of several GPUs are used to create one graphics channel capable of supporting the displays.
Mobile solutions: Low-power, highly reliable NVIDIA solutions are combined with Quantum3D battery-powered systems and rugged compact packaging to enable man-wearable and vehicle-deployed solutions.
Form factors: Quantum3D offers NVIDIA technology in form factors that suit custom embedded applications and compact, mobile applications.
Driver support: As new operating systems have emerged in the VST and ET markets, Quantum3D has worked with NVIDIA to make the latest NVIDIA graphics driver technology available to the simulation markets.
"Visual simulation is an exciting, fun market," says Dobbins. "By teaming up with NVIDIA, we are continually overcoming past limitations, eliminating expensive custom hardware, and providing our customers with workstation-quality 3D capabilities."
Staying Focused on the Big Pictures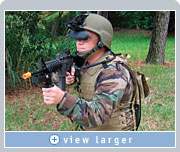 The embedded NVIDIA graphics technology provides a video decoder and can drive a variety of display options including a head-mounted display. By interfacing with gyros and other sensing devices, the NVIDIA graphics technology outputs a virtual world in which the soldier can realistically maneuver and practice an infinite number of scenarios that could be encountered on the battlefield.


Image: Courtesy of Quantum3D

Quantum3D combines some of the most advanced off-the-shelf components such as NVIDIA graphics solutions with its own value-added hardware and software technologies to deliver IG solutions that suit a broad range of applications. The resulting 2D/3D visual computing solutions are being applied in:
Aerospace and defense industries-instrumentation display technology, cockpit symbology, virtual consoles, moving map displays, and embedded training
Industrial automation-monitoring device modeling, new design testing, enhanced user interface designs
Transportation-rapid prototyping of display concepts, streamlining system development cycles with early prototyping, enhanced human-machine interfaces for vehicle systems
Medical equipment-design and testing of realistic real-time displays
Dobbins explains, "The combination of NVIDIA horsepower and shader capabilities is very exciting to us. Success in the training markets comes down to out-the-window realism. Now we can get that with real-time rendering speeds offered by NVIDIA graphics solutions. Our success in this market translates directly to other markets that also require high-performance graphics 2D and 3D data display. Our long-term relationship with NVIDIA continues to be a significant factor in our market leadership and overall success."
Contact Information
For more information about NVIDIA solutions, please visit:
www.nvidia.in
.
For more information about Quantum3D solutions, please visit:
www.quantum3d.com
.