Display and Desktop Management
Professional software, tools and techniques


NVIDIA Quadro Sync
NVIDIA Quadro Sync solutions enable the creation of dazzling ultra-high resolution, perfectly synchronized displays to meet the visualization and presentation needs across industries. Designed for flexibility and scalability, Quadro Sync boards connect to select NVIDIA Quadro GPUs, synchronizing them with the displays or projectors attached to them. Quadro Sync also enables NVIDIA Quadro Mosaic™ technology on those synchronized displays and projectors, providing an easy way to scale the resolution of any application.
Quadro Sync and Quadro GPUs support Windows 7, Windows 8, and Linux, providing a robust system that lets you:
Keep multi-projector systems or video walls free of imaging artifacts without impacting performance
Align inputs for multi-input display devices like 4K projectors or panels
Keep stereoscopic 3D displaying properly across multiple systems
Align displays or projectors to an external timing source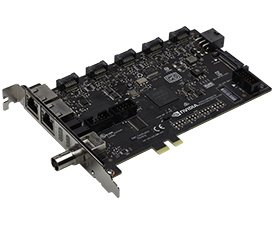 Key features of Quadro Sync

Sync Boards
Sync
Sync II
Maximum number of GPUs per Sync card
4
4
Maximum number of Sync cards per system
1
2*
Maximum number of synchronized GPUs per system
4
8*
Maximum number of displays or projectors per system
16
32*
Maximum number of displays or projectors with Quadro Mosaic™ per system
16
32*
Stereoscopic display support
Projector Overlap support
Windows Management Instrumentation (WMI) support
Flexible and scalable deployment of ultra-high resolution display systems
A broadcaster can power up to a 32* 4K-display video wall for on-air display with just one system.
A flight simulator can move from HD resolution to four-input 4K projectors with the same-size visualization cluster.
A research lab can create a stereoscopic 3D display wall of up to 32* displays with just one system.
* Support requires Linux and Quadro Driver R387 or newer.
COMPATIBLE GPUs
Quadro Sync
Quadro Sync II
Additional Info
Synchronize using SLI Bridge
For simple synchronization for dual GPU installations of NVIDIA Mosaic, consider the options of using an SLI bridge.
The Quadro P6000, P5000, P4000, M6000 24GB, Quadro M5000 and Quadro M4000 support SLI. Learn more about SLI here.
To contact an NVIDIA multi-display expert, please contact us at QuadroSVS@nvidia.com