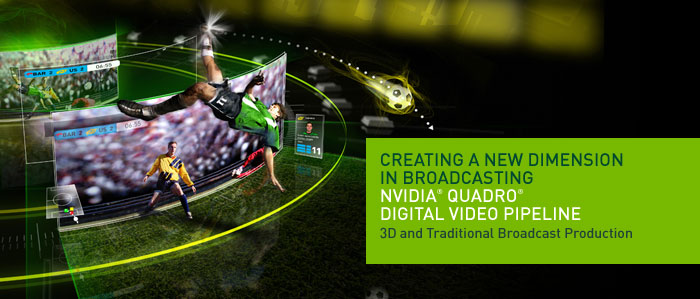 The NVIDIA® Quadro® Digital Video Pipeline is the industry's only GPU-accelerated solution for real-time acquisition, processing, and delivery of high-resolution video across standard and now 3D video broadcast environments.

Designed as an ultra-flexible platform, the Quadro Digital Video Pipeline leads the way for 3D video production and delivery. Developed for single or multi-camera environments, and with full support for stereoscopic 3D production workflows, the Quadro Digital Video Pipeline provides a direct feed of up to four HD SDI video streams directly into the GPU. As a tightly integrated solution, the Digital Video Pipeline is powered by a single workstation, enabling cost effective implementation of multi-camera 3D systems.
3D Stereo Production
Digital Broadcast
Film Production
New Media


3D Stereoscopic Production
The Quadro Digital Video Pipeline is at the epicenter of the 3D stereoscopic production workflow.
>

Capture up to four video feeds from multi-camera environments, in real-time, directly to the GPU


>

Composite virtual 3D effects and video processing directly on the GPU


>

Broadcast the final result from the GPU directly to live TV or streamed over the internet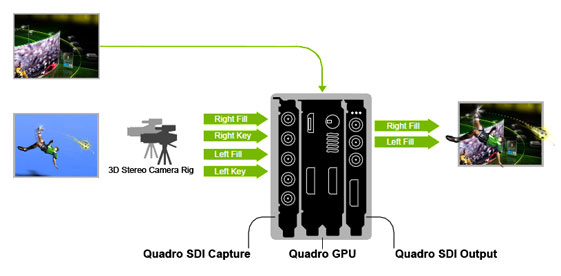 3D Broadcast
| | |
| --- | --- |
| | The Quadro Digital Video Pipeline is the leading-edge platform for creating a new dimension in viewing. Setting the standard for 3D stereoscopic production and delivery through advanced SDK tools and unified drivers, developers can easily integrate into their applications using either OpenGL or Direct3D programming interfaces. Utilize the same drivers, removes the complexity of multi-threaded, programming to buffer video from devices of different vendors, creating a unified and integrated solution. Plus video professionals can preview content on stereo-ready displays when driven by Quadro solutions that include support for broad list of 3D stereo formats. |
Quadro Digital Video Pipeline Solutions
Quadro SDI Capture card enables multi-stream, uncompressed video to be streamed directly to Quadro SDI-enabled GPU memory

>

Capture up to 4 HD-SDI Single link sources simultaneously


>

Supports all SMPTE standard formats (3G, 2K, HD and SD) through 75 Ohm
BNC connectors


>

Indicator LEDs on the bracket provide easy error detection


>

Monitor out can be used as a sync source for the optional SDI Output card

Quadro SDI Output card provides an integrated graphics-to-video solution enabling 2D and 3D effects to be composited in real-time with 2K, HD, and SD video (3G not currently supported)

>

Enables genlock to external house sync or sync to Quadro SDI Capture card


>

Supports 2K, HD and SD video formats uncompressed 8-bit, 10-bit or 12-bit SDI


>

Combines with SDI-enabled Quadro graphics board

Quadro SDI-enabled professional graphics solutions for ultimate performance and features

>

CUDA GPU architecture for compatibility with all CUDA-based applications


>

Up to 12 GB of graphics memory


>

Dual and single slot solutions


>

Compatible solutions:
1 CUDA Parallel Processing Cores cannot be compared between GPU generations due to several important architectural differences that exist between streaming multiprocessor designs.
2 NVIDIA SDI Capture and Output Boards are not supported on Windows 8. SDI I/O support for Windows 8 is available through our GPUDirect™ for Video board partners.
Software Development
We are no longer accepting applications for the NVIDIA Quadro SDI SDK since the same low latency video I/O can be achieved across a wide range of GPUDirect for Video enabled 3rd party I/O boards. Contact the I/O board vendors for access to their SDK and follow the included GPUDirect for Video examples.
If you have any questions about legacy support for the NVIDIA Quadro SDI SDK, contact us at
DVP-support@nvidia.com
.