>
>
>
>
Design and Manufacturing Industry
Industry Solutions for
Design and Manufacturing


Accelerate productivity with the power of NVIDIA
Whether you're creating innovative products or groundbreaking architecture, NVIDIA professional graphics help optimize your workflow and improve the performance of your design application. NVIDIA Quadro® graphics cards provide optimum performance across the broadest range of desktop and mobile workstations. They are certified and recommended by all major hardware OEMs and leading ISVs for meeting the highest quality standards. Plus, they're backed by the reliability of long-life, stable driver releases.
Combine multiple Quadro and/or Tesla® GPUs and leverage NVIDIA Multi-GPU technology to scale up performance or design and render/simulate on the same workstation at the same time to accelerate your workflow. The newly released Quadro GP100 now offers unmatched desktop compute capability to minimize CAE simulation time, together with the fastest performance for interactive visualization of complex photoreal scenes. This new professional GPU is also designed to enable deep learning applications for manufacturing enterprises. With the adoption of new technologies such as 4K monitors and Virtual Reality on the horizon, the need for powerful professional GPUs has never been more evident.
Product designers, engineers, and architects can now take advantage of NVIDIA Iray physically based rendering software to interact with forms, materials, and lights and accurately visualize the final products while they're working on the design. Work with a lifelike representation of your product or building design and instantly see how each iteration will look photorealistically in a real-world environment.
In addition, NVIDIA GRID™ technology helps manufacturing companies and AEC firms unleash workforce productivity by delivering secure access to applications and data from just about any device—anywhere, anytime. By offering the ability to offload graphics processing from the CPU to the GPU in virtualized environments, NVIDIA GRID enables data center managers to deliver true PC graphics-rich experiences to more users for the first time.
Learn more below about how NVIDIA accelerates productivity for the software you use.
Quadro GP100 for CAE
Bring optimal designs to market faster with the NVIDIA Quadro GP100 — the ultimate solution for the most sophisticated CAE workflows in design and manufacturing.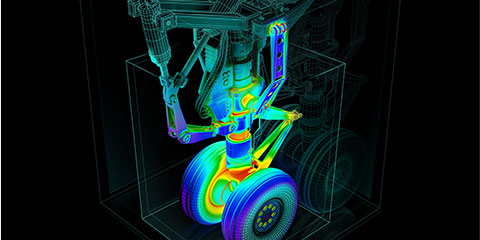 LEADING MANUFACTURING PROFESSIONAL DESIGN APPLICATIONS