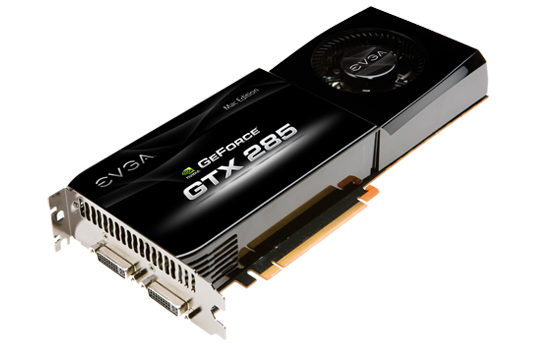 Product appearance may vary by manufacturer
GeForce GTX 285 for Mac

Additional Views
The NVIDIA® GeForce® GTX 285 accelerates your Mac Pro OS X applications. With the Boot Camp application you can unlock 3D gaming and experience NVIDIA® PhysX® technology - the best of both worlds.


Overview
Features
Specifications

Advanced Graphics – For Mac

With a unified shader core and massive memory bandwidth, the GeForce GTX 285 for Mac brings maximized performance to graphics-intensive applications like motion graphics, 3D modeling, rendering, and animation. It features a PCI Express 2.0 interface for a high-bandwidth connection to the Mac Pro.


Gaming on a Mac

Never thought you could game on a Mac? Say hello to Boot Camp – a built-in application on the Mac Pro that allows Windows to run natively on the Mac, like a PC. This pushes GeForce GTX 285 for Mac to its potential when playing intensive graphics applications such as Mirror's Edge featuring PhysX technology, for a new class of physical gaming interaction. Tear through complex DirectX 10 environments and cinematic effects at blazing frame rates in extreme HD resolutions.