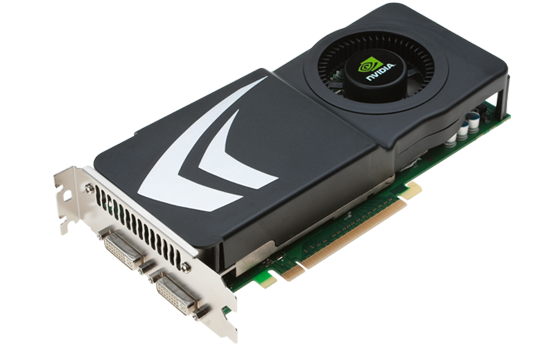 Product appearance may vary by manufacturer
NVIDIA GeForce GTS 250

Additional Views
Experience world-class HD graphics performance plus GPU-accelerated NVIDIA® PhysX™ gaming effects.


Overview
Features
Specifications


TheNVIDIA® GeForce® GTS 250 graphic card delivers world-class HD graphicsperformance plus GPU-accelerated NVIDIA® PhysX™ gaming effects,lightning fast video and image processing, and full NVIDIA® 3D Vision™support allowing you to game in true stereoscopic 3D.
WORLD CLASS GRAPHICS PERFORMANCE PLUS PHYSX

Experienceworld class graphics performance in the hottest games of this seasonand bring your games to life with NVIDIA® PhysX™ effects for massivelydestructible environments and ultra-realistic physical interaction ingames such as Mirror's Edge by Electronic Arts Inc.


Mirror's Edge © 2008 EA Digital Illusions

GPU-ACCELERATED VIDEO TRANSCODING, IMAGE EDITING AND HD VIDEO PLAYBACK

Acceleratevideo transcoding of digital movies to your iPod, PSP, or Zune up to10x faster than a CPU.* Experience super fast, silky smooth imageprocessing with full GPU acceleration support for Adobe® Photoshop® CS4.
* GeForce GTS 250 using Badaboom Media Converter vs.Intel Core2 Duo E7200 using iTunes.