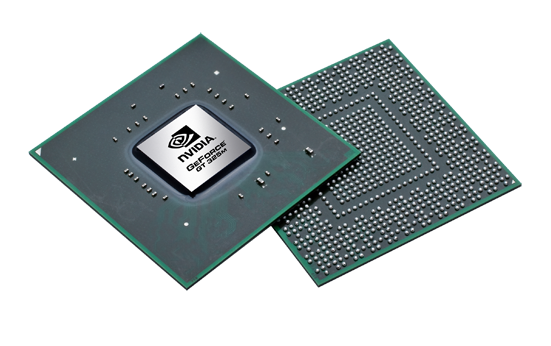 Product appearance may vary by manufacturer
NVIDIA GeForce GT 325M

Additional Views
The NVIDIA® GeForce® GT 325M GPU hits the sweet spot for mobile users who demand great performance and an awesome multimedia experience.

Overview
Features
Specifications

GeForce GT 325M GPUs deliver up to 30 times better performance1, accelerated GPU features in Window 7, and built-in NVIDIA® PhysX technology enabling hyper-realistic gameplay.
Superb Visuals

The powerful GeForce GT 325M GPU brings more realistic game environments and virtual worlds playing at high resolutions and fluid frame rates – up to 30 times better than integrated graphics. Built-in NVIDIA® PhysX™ technology enables hyper-realistic gameplay, bringing dynamic forces of nature and massively destructible environments to some of the most anticipated games such as Terminator Salvation and Darkest of Day's.


Get the Most out of Windows 7

GeForce GT 325M GPUs let you fully enjoy the new visual capabilities and features built into Windows 7. Experience a new class of GPU-accelerated video and image processing applications built with Microsoft's new DirectCompute API.

Outstanding Performance for Demanding Tasks

Take advantage of NVIDIA® CUDA™ technology with accelerated applications and experience new multimedia capabilities. Automatically clean-up video from your camcorder with vReveal from MotionDSP and easily edit HD movies with GPU-based applications like PowerDirector 7 by CyberLink.
1 – Compared to Intel Integrated GM45
Terminator® StudioCanal S.A. Salvation™ T Asset Acquisition Company, LLC. ©2009 T Asset Acquisition Company LLC. ©2009 EGI - Equity Games Production AG and BVT Games Fund IV Dynamic GmbH & Co. KG. Developed by Grin AB with Halcyon Games, LLC. Published by EGI - Equity Games Production AG and Evolved Games, Inc. All rights reserved. WBIE LOGO, WB SHIELD: ™ & © Warner Bros. Entertainment Inc.