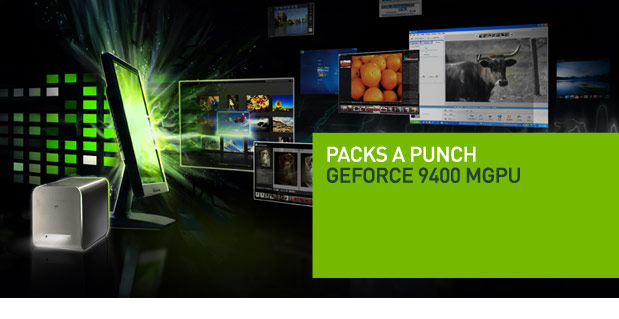 | | |
| --- | --- |
| "Good enough" graphics are no longer good enough. GeForce 9-Series mGPUs bring you 16-cores of DirectX® 10 graphics and NVIDIA® CUDA™ technology parallel processing horsepower. Featuring Hybrid SLI® and PureVideo® HD, GeForce 9-Series mGPUs turbo-charge your Optimized PC. Expect more from motherboard graphics. | |
DirectX 10 Graphics Performance
Take your graphics to the next level with 16-cores of DirectX 10 graphics and supercharge your application performance with CUDA technology. Additionally, take advantage of PhysX technology to create rich, immersive physical effects and incredible realism in your games.
Optimize your PC
Enjoy superior graphics performance on today's most popular games and applications at an affordable price with a GeForce 9-Series mGPU and an entry dual-core CPU. By building the GPU directly on a motherboard, you can save on space with sleek, small form-factor desktops.
Breathtaking High Definition Video Playback
Experience full-spec playback of your favorite Blu-ray titles. PureVideo HD offloads 100% of movie playback for all HD video formats (H.264, VC1, MPEG-2), delivering stunning, stutter-free video with outstanding audio fidelity.
Innovative Hybrid SLI Technology
Combine select NVIDIA discrete GPUs with NVIDIA motherboard GPUs to boost application performance by over 70%.

Get 70%+ faster graphics performance with Hybrid SLI and NVIDIA® GeForce® 9 Series mGPUs

Escape to more realistic virtual worlds with NVIDIA® GeForce® 9 Series mGPUs

Play your game The Way It's Meant To Be Played™ with NVIDIA® GeForce® 9 Series mGPUs

Play your game The Way It's Meant To Be Played™ with NVIDIA® GeForce® 9 Series mGPUs

Play your game The Way It's Meant To Be Played™ with NVIDIA® GeForce® 9 Series mGPUs

Introduction Introducing GeForce 9 Series mGPUs
David Ragones (Product Line Manager, NVIDIA) describes the game-changing performance of NVIDIA motherboard GPUs

Full Microsoft DirectX 10 Support
A DirectX® 10 GPU with full Shader Model 4.0 support delivers unparalleled levels of graphics realism and film-quality effects. GeForce® 9-Series mGPUs include 16 dedicated graphics cores to deliver the best visual experience.

NVIDIA CUDA Technology
CUDA ™ technology unlocks the power of the GPU's processing cores to accelerate the most demanding system tasks – such as video encoding – delivering up to 7x performance over traditional CPUs.
Feature requires application support for CUDA technology
GeForce Boost, a Hybrid SLI® Technology
Turbocharge the performance of your GeForce GPU*. Plug it into an NVIDIA motherboard to enjoy the additive performance of GeForce® Boost technology. Get great graphics at an exceptional value.
*On select GeForce GPUs, visit www.nvidia.co.in/hybridsli for a complete list

NVIDIA PureVideo HD Technology
PureVideo® HD technology is the combination of high-definition video decode acceleration and post-processing that delivers unprecedented picture clarity, smooth video, accurate color, and precise image scaling for movies and video. PureVideo HD includes required content protection circuitry (HDCP) for playing the new Blu-ray and HD DVD movies at the highest quality possible, and is directly integrated with the leading HD movie software players. PureVideo HD delivers the ultimate high-definition movie experience on a PC.

NVIDIA® MediaShield™ Storage
Provides a simple point and click wizard-based interface for creating and managing multi-disk storage configurations. Allows multi-disk designs to be set up for maximum performance (RAID 0), for data protection (RAID 1), or for a combination of both performance and protection (RAID 0+1 and RAID 5).
NVIDIA Native Gigabit Ethernet Technology
The industry's fastest Ethernet performance eliminates network bottlenecks and improves overall system efficiency and performance.
NVIDIA® FirstPacket™ technology
Be the 'King of Ping' with NVIDIA® FirstPacket™ technology. Get the crystal-clear phone conversations and online gaming performance you expect. NVIDIA FirstPacket technology assures your game data, VoIP conversations, and large file transfers are delivered according to preferences set by you in an intuitive wizard.



CPU
Intel
Processor Supported
Core 2 Extreme; Core 2 Quad;
Core 2 Duo; Pentium; Celeron
Socket Supported
775
FSB Speed (Intel only)
1333Mhz
NVIDIA SLI Technology
DDR Support
Dual-channel
DDR2-800 / DDR3-1333
SLI-Ready Memory
SATA/PATA Drive Support
6/0
NVIDIA MediaShield RAID
0,1,0+1,5
Audio Specification
HDA (Azalia)
ESA-Certified
Gigabit Ethernet Connections
1
NVIDIA FirstPacket technology
PCI Express x16 slots
1
NVIDIA Control Panel
Vista Support
NVIDIA System Monitor
NVIDIA GeForce Boost
NVIDIA HybridPower
NVIDIA PureVideo
HD
Display Outputs
RGB, dual-link DVI, HDMI, DP
Form Factor
uATX