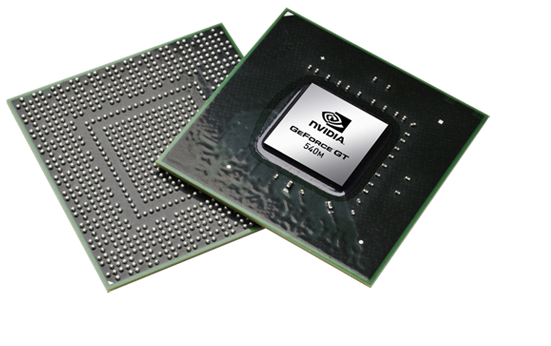 Product appearance may vary by manufacturer
GeForce GT 540M

Additional Views
Twice the performance of integrated graphics¹ for outstanding visuals, and long battery life with NVIDIA
®

Optimus™ technology.



1 – Compared to Intel "Sandy Bridge GT2" integrated graphics
Overview
Features
Specifications

NVIDIA® GeForce® GT 540M GPUs deliver 2X the performance of integrated graphics and long battery life you demand with NVIDIA® Optimus™ technology, the new standard for notebook graphics. Experience outstanding performance on visually stunning DirectX 11 titles, graphically rich HTML5 websites, and immersive Blu-Ray 3D movies at full 1080p.
Great performance AND great battery life

NVIDIA® Optimus™ technology seamlessly and intelligently optimizes battery life while delivering the outstanding graphics performance you expect, whether you're watching a HD movie, surfing new HTML5 websites or playing the latest DirectX 11 games.

Outstanding performance today - leading-edge technologies optimized for tomorrow

Speed up editing of your HD videos and retouch your high-res photos with stunning clarity. Accelerate HTML5 websites on next-generation browsers with richer graphics and supercharged performance. Bring the 3D experience home and enjoy full 1080p Blu-Ray 3D movies on your 3D TV.

DirectX11 Done Right

Dominate the latest DirectX 11 titles with over 2X graphics performance, higher resolutions and NVIDIA® PhysX® physics engine effects for the most realistic gaming experience. Exclusive NVIDIA GeForce drivers deliver continuous performance optimizations to your GeForce GPU for the life of your notebook.
FEATURED NOTEBOOKS

GeForce GT 540M Perfomance Ratings:
Web Rating
HD Rating
3D Rating
Gaming Rating
Performance vs. Integrated Graphics¹
4x
OEM Brand
Model Name
Screen
NVIDIA Optimus

3D TV Play

3D Vision


| | | | | |
| --- | --- | --- | --- | --- |
| Aspire 4738G | 14" | | | |
| 740G | 14" | | | |
| 750G | 15" | | | |
| Aspire 4743G | 14" | | | |
| Aspire 4750G | 14" | | | |
| Aspire 5742G | 15" | | | |
| Aspire 5750G | 15" | | | |
| Aspire 5755G | 15" | | | |
| Aspire 5951G | 15" | | | |
| Aspire 8951G | 18" | | | |
| Timeline X3830 | 13" | | | |
| Timeline X4830 | 14" | | | |
| Timeline X5830 | 15" | | | |

Acer

Alienware

Asus

MSI

Packard Bell

Toshiba