NVIDIA Revs Up SPY's VFX Engines for "Priest"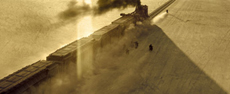 In the post-apocalyptic sci-fi thriller "
Priest
" from Screen Gems, a warrior man of the cloth ventures out from hiding when his niece is kidnapped by a pack of murderous vampires. Directed by Scott Charles Stewart from the graphic novel of the same name, "
Priest
" was released in 2D and stereoscopic 3D, and premiered on May 13th. One of the lead VFX vendors, SPY, a FotoKem Company based in San Francisco, leveraged
NVIDIA® Quadro® professional graphics solutions
to help create 125 visual effects shots, including a major sequence involving a high-impact train collision.
A longtime NVIDIA client, SPY's visual effects pipeline takes advantage of the speed and flexibility of Quadro professional graphics processing units (GPUs). Said Mike Janov, VFX supervisor, SPY, "One of the things we did extensively in our shots for 'Priest' was blow stuff up. Without Quadro cards we wouldn't have been able to interactively manipulate and display shaders, particles and detailed CG effects elements that were necessary in developing the look of our sequences."

SPY was tasked with exploding computer generated (CG) motorcycles that disintegrate upon impact, and needed to find a way to make the motorcycles retain as much of their structure as possible right before hitting the ground and falling apart.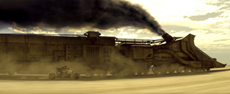 Accelerated with Quadro GPUs, SPY utilized Autodesk Maya for their hard surface modeling, NVIDIA mental ray for rendering, Autodesk 3ds Max for dynamics and effects, and Thinkbox Software's Krakatoa for particle effects. Compositing was done using The Foundry's NUKE and Autodesk Flame.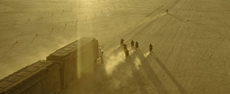 Continued Janov, "We were able to achieve our desired look using Particle Flow in 3ds Max. In this case, we were able to load the entire motorcycle as a set of particles, enabling us to minimize the motorcycle dynamics pretty quickly. With the flip of a switch, depending on how much precision we wanted, we could actually set a binding value for it. The motorcycle would lose control, hit the ground and parts would start to fall apart and disintegrate based on certain values defined within the binding system. Working with NVIDIA Quadro gave us the speed and flexibility to create multiple iterations of this climactic effect."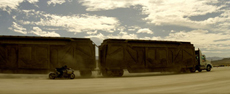 SPY has been building CG workstations since the '90s and relied on optimizing VFX pipeline performance to meet the compressed delivery schedule of their shots for "Priest." "There are a lot of hurdles to overcome when multiple artists are collaborating to produce photo real shots," said Eric Hanson, senior vice president, FotoKem Creative Services, and co-founder of SPY. "We have always been able to overcome those hurdles with NVIDIA GPUs in all of the platforms we deploy. We work with Quadro graphics cards because of what the technology brings to our VFX pipeline and the confidence that we'll be properly supported by NVIDIA."
Image courtesy of Screen Gems
# # #