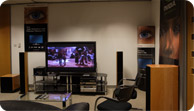 PC entertainment has come of age. A new generation of technologies is placing the PC at the centre of a fantastic home entertainment experience which has to be seen to be believed. With that in mind, leading hi-tech entertainment company Pioneer chose to team up with NVIDIA in creating a demonstration room capable of showing the world just what the latest audio visual equipment can deliver.

Challenge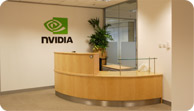 High definition (HD) is leading this home entertainment revolution - it's the most significant leap in visual performance since DVD. HD content, HD-enabled PCs, Blu-ray and HD-DVD players and HD-compatible flat-screen TVs are now widely available. With the addition of increasingly affordable high-specification home theatre systems, this means consumers can complement HD visuals with exceptional quality audio. It's a set-up that defines a new level of cinema-like performance in the home.
As one of the most respected names in audio visual equipment, Pioneer is at the forefront of HD technology with a line-up of plasma TVs developed to deliver an optimum HD experience However, because HD is such a visual medium, the company needed a way to convey the huge step-up in quality which HD achieves over standard video or digital terrestrial TV.
Mark Grotefeld, Head of Marketing, Pioneer's Multimedia Division explains: "Many people are confused about what they need in order to watch HD and still don't understand just how good the images are. With HD technology, seeing really is believing – we needed a way to show members of the press, partners and customers exactly why they should be getting excited about this technology."
Solution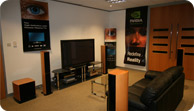 Pioneer approached NVIDIA to create a demo room at NVIDIA's Berkshire offices. By combining a stunning Pioneer professional screen, theatre system and high-quality speaker line-up with media centre PCs using NVIDIA® PureVideo™ HD technology, the two companies are able to showcase the ultimate HD home entertainment experience.
Mark Grotefeld continues: "We have our own demo facility at Pioneer showing stunning playback of HD images from our Blu-ray players and recorders. And when showing the performance of media centre PCs we use systems driven by PureVideo HD: it delivers the exceptional images necessary to do justice to the image quality of our plasma screens. PureVideo HD technology combines hardware and software components to optimise video quality, delivering the sharp contrasts, rich colours and ultra-fluid images which characterise Pioneer's HD plasma TVs."
As well as the screen, audio components from Pioneer's product range have been installed, including a surround sound amplifier and speaker configuration. The complete system envelops the viewer to create an engaging and immersive demonstration which truly showcases the full potential of the latest home entertainment technology.
Impact
Scott Vouri, NVIDIA's General Manager of Multimedia and Software, adds: "This has been a true collaboration and highlights how our technologies complement one another. It means that, for the first time, it's possible for us to show the contrast between standard video and HD, something which is very difficult to convey with words alone. Together Pioneer and NVIDIA components bring out the nuances of these comparisons."
"In creating the demo room with NVIDIA we wanted to show just what can be achieved with the reasonably priced, high-quality off-the-shelf technology is available today," concludes Mark Grotefeld. "The result is an entertainment experience that's unprecedented in its realism and truly harnesses HD's breathtaking visual performance. NVIDIA has helped us to create a very powerful tool for communicating with key media and industry partners which will continue to develop as our technologies evolve."