solution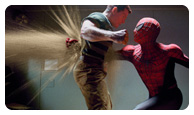 Spider-Man (Tobey Maguire, right) takes on Sandman (Thomas Haden Church, left) in Columbia Pictures' Spider-Man 3. Imagery created with NVIDIA graphics.
To create the blockbuster movie Spider-Man 3, Sony Pictures Imageworks had to adapt their in-house digital dailies system to provide 2K resolution, tear-free, stutter-free, color-accurate, and real-time playback of movie files for review and shot approval during daily "Sweatbox" sessions. Sweatbox—Imageworks' proprietary dailies system—is essential to the directorial and creative process behind Spider-Man 3 and other Imageworks' films.





solution
Tobey Maguire stars as Spider-Man in Columbia Pictures' Spider-Man 3. Imagery created with NVIDIA graphics.
For
Spider-Man 3
, Imageworks used NVIDIA® Quadro® professional graphics solutions to adapt Sweatbox to the unique demands and needs of the production. Because
Spider-Man 3
was created at 2K resolution, one of the requirements was a 2K Sweatbox and projection system. This allowed artists to see "pixel-to-pixel" accurate dailies as they were making decisions and finalizing shots for each scene. NVIDIA Quadro solutions drove Linux-based Sweatbox systems and 2K projectors at 24 frames per second in conjunction with an in-house application created specifically for the 2K Sweatbox review sessions.
NVIDIA Quadro solutions were also used in Imageworks' render farm, allowing artists working on Spider-Man 3 to submit Maya Playblast and other hardware renders to the render queue without tying up their local workstation resources. This enabled the artists to continue working at full speed while the images were being rendered. The precision that NVIDIA GPUs provide has allowed Imageworks to accelerate and optimize their production pipeline, workflow enhancements that were necessary to create this amazing film.
Impact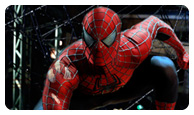 Tobey Maguire stars as Spider-Man in Columbia Pictures' Spider-Man 3; ready to pounce on an unsuspecting antagonist. Imagery created with NVIDIA graphics.
Bill Villarreal, Vice President of Technology at Imageworks, stated: "When we are in the final stretch of delivering a big show like Spider-Man 3, we have to depend on the high quality and exceptional performance of every aspect of our production pipeline. This is especially true for our hardware systems. From artists' workstations to our high-resolution playback systems, NVIDIA graphics are prevalent throughout our facility and have consistently provided us with the quality, performance, and support we need to deliver the incredible imagery Imageworks is known for, to audiences around the world."



For more information, visit: //spiderman3.sonypictures.com
Images: (c) 2007 Columbia Pictures Industries, Inc. All Rights Reserved.
NVIDIA, the NVIDIA logo and Quadro are trademarks or registered trademarks of NVIDIA Corporation in the U.S. and/or other countries.