THE POWER OF CLOUD GAMING
Streaming video and music to TVs, PCs and tablets using cloud services like Netflix, YouTube, Pandora and Spotify has become the predominant way to enjoy content for connected devices. The convenience of large cloud-managed libraries of content with stream-anywhere capability is impossible to resist.
Now with revolutionary NVIDIA GRID cloud gaming technology, you'll soon be able to stream video games from the web just like any other streaming media. GRID renders 3D games in cloud servers, encodes each frame instantly and streams the result to any device with a wired or wireless broadband connection.

FREEDOM FROM THE CONSOLE
The result of NVIDIA GRID is nirvana for the gamer. When service operators use NVIDIA GRID as the foundation for their on-demand Gaming as a Service (GaaS) solution, you can experience tremendous advantages over traditional console gaming systems.
Any-device gaming: High-quality, low-latency, multi device gaming on any PC, Mac, tablet, smart phone, or TV.

Click-to-play simplicity: Anytime-access to a library of gaming titles and saved games in the cloud. Play or continue games from any device, anywhere.

Less hassle: No new hardware. No complicated setup. No game discs. No digital downloads. No game installations. No game patches.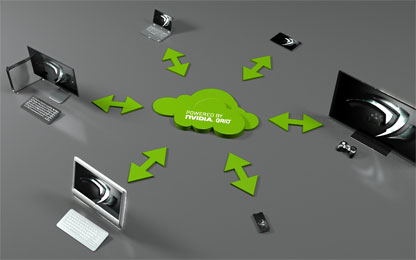 READ THE LATEST REVIEWS OF NVIDIA GRID
"I tried Street Fighter IV… It was stunning and [had] no latency…It was like playing on a home gaming device."
Famitsu.com
"[GRID]… truly appears to be prepared to change the way we play games from top to bottom."
Editor, SlashGear
NVIDIA GRID revealed to change cloud gaming forever .