Innovative Dual GPU Design Is Also Dramatically Quieter Than Competitive Products
For more information, contact:
Vivek Padiyar
Perfect Relations
M +91.98923.06446
O +91.22.2436.7155
nvidia@perfectrelations.com
+44 (0) 118 903 3078
FOR IMMEDIATE RELEASE: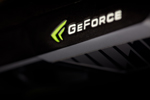 The new GeForce GTX 590 is the world's fastest graphics card and is the world's quietest dual GPU board ever built. It's so quiet you may not realize it's even running!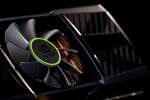 The GeForce GTX 590 incorporates a cool LED light to keep you aware of its operating state. Very cool.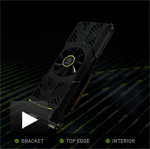 Interactive Demo
SANTA CLARA, Calif.—March 24, 2011—NVIDIA today introduced the GeForce® GTX® 590, the fastest dual graphics card available today which also happens to be the world's quietest too. Powered by dual NVIDIA Fermi™-class GPUs on a single card, the GTX 590 is designed for űber enthusiasts and those looking to build the ultimate PC gaming rig.
With a combined 1024 NVIDIA CUDA® architecture cores, 3GB of GDDR5 memory, 6 billion transistors and over 2200 individual components all packed into an 11 inch dual slot card, the GTX 590 delivers a staggering 32 tessellation engines that can power today's cutting edge DX11 games at resolutions of 2560x1600 and higher. With four separate video outputs on each card, consumers can configure their PC with four independent displays, or they can span their gaming across 3 3D displays, at a resolution up to 5760x1080 for an intense, immersive, stereoscopic gaming experience utilizing NVIDIA 3D Vision™ Surround technology.
Like all NVIDIA "DX11 Done Right" GPUs, the GTX 590 delivers the world's fastest performance for DX11 gamesi. And with NVIDIA SLI® technology, the industry's most scalable multi-GPU platform, gamers can increase their PC's gaming performance by adding a second GeForce GTX 590, for an incredible Quad SLI gaming mode.
NVIDIA engineered the GTX 590 to be the world's quietest dual GPU product. It features a special cooling system and dual vapor chambers which deliver both astounding performance and acoustics. Measured with a standard decibel meter, the GTX 590 clocks in at 48dB, more than two times quieter than the closest competitive product under full graphics load. To the human ear, this difference means the GTX 590 delivers a 3D gaming experience that is typical of a quiet library.
"The GTX 590 is the best dual GPU product ever built," said Drew Henry, general manager of GeForce GPU business at NVIDIA. "With leading performance, support for multi-monitor 3D gaming, Quad SLI, and an acoustic envelope that begs to be heard for how quiet it is, the GTX 590 epitomizes what a perfect dual graphics card looks, performs, and sounds like."
With an estimated selling e-tail price starting at $699 USD, the GeForce GTX 590 is available starting today from the world's leading add-in card partners, including Asus, EVGA, Gainward, Gigabyte, Inno3D, MSI, POV, Palit, and Zotac.
For more information on the new GeForce GTX 590, please visit: //www.nvidia.co.in/object/product-geforce-gtx-590-in.html.
To download GeForce GTX 590 product photographs, please visit the NVIDIA Flickr page located here: //bit.ly/hZ2rpo.
About NVIDIA
NVIDIA (NASDAQ:NVDA) awakened the world to the power of computer graphics when it invented the GPU in 1999. Since then, it has consistently set new standards in visual computing with breathtaking, interactive graphics available on devices ranging from tablets and portable media players to notebooks and workstations. NVIDIA's expertise in programmable GPUs has led to breakthroughs in parallel processing which make supercomputing inexpensive and widely accessible. The Company holds more than 1,800 patents worldwide, including ones covering designs and insights that are essential to modern computing. For more information, see www.nvidia.co.in.
Certain statements in this press release including, but not limited to statements as to: the features, benefits, performance, price and impact of NVIDIA GeForce GTX 590, NVIDIA "DX11 Done Right" GPUs, NVIDIA 3D Vision technology and NVIDIA SLI technology; and the effects of the company's patents on modern computing are forward-looking statements that are subject to risks and uncertainties that could cause results to be materially different than expectations. Important factors that could cause actual results to differ materially include: global economic conditions; our reliance on third parties to manufacture, assemble, package and test our products; the impact of technological development and competition; development of new products and technologies or enhancements to our existing product and technologies; market acceptance of our products or our partners products; design, manufacturing or software defects; changes in consumer preferences or demands; changes in industry standards and interfaces; unexpected loss of performance of our products or technologies when integrated into systems; as well as other factors detailed from time to time in the reports NVIDIA files with the Securities and Exchange Commission, or SEC, including its Form 10-K for the fiscal year ended January 30, 2011. Copies of reports filed with the SEC are posted on the company's website and are available from NVIDIA without charge. These forward-looking statements are not guarantees of future performance and speak only as of the date hereof, and, except as required by law, NVIDIA disclaims any obligation to update these forward-looking statements to reflect future events or circumstances.
# # #
© 2011 NVIDIA Corporation. All rights reserved. NVIDIA, the NVIDIA logo, 3D Vision, CUDA, GeForce, Fermi and SLI are trademarks and/or registered trademarks of NVIDIA Corporation in the U.S. and other countries. Other company and product names may be trademarks of the respective companies with which they are associated. Features, pricing, availability, and specifications are subject to change without notice.
__________________________________________
iGTX 590 compared to HD Radeon 6990 across twelve DX11 games and benchmarks at a 2560x1600 resolution. Drivers used were NVDIIA 267.71 and Catalyst 11.4 Preview. Performance gain of GTX 590 over Radeon 6990 across all games and benchmarks was eleven percent on average.

What System Builders Are Saying About GeForce GTX 590:
CyberPower -- US
"The tremendous graphics performance and improved acoustics combined with the wealth of NVIDIA technologies make the GeForce GTX 590 the card to get for gamers and enthusiasts. The latest flagship GTX 590 will be incorporated into CyberPower's many award winning systems including the Fang EVO series, Black Pearl, and Gamer 3D series of gaming PCs."
-- Eric Cheung, CEO of CyberPower
Digital Storm -- US
"The GeForce GTX 590 is the most impressive DirectX 11 graphics card NVIDIA has ever released. Amazingly quiet and incredibly powerful, it absolutely blew us away when we hooked it up to our 5760x1080 3D Vision Surround system."
-- Rajeev Kuruppu, Director of Product Development
Falcon Northwest – US
"The fact that the GTX 590 is the fastest card ever made doesn't surprise me. We've come to expect that with each new release from NVIDIA. What floors me is the low noise level this card produces. At full speed it's more than 10 decibels quieter than competing dual-GPU cards, which means it's literally half as loud. The fastest card at half the noise – impressive!"
-- Kelt Reeves, President and CEO of Falcon Northwest
iBUYPOWER – US
"The GeForce GTX 590 is a surprisingly quiet for a card of its power. The combination performance and feature set make this video card hands down the best overall video card for gaming that we've ever seen."
-- Darren Su, Vice President of iBUYPOWER
Inet – Sweden
"Our first impression of the card is how quiet and cool it is, but yet so extremely powerful. We couldn't wait to try it in our monster PC, the Inet Taurus Überkill. The test results are brilliant and we can't wait to get yet another card so we can run it in SLI. The GTX590 is a quiet beast with no competition on the market!"
-- Erik Wickman, Purchasing Manager
Maingear -- US
"The NVIDIA GeForce GTX 590 graphics solution in our desktops offers THE ultimate gaming experience. The GTX 590 has it all: NVIDIA 3D Surround, dual GPUs, and dual custom vapor chambers to keep the card cool and quiet. Pair it up with the MAINGEAR SHIFT of F131 and you have a complete package to run any game at any setting no questions asked!"
-- Wallace Santos, CEO and Founder
Origin PC -- US
"ORIGIN is dedicated to providing the best NVIDIA GPUs to our customers and the GeForce GTX 590 certainly fits the bill. It is the fastest graphics card we have ever tested and stays amazingly quiet, even under full game load! For gamers, the timing of the GTX 590 is perfect. They can get our ORIGIN GENESIS, the GTX 590, Crysis 2, and a HD monitor and know they will be ready to have the best PC gaming experience possible."
-- Kevin Wasielewski, CEO and Co-Founder
Paradigit – Holland
"The GTX590 is the single fastest card we've ever seen - on top of that, it's low noise, power consumption and cool operation easily make it the must-have card of 2011! Order yours now to be ready for the next generation of games."
-- Jasper Driuf, Purchasing Manager
Scan – UK
"The GeForce GTX 590 is the ultimate high end graphics card that Scan Computers love! Ultimate performance, whisper quiet acoustics, menacing looks; it clearly has it all, and when coupled with an EK water block and Scan knowhow, the 3XS Scorpion-X PC is unleashed!"
-- Elan Raja III, Director
V3 Gaming – US
"The new NVIDIA GeForce GTX 590 is a very well-designed product, evidenced by the superior performance and decreased noise and heat outputs when compared to the competition."
-- Thomas Gribble, product manager at V3 Gaming PC

Velocity Micro – US
"With the release of the GTX 590, NVIDIA has once again broken new ground in the ultra performance GPU space. Our initial testing has shown that a quieter, faster card than the GTX 590 simply doesn't exist, which is sure to make it popular with our power-hungry customers. In short, the GTX590 is remarkably quiet for such a powerful card."
-- Randy Copeland, President and CEO of Velocity Micro
Verkkokauppa – Finland
"NVIDIA GTX590 is the most impressive piece of hardware I have seen in long time. Thanks to great cooling system design it has amazingly low noise level for the superior performance GTX590 provides. This card will give the ultimate experience for every gaming enthusiast!"
-- Johannes Pajunen, Product Manager