>
>
>
>
NICE Desktop Cloud Visualisation (DCV)


NVIDIA GRID and NICE DCV technologies for Linux and Windows® graphics-accelerated virtual desktops.
NICE DCV: REMOTE 3D FOR LINUX AND WINDOWS
With NICE Desktop Cloud Visualization (DCV), users can leverage the power of NVIDIA GPUs and the flexibility to access both Linux and Windows® Virtual Desktops optimized for 3D and graphics-intensive applications.
Applications using OpenGL or Microsoft DirectX9, 10 or 11 can be controlled remotely over LAN or WAN, delivering a responsive and interactive workstation-like experience from virtually any device and over any network.
Easy to install and use, NICE DCV offers outstanding performance regardless of which hypervisor is used and supports a broad range of GPU virtualisation technologies, including NVIDIA vGPU, NVIDIA GPU pass-through. NICE DCV can be used in the public cloud, leveraging NVIDIA GRID® cards offered on Amazon or run directly on physical hardware, without a virtualisation layer.
GPU Pass Through with NICE DCV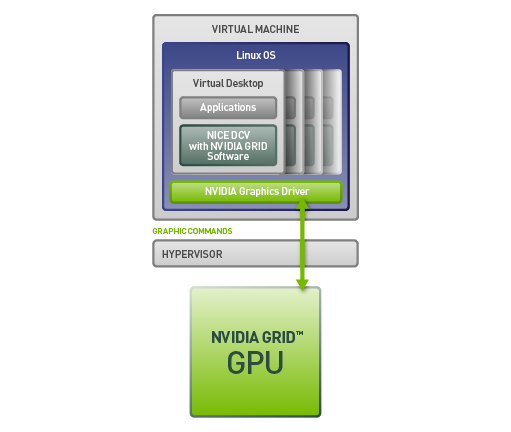 GRID vGPU with NICE DCV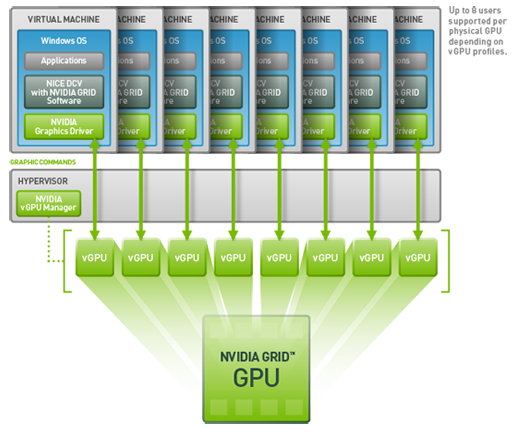 WHAT IS NICE DCV?
NICE DCV is a lightweight remote desktop protocol designed to offer a true workstation experience for the most demanding 3D applications. With a single software client supporting multiple monitors and very high screen resolutions, users can remotely access both Linux and Windows applications. Optimal management of diverse network bandwidth and latency is provided by dynamically adjusting image compression using the DCV Console which also provides the ability to collaborate with other users in real time, each with independent bandwidth control.
Coupled with the popular NICE EnginFrame HPC Portal and Session Broker and the power of NVIDIA GRID®, Quadro, and Tesla cards, NICE DCV enables a comprehensive and versatile remote 3D experience for any CAD, CAE, Oil & Gas or other technical applications.
Source: NICE.

NICE DCV RESOURCES