>
>
>
>
Multi-GPU Technology


Professional Multi-GPU System Benefits:
NVIDIA® Maximus® technology transformed the design process by combining the industry-leading graphics capability of NVIDIA Quadro® graphics processing units (GPUs) and the high performance computing power of NVIDIA Tesla® GPUs. NVIDIA Multi-GPU Technology builds on this capability by leveraging any combination of Quadro and Tesla GPUs to intelligently scale the performance of your application and dramatically speed up your production workflow. This delivers significant business impact across industries such as Design and Manufacturing, Media and Entertainment, and Energy Exploration.
Substantial time savings — A multi-GPU system helps address the pressures of delivering a high-quality product to market more quickly by providing ultra-fast processing of your computations, renderings, and other computational and visually intensive projects.
Multiple iterations — The ability to revise your product multiple times in a resource and time-constrained environment will lead to a better end result. Completing each iteration of your automobile, animated movie, or seismic data processing faster, leads to additional refinements.
A multi-GPU system also offers tremendous flexibility in its implementation, whether you're using a traditional desktop workstation or an NVIDIA GRID™-powered virtualised server. Multiple GPUs help optimize your workflow across a range of professional applications with performance increases of up to:
* Relative to CPU.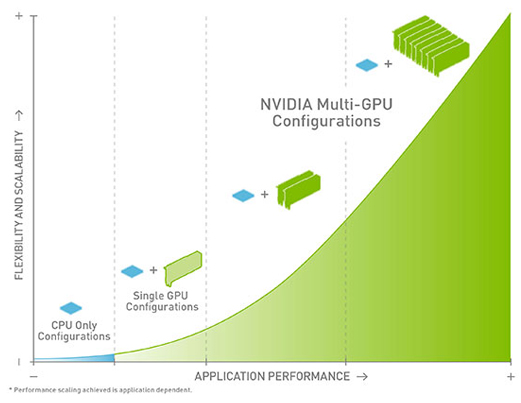 A multi-GPU system provides more than just performance gains. It also gives you the freedom to run your applications with full features and effects enabled. This includes real-time ray tracing and global illumination for full realism of your models and scenes.
Multi-GPU system resources