Lady Chatterjee testimonial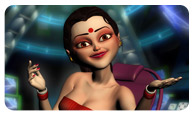 India's movie industry is the largest in the world and its best known product internationally is the Bollywood film, characterised by colourful song and dance routines. Now Bollywood has a new star – virtual 'item girl' Lady Chatterjee, created by animator C. B. Arun Kumar and his team using NVIDIA Quadro workstation technology. For the uninitiated, item girls are starlets who perform in the main musical numbers which feature as part of many Bollywood films.
Not only does 'Lady C' hold her own against fellow glamour girls on the big screen, she's also India's first video tone item girl. Mobile users can download her music video to their phones so that Lady C appears every time they receive a call.
challenge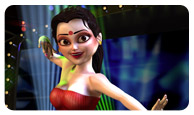 The creation of Lady C was a complicated task. To realise their original concept of a 3D character with all the appeal and personality of a 'real' item girl, C.B. Arun Kumar's creative team needed sophisticated digital techniques and equipment. They required world-class technology which was easy and fast to work on, scalable and allowed screen shots to be previewed in real time so that changes could be made instantly.
solution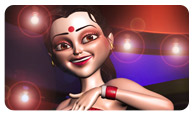 The NVIDIA Quadro range of graphics technology proved to be an excellent choice for driving the team's 3D applications, allowing every ounce of performance to be extracted from the workstations. In the overall system configuration, cutting-edge graphics support from NVIDIA became crucial for the realisation of the project's demands. In addition, the NVIDIA Quadro drivers were fully compatible with 3DSMAX and MAYA, which was critical in the character's creation.
impact
NVIDIA solutions provided the flexibility, speed, and quality C B Arun Kumar and his team needed. The good working relationship between C B Arun Kumar and NVIDIA was also a vital component of the total graphics solution. The result was an immensely likeable and popular animated icon who's a true character, not just a cardboard cutout.
What's more, the architects of Lady Chatterjee have recommended NVIDIA Quadro products as the best solution for today's digital content creator.