Kikoriki. The Beginning, Russia's First Stereo 3D Feature Brought to Life with NVIDIA Technologies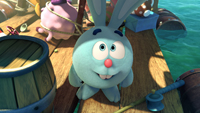 The energetic, fun-loving rabbit 'Krash'
For Petersburg Animation Studio (Riki Group), and the Russian animation industry on the whole, "Kikoriki. The Beginning" is a massive achievement, marking the first full-length 3D stereo film captured using a dual-camera stereo rig. Leveraging NVIDIA® Quadro® professional graphics solutions, the animators at Russia's Petersburg Animation Studio were able to optimize their Stereo 3D production pipeline and produce a film that upholds world-class animation standards.
The full-length animated Russian film "Kikoriki. The Beginning" is set to premiere in December 2011. Not just another typical folk hero tale so popular with Russian children, "Kikoriki. The Beginning" is set in the midst of a modern metropolis where millions of the cuddly 'Kikoriki' live, amongst towering skyscrapers and zooming buses, trains and flying objects.
Challenge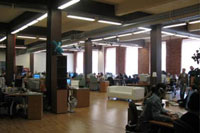 Petersburg Animation Studio
"We were facing a complex challenge – to create an animated film aimed not only at Russian audiences, but also at audiences around the world," said Nadezhda Kuznetsova, CEO of Petersburg Animation Studio. "The production quality was very important to us because 'Kikoriki. The Beginning' is only the first part of three full-length movies about the universe of Kikorikis. We knew we needed to capture and dazzle audiences with this film, so that they enthusiastically anticipate the next two."
Kuznetsova explained that the project was initially planned as a 2D animated feature, but when the production got underway, producers felt that stereo 3D would be a better option for this story. In order to optimize image quality, the creative team decided to produce the film in stereo 3D rather than opt for a post 2D-3D conversion.
Solution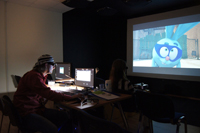 Petersburg Animation Studio director Denis Chernov watching stereo material
Using NVIDIA® 3D Vision™ Pro gave the team a simple and reliable solution for high-quality visualization of large-scale objects in stereo 3D on a big screen. This solution includes active-shutter 3D Vision Pro glasses and RF communication (120 MHz) for various scenarios.
"We moved to using a recent version of the Autodesk Maya suite with embedded stereo support and support for NVIDIA 3D Vision Pro," explained Oleg Muranov, studio technical director, Petersburg Animation Studio. "This solution let us quickly rebuild a mono-camera view into a stereo one. The NVIDIA 3D Vision Pro active-shutter stereo glasses used to preview the project considerably accelerated our process. This relatively inexpensive solution allowed us to quickly shift our workflow to accommodate stereo 3D production."
The studio's production pipeline today includes Autodesk Maya for 3D animation, Pixar's RenderMan Pro Server along with RenderMan Studio, The Foundry's Nuke for compositing, (which also supports NVIDIA 3D Vision Pro) and Adobe Premiere Pro CS5 for editing. All of these applications are optimized to run on NVIDIA Quadro professional graphics processing units (GPUs), and with GPU optimization of the Mercury Playback Engine (a key component of Adobe Premiere Pro CS5), final material could be manipulated in real time while working in Adobe Premiere Pro. CineSoft's Cerebro was used for production management and collaboration, as well as for storing and exchanging files.
The Cerebro system is equipped with the Mirada editing player, which allows previewing of stored video files and images, and recording audio and video comments—all while reviewing sequences. And with Quadro professional graphics solutions, Mirada is able to display large graphics files (up to 32,000 pixels wide) and complete preliminary color correction with pixel shaders. The Mirada Pro version supports various technologies for 3D stereo display including the NVIDIA 3D Vision Pro solution.
Added Muranov, "The Mirada Pro module with support for stereo preview and commenting in stereo mode on a different frame depth considerably simplified the work of our supervisors and producers."
Impact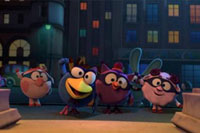 The Kikoriki team, er, cast of characters
Petersburg Animation Studio evaluated several technologies before building out their pipeline for "Kikoriki. The Beginning," and ultimately chose best-in-class solutions. NVIDIA's reliable, production-proven Quadro and 3D Vision Pro professional products helped create myriad efficiencies in all aspects of their production process. Working with these NVIDIA products and technologies made producing a 3D stereo film not only a reality, but a success for the Petersburg Animation Studio team.
The end result is a win-win for all. Audiences around the world will soon get to enjoy "Kikoriki. The Beginning" in stunning stereo 3D, and the production team at Petersburg Animation Studio managed to pull off this ambitious project within their budget, and without any compromises to image quality.