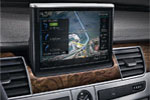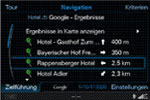 NVIDIA and Audi worked with Google to enable Google Earth on future 3G MMI systems powered by NVIDIA GPUs.
NVIDIA And Audi Marry Silicon Valley Technology With German Engineering
2010 INTERNATIONAL CONSUMER ELECTRONICS SHOW (South Hall 4 – Booth #35912), Las Vegas — Jan. 7, 2010 - NVIDIA and Audi announced today that NVIDIA® GPUs power the navigation and entertainment systems in all 2010 Audi vehicles worldwide.
The navigation and entertainment system in the new Audi 2010 product line is the 3G MMI, and it uses NVIDIA GPUs to process and generate all visual imagery. The built-in navigation system features 3D topography of buildings and cities. This system can recognise complex scenarios and make anticipatory decisions to assist the driver, enhancing their ability to drive more safely.
In addition, NVIDIA worked with Audi to develop a complete multimedia engine called VIVA that serves as the media back-bone of 3G MMI. VIVA allows Audi passengers to watch DVDs, listen to music from an iPod, CD, SD card or USB memory stick and enjoy online video content.
NVIDIA and Audi also worked with Google to enable Google Earth ™ on future 3G MMI systems powered by NVIDIA GPUs, beginning in the flagship Audi A8 in 2011. In addition, the next generation NVIDIA Tegra™ ultra low-power HD mobile processors will drive the advanced entertainment and navigation systems in all 2012 Audi vehicles, as well as other Volkswagen AG brands, including Volkswagen, Bentley, Lamborghini, SEAT and SKODA.
About NVIDIA
NVIDIA awakened the world to the power of computer graphics when it invented the graphics processing unit (GPU) in 1999. Since then, it has consistently set new standards in visual computing with breathtaking, interactive graphics available on devices ranging from portable media players to notebooks to workstations. NVIDIA's expertise in programmable GPUs has led to breakthroughs in parallel processing which make supercomputing inexpensive and widely accessible. Fortune magazine has ranked NVIDIA #1 in innovation in the semiconductor industry for two years in a row. For more information, see www.nvidia.co.in.
Certain statements in this press release including, but not limited to, statements as to: the benefits, features, impact, performance and capabilities of NVIDIA Tesla 20-series GPUs, Fermi architecture and CUDA architecture; are forward-looking statements that are subject to risks and uncertainties that could cause results to be materially different than expectations. Important factors that could cause actual results to differ materially include: development of more efficient or faster technology; design, manufacturing or software defects; the impact of technological development and competition; changes in consumer preferences and demands; customer adoption of different standards or our competitor's products; changes in industry standards and interfaces; unexpected loss of performance of our products or technologies when integrated into systems as well as other factors detailed from time to time in the reports NVIDIA files with the Securities and Exchange Commission including its Form 10-Q for the fiscal period ended July 26, 2009. Copies of reports filed with the SEC are posted on our website and are available from NVIDIA without charge. These forward-looking statements are not guarantees of future performance and speak only as of the date hereof, and, except as required by law, NVIDIA disclaims any obligation to update these forward-looking statements to reflect future events or circumstances.
# # #
© 2010 NVIDIA Corporation. All rights reserved. NVIDIA, the NVIDIA logo, Tegra, Tesla, and CUDA are trademarks or registered trademarks of NVIDIA Corporation in the U.S. and other countries. Other company and product names may be trademarks of the respective companies with which they are associated. Features, pricing, availability, and specifications are subject to change without notice.