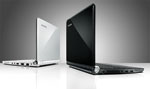 The NVIDIA ION version of the Lenovo IdeaPad S12 finally brings rich multimedia to small, low-power PCs.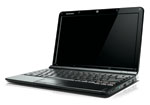 The Lenovo IdeaPad S12 features a full-sized keyboard, 12-inch screen, and NVIDIA ION graphics to accelerate games, movies, video editing, and more.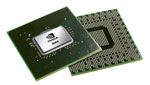 The award-winning NVIDIA ION graphics processor transforms small, low-power PCs into fully capable systems with up to 10x the graphics performance of basic integrated graphics.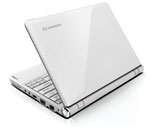 Thin and lightweight – at only 3 pounds – the Lenovo IdeaPad S12 with NVIDIA ION is a uniquely capable portable PC.
World's First NVIDIA ION Laptop Changes Small Pcs Forever
NVIDIA ION Graphics Enable Fully Capable Small Laptop from Lenovo
SANTA CLARA, CA — MAY 25, 2009 — NVIDIA Corporation and Lenovo advanced mobile computing today by introducing a low-cost, small laptop that delivers up to 10 times faster graphics performance than today's small laptops.1 Featuring the NVIDIA® ION™ graphics processor, the Lenovo IdeaPad S12 offers improved application support while still providing long battery life thanks to its energy efficient design.
Lenovo used NVIDIA ION's revolutionary design to create a thin, lightweight, low-power laptop with a 12-inch screen and improved application compatibility. The Lenovo IdeaPad S12 has the graphics horsepower to support high definition media and many PC games which will not run on most low-cost small PCs. NVIDIA ION enables these capabilities with the industry's best graphics performance for low-power CPUs.
"NVIDIA ION is one of the latest technologies available for the PC industry for small, low cost laptop PCs, and we're excited to be among the first to use it," said Stephen DiFranco, vice president and general manager of consumer and commercial channels, Americas Group, Lenovo. "With its 12-inch display, full-size keyboard and rich multimedia options powered by ION, the IdeaPad S12 balances an improved computing experience along with the size and affordability many consumers are looking for today."
"The Lenovo IdeaPad S12 with NVIDIA ION graphics is a game changer for the industry," said Jeff Fisher, senior vice president of the GPU business unit at NVIDIA. "It's a powerful testament to what a small PC can do if it's optimised with ION. The thin and affordable S12 does everything you expect a PC to do including watching movies, playing games, flipping through vacation pictures or editing family videos."
NVIDIA ION graphics support:
All versions of Windows XP, Vista, and Windows 7
Outstanding HD video including 1080p and Blu-ray movies
Stunning HD video through an external monitor via HDMI
Popular games including Spore and Battlefield Heroes
DirectX 10 graphics with advanced digital display connectivity
Accelerated video enhancement and conversion using NVIDIA® CUDA™ technology
The Lenovo IdeaPad S12 with the NVIDIA ION graphics processor will be available later this summer. For more information, please go to: www.lenovo.com
About NVIDIA
NVIDIA (Nasdaq: NVDA) is the world leader in visual computing technologies and the inventor of the GPU, a high-performance processor which generates breathtaking, interactive graphics on workstations, personal computers, game consoles, and mobile devices. NVIDIA serves the entertainment and consumer market with its GeForce graphics products, the professional design and visualisation market with its Quadro® graphics products, and the high-performance computing market with its Tesla™ computing solutions products. NVIDIA is headquartered in Santa Clara, Calif. and has offices throughout Asia, Europe, and the Americas. For more information, visit www.nvidia.co.in.
1 Based on 3D Mark '06 results using an NVIDIA ION GPU with an Atom 270 CPU, versus Intel 945 graphics and an Atom 270.
Certain statements in this press release including, but not limited to, statements as to: the benefits, features, impact, and capabilities of the NVIDIA ION graphics processor and NVIDIA ION GPUs; and the effects of the NVIDIA ION GPU on laptop PCs including the Lenovo IdeaPad12, are forward-looking statements that are subject to risks and uncertainties that could cause results to be materially different than expectations. Important factors that could cause actual results to differ materially include: development of more efficient or faster technology; adoption of the CPU for parallel processing; design, manufacturing or software defects; the impact of technological development and competition; changes in consumer preferences and demands; customer adoption of different standards or our competitor's products; changes in industry standards and interfaces; unexpected loss of performance of our products or technologies when integrated into systems as well as other factors detailed from time to time in the reports NVIDIA files with the Securities and Exchange Commission including its Form 10-K for the fiscal period ended January 25, 2009. Copies of reports filed with the SEC are posted on our website and are available from NVIDIA without charge. These forward-looking statements are not guarantees of future performance and speak only as of the date hereof, and, except as required by law, NVIDIA disclaims any obligation to update these forward-looking statements to reflect future events or circumstances.
# # #
Copyright® 2009 NVIDIA Corporation. All rights reserved. NVIDIA, the NVIDIA logo, NVIDIA ION, GeForce, Quadro, CUDA, and Tesla are trademarks and/or registered trademarks of NVIDIA Corporation in the U.S. and other countries. Other company and product names may be trademarks of the respective companies with which they are associated. Features, pricing, availability, and specifications are subject to change without notice.
Note to editors: If you are interested in viewing additional information on NVIDIA, please visit the NVIDIA Press Room at //www.nvidia.co.in/page/press_room.html