Product PR:
Luciano Alibrandi
Director of Product PR EMEA
Tel: +33 1 55 63 84 92
lalibrandi@nvidia.com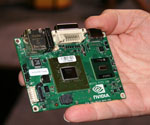 NVIDIA ION is the smallest platform available today for fully capable, affordable, premium PCs. Image courtesy of The Tech Report.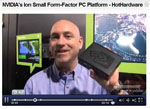 See the ION platform in action at the 2009 Consumer Electronics Show. Video produced by Hot Hardware.
NVIDIA ION Recognised As Industry-Changing Technology By Laptop Magazine
NVIDIA ION Platform Named "Best Enabling Technology" of 2009 Consumer Electronics Show
SANTA CLARA, CA—JANUARY 20, 2009— CES attendees stopped in their tracks to admire breathtaking HD video running on a 50-inch display, but the real shock came when they realised that those images came from a PC the size of a paperback book. They had never seen such amazing graphics from such a tiny PC. That's why the NVIDIA ION™ platform – which offers unprecedented capabilities in a palm-sized PC – attracted outsized attention at the 2009 Consumer Electronics Show. Among a flurry of media accolades, LAPTOP Magazine named the ION platform "Best Enabling Technology" at the show.
The ION platform unlocks the power of Intel's Atom CPU by combining it with the NVIDIA® GeForce™ 9400 GPU. Press and industry experts agree that the ION platform provides amazing capabilities for mini-notebooks, which today offer only basic functionality. With the ION platform, notebook and small form factor PCs deliver the same features as premium PCs, including superb HD video, photo and video editing, and support for popular PC games.
After seeing it in action at CES, The Tech Report wrote that the ION platform "has the potential to endow compact, inexpensive Atom-based systems with new levels of competency." Hot Hardware considers ION "a home run in the making." Legit Reviews called NVIDIA's ION reference PC "one of the most interesting PC designs that we have seen in years," and TechGage honored it with a "Best of CES 2009" award.
In addition to rave reviews from online media, LAPTOP Magazine recognized the GeForce 9400 GPU, the foundation of the ION platform, with a Mobile Innovation Award in its January issue.
The GeForce 9400 GPU in the ION platform is up to ten times faster than existing netbooks with integrated graphics. As a result, the ION platform offers capabilities found in premium notebook PCs, including:
Superb full-spec 1080p high definition video playback
Support for popular PC games such as Call of Duty 4, World of WarCraft, The Sims 2, and Spore
Windows Vista Premium and the upcoming Windows 7
Faster photo and video editing with Adobe Creative Suite 4
The GeForce 9400 GPU provides all of these capabilities in about one-half of the space of today's Atom CPU-based solutions with minimal affect on battery life.
A new generation of affordable PCs built around the ION platform is expected to be released by summer of 2009. Consumers should contact their favourite PC manufacturer to inquire about the availability of notebooks, net-tops, and small form factor PCs featuring the ION platform.
For more information, go to www.nvidia.co.in/ion or follow updates at www.twitter.com/nvidiaion and www.youtube.com/user/nvidiaion.
About NVIDIA
NVIDIA (Nasdaq: NVDA) is the world leader in visual computing technologies and the inventor of the GPU, a high-performance processor which generates breathtaking, interactive graphics on workstations, personal computers, game consoles, and mobile devices. NVIDIA serves the entertainment and consumer market with its GeForce graphics products, the professional design and visualization market with its Quadro® graphics products, and the high-performance computing market with its Tesla™ computing solutions products. NVIDIA is headquartered in Santa Clara, Calif. and has offices throughout Asia, Europe, and the Americas. For more information, visit www.nvidia.co.in.
Story links: //www.techreport.com/discussions.x/16207; //hothardware.com/Articles/NVIDIAs-Ion-Small-FormFactor-PC-Platform-/; //www.legitreviews.com/article/876/1/; and //techgage.com/article/best_of_ces_2009/
Certain statements in this press release including, but not limited to, statements as to: the benefits, features, impact, and capabilities of the NVIDIA ION platform and GeForce GPUs; are forward-looking statements that are subject to risks and uncertainties that could cause results to be materially different than expectations. Important factors that could cause actual results to differ materially include: development of more efficient or faster technology; adoption of the CPU for parallel processing; design, manufacturing or software defects; the impact of technological development and competition; changes in consumer preferences and demands; customer adoption of different standards or our competitor's products; changes in industry standards and interfaces; unexpected loss of performance of our products or technologies when integrated into systems as well as other factors detailed from time to time in the reports NVIDIA files with the Securities and Exchange Commission including its Form 10-Q for the fiscal period ended October 26, 2008. Copies of reports filed with the SEC are posted on our website and are available from NVIDIA without charge. These forward-looking statements are not guarantees of future performance and speak only as of the date hereof, and, except as required by law, NVIDIA disclaims any obligation to update these forward-looking statements to reflect future events or circumstances.