NVIDIA Corporation:
Varun Dubey
Product PR Manager - India
NVIDIA Ltd
vdubey@nvidia.com

FOR IMMEDIATE RELEASE: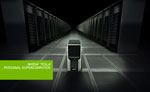 NVIDIA Tesla Personal Supercomputer Key Visual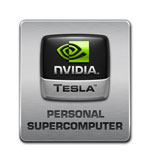 NVIDIA Tesla Personal Supercomputer Badge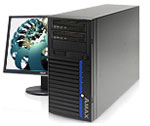 AMAX Personal Supercomputer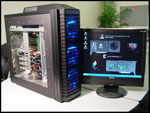 Colfax Personal Supercomputer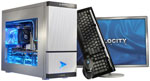 JRTI Personal Supercomputer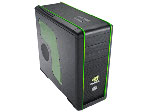 Microway Personal Supercomputer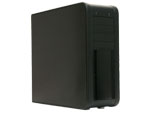 Tycrid Personal Supercomputer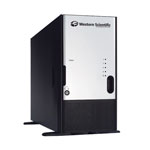 Western Scientific Personal Supercomputer
NVIDIA Tesla makes personal supercomputing a reality
Tesla GPUs Enable Cluster Class Performance On The Desktop
SC08—AUSTIN, TX—NOVEMBER 18 2008— Today, scientific research is carried out on supercomputing clusters, a shared resource that consumes hundreds of kilowatts of power and costs millions of dollars to build and maintain. As a result, researchers must fight for time on these resources, slowing their work and delaying results. NVIDIA and its worldwide partners today announced the availability of the GPU-based Tesla™ Personal Supercomputer, which delivers the equivalent computing power of a cluster, at 1/100th of the price and in a form factor of a standard desktop workstation.
"We've all heard 'desktop supercomputer' claims in the past, but this time it's for real," said Burton Smith, Microsoft Technical Fellow. "NVIDIA and its partners will be delivering outstanding performance and broad applicability to the mainstream marketplace. Heterogeneous computing, where GPUs work in tandem with CPUs, is what makes such a breakthrough possible."
Priced like a conventional PC workstation, yet delivering 250 times the processing power, researchers now have the horsepower to perform complex, data-intensive computations right at their desk, processing more data faster and cutting time to discovery.
"GPUs have evolved to the point where many real world applications are easily implemented on them and run significantly faster than on multi-core systems," said Prof. Jack Dongarra, director of the Innovative Computing Laboratory at the University of Tennessee and author of LINPACK. "Future computing architectures will be hybrid systems with parallel-core GPUs working in tandem with multi-core CPUs."
Leading institutions including MIT, the Max Planck Institute, University of Illinois at Urbana-Champaign, Cambridge University and others are already advancing their research using GPU-based personal supercomputers.
"GPU based systems enable us to run life science codes in minutes rather than the hours it took earlier. This exceptional speedup has the ability to accelerate the discovery of potentially life-saving anti-cancer drugs," said Jack Collins, manager of scientific computing and program development at the Advanced Biomedical Computing Center in Frederick Md., operated by SAIC-Frederick, Inc.
At the core of the GPU-based Tesla Personal Supercomputer is the Tesla C1060 GPU Computing Processor which is based on the NVIDIA® CUDA™ parallel computing architecture. CUDA enables developers and researchers to harness the massively parallel computational power of Tesla through industry standard C.
GPU-based Tesla Personal Supercomputers are available today from the following leading HPC OEMs, Systems Builders and Resellers: AMAX (US), Armari (UK), Asus (WW), Azken Muga (ES), Boxx (US), CAD2 (UK), CADnetwork (DE), Carri (FR), Colfax (US), Comptronic (DE), Concordia (IT), Connoisseur (IN), Dell (WW), Dospara (JP), E4 (IT), Exon (IT), FluiDyna (DE), JRTI (US), Lenovo (WW), Littlebit (CH), Meijin (RU), Microway (US), Next (IT) Sprinx (CZ), Transtec (DE),Tycrid (US), Unitcom (JP), Ustar (UKR),Viglen (UK), Western Scientific (US).
To learn more about the industry-changing applications benefitting from NVIDIA GPU Computing technology, visit www.nvidia.co.in/cuda and for more information on the GPU-based NVIDIA Tesla Personal Supercomputer, please visit //www.nvidia.co.in/page/personal_computing.html.
About NVIDIA
NVIDIA is the world leader in visual computing technologies and the inventor of the GPU, a high-performance processor which generates breathtaking, interactive graphics on workstations, personal computers, game consoles, and mobile devices. NVIDIA serves the entertainment and consumer market with its GeForce® graphics products, the professional design and visualisation market with its Quadro® graphics products, and the high-performance computing market with its Tesla™ computing solutions products. NVIDIA is headquartered in Santa Clara, Calif. and has offices throughout Asia, Europe, and the Americas. For more information, visit www.nvidia.co.in.
Certain statements in this press release including, but not limited to, statements as to: the benefits, performance, applicability, power and impact of the Tesla Personal Supercomputer; the benefits of the NVIDIA GPU Computing technology and NVIDIA CUDA parallel computing architecture; and the availability and price of the Tesla Personal Supercomputer are forward-looking statements that are subject to risks and uncertainties that could cause results to be materially different than expectations. Important factors that could cause actual results to differ materially include: development of more efficient or faster technology; adoption of the CPU for parallel processing; design, manufacturing or software defects; the impact of technological development and competition; changes in consumer preferences and demands; customer adoption of different standards or our competitor's products; changes in industry standards and interfaces; unexpected loss of performance of our products or technologies when integrated into systems as well as other factors detailed from time to time in the reports NVIDIA files with the Securities and Exchange Commission including its Form 10-Q for the fiscal period ended July 27, 2008. Copies of reports filed with the SEC are posted on our website and are available from NVIDIA without charge. These forward-looking statements are not guarantees of future performance and speak only as of the date hereof, and, except as required by law, NVIDIA disclaims any obligation to update these forward-looking statements to reflect future events or circumstances.
###
Copyright © 2008 NVIDIA Corporation. All rights reserved. NVIDIA, the NVIDIA logo, GeForce, Quadro, CUDA and Tesla are trademarks and/or registered trademarks of NVIDIA Corporation in the U.S. and other countries. Other company and product names may be trademarks of the respective companies with which they are associated. Features, pricing, availability, and specifications are subject to change without notice.
Note to editors: If you are interested in viewing additional information on NVIDIA, please visit the NVIDIA Press Room at //www.nvidia.in/page/press_room.html
###
NVIDIA, the NVIDIA logo, and Tesla, CUDA, Quadro, and GeForce are trademarks and/or registered trademarks of NVIDIA Corporation in the U.S. and other countries. Other company and product names may be trademarks of the respective companies with which they are associated.