NVIDIA Corporation:
Varun Dubey
Product PR Manager - India
NVIDIA Ltd
vdubey@nvidia.com

FOR IMMEDIATE RELEASE: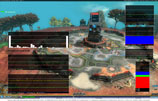 PerfHUD™ 6.0:
PerfHUD 6.0 is a powerful real-time performance analysis tool for Direct3D applications. PerfHUD is widely used by the world's best game developers and was a 2007 Game Developer Magazine Frontline Award Finalist. This screenshot shows Spore, which uses PerfHUD 6.0 extensively for optimization. Spore used with permission from Electronic Arts. © 2008 Electronic Arts Inc. EA and Spore are trademarks or registered trademarks of Electronic Arts Inc. in the U.S. and/or other countries.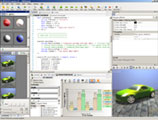 FX Composer™ 2.5:
FX Composer 2.5 is an integrated development environment for shader authoring, enabling the fast creation of real-time visual effects. This screenshot shows a complex scene with several materials, animation, scripting, post-processing, and shadows.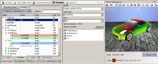 Shader Debugger™:
The NVIDIA Shader Debugger allows developers to debug HLSL, CgFX, and COLLADA FX Cg shader code much like CPU code. In addition to the usual stepping over/into/run to cursor functionality, developers can visualize multiple pixels in parallel or see variable values for individual pixels.
Three New NVIDIA Tools Help Developers Quickly Debug And Speed Up Video Games
PerfHUD 6, FX Composer 2.5, and Shader Debugger Help Simplify Game Development
SANTA CLARA, CA—JULY 17, 2008—Today's top video games use complex programming and rendering techniques that can take months to create and tune in order to get the image quality and silky-smooth frame rates that gamers demand. Thousands of developers worldwide including members of Blizzard Entertainment, Crytek, Epic Games, and Rockstar Games rely on NVIDIA development tools to create console and PC video games. Today, NVIDIA has expanded its award-winning development suite with three new tools that vastly speed up this development process, keeping projects on track and costs under control.
The new tools which are available now include:
PerfHUD™ 6—a graphics debugging and performance analysis tool for DirectX 9 and 10 applications.
FX Composer™ 2.5—an integrated development environment for fast creation of real-time visual effects.
Shader Debugger—helps debug and optimise shaders written with HLSL, CgFX, and COLLADA FX Cg in DirectX and OpenGL.
"These new tools reinforce our deep and longstanding commitment to help game developers fulfill their vision," said Tony Tamasi, vice president of technical marketing for NVIDIA. "Creating a state-of-the-art video game is an incredibly challenging task technologically, which is why we invest heavily in creating powerful, easy-to-use video game optimisation and debugging tools for creating console and PC games."
More Details on the New Tools
PerfHUD 6 is a new and improved version of NVIDIA's graphics debugging and performance analysis tool for DirectX 9 and 10 applications. PerfHUD (www.perfhud.com ) is widely used by the world's leading game developers to debug and optimise their games. This new version includes comprehensive support for optimising games for multiple GPUs using NVIDIA SLI® technology, powerful new texture visualisation and override capabilities, an API call list, dependency views, and much more. In a recent survey, more than 300 PerfHUD 5 users reported an average speedup of 37% after using PerfHUD to tune their applications.
"Spore relies on a host of graphical systems that support a complex and evolving universe. NVIDIA PerfHUD provides a unique and essential tool for in-game performance analysis," said Alec Miller, Graphics Engineer at Maxis. "The ability to overlay live GPU timings and state helps us rapidly diagnose, fix, and then verify optimisations. As a result, we can simulate rich worlds alongside interactive gameplay. I highly recommend PerfHUD because it is so simple to integrate and to use."
FX Composer 2.5 is an integrated development environment for fast creation of real-time visual effects. FX Composer 2.5 (www.fxcomposer.com ) can be used to create shaders for HLSL, CgFX, and COLLADA FX Cg in DirectX and OpenGL. This new release features an improved user interface, DirectX 10 Support, ShaderPerf with GeForce® 8 and 9 Series support, visual models and styles, and particle systems.
As longer, more complex shaders become pervasive, debugging shaders has become more of a challenge for developers. To assist developers with this task, NVIDIA introduces the brand-new NVIDIA Shader Debugger™, a plug-in for FX Composer 2.5 that enables developers to inspect their code while seeing shader variables applied in real time on their geometry. The Shader Debugger (www.shaderdebugger.com ) can be used to debug HLSL, CgFX, and COLLADA FX Cg shaders in both DirectX and OpenGL.
The NVIDIA Shader Debugger is the first product in the NVIDIA Professional Developer Tools lineup. These are new tools directed at professional developers who need more industrial-strength capabilities and support. For example, the NVIDIA Shader Debugger will run on leading GPUs from all vendors.

In addition to the free versions available for non-commercial use, some of the new tools are subject to a license fee, but are priced to be accessible to developers. Existing free tools (such as FX Composer, PerfHUD, Texture Tools, and SDKs) will not be affected—they will continue to be available to all developers at no cost. Shader Debugger pricing information is available at www.shaderdebugger.com .
NVIDIA encourages developers to visit its developer web site (//developer.nvidia.com ) and its developer tools forums (//developer.nvidia.com/forums ).
About NVIDIA
NVIDIA is the world leader in visual computing technologies and the inventor of the GPU, a high-performance processor which generates breathtaking, interactive graphics on workstations, personal computers, game consoles, and mobile devices. NVIDIA serves the entertainment and consumer market with its GeForce products, the professional design and visualization market with its Quadro® products, and the high-performance computing market with its Tesla™ products. NVIDIA is headquartered in Santa Clara, Calif. and has offices throughout Asia, Europe, and the Americas. NVIDIA's inaugural NVISION 08 conference will be held August 25-27, 2008 in San Jose, California. For more information, visit www.nvidia.co.in and www.nvision2008.com.
Certainstatements in this press release including, but not limited to, statements asto: the features, performance, uses, capabilities and impact of PerfHUD 6.0, FXComposer 2.5, NVIDIA Shader Debugger, NVIDIA SLI technology, and the NVIDIAProfessional Tools lineup; use of more complex shaders; and pricing andavailability of NVIDIA tools are forward-looking statements that are subject torisks and uncertainties that could cause results to be materially differentthan expectations. Important factors that could cause actual results to differmaterially include: changes in the development of video games; changing demandsof developers; software defects; the impact of technological development andcompetition; changes in customer preferences and demands; unanticipated lose ofperformance as well as other factors detailed from time to time in the reportsNVIDIA files with the Securities and Exchange Commission including its Form10-Q for the period ended April 27, 2008. Copies of reports filed with the SECare posted on our website and are available from NVIDIA without charge. Theseforward-looking statements are not guarantees of future performance and speakonly as of the date hereof, and, except as required by law, NVIDIA disclaimsany obligation to update these forward-looking statements to reflect futureevents or circumstances.
###
NVIDIA, the NVIDIA logo, and Tesla, CUDA, Quadro, and GeForce are trademarks and/or registered trademarks of NVIDIA Corporation in the U.S. and other countries. Other company and product names may be trademarks of the respective companies with which they are associated.