NVIDIA Corporation:
Varun Dubey
Product PR Manager - India
NVIDIA Ltd
vdubey@nvidia.com

FOR IMMEDIATE RELEASE: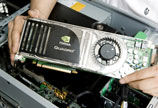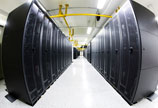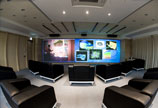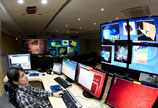 NVIDIA Quadro FX 5600 graphics power the visual computing performance of the KISTI Supercomputing Center's 146-computing node, high-definition visualization system.
KISTI Supercomputing Center Powers High-Definition Visual Computing with NVIDIA Quadro Graphics
SANTA CLARA, CA and SEOUL, KOREA—JUNE 17, 2008—NVIDIA Corporation, the world leader in visual computing technologies and the inventor of the GPU, today announced that the Korea Institute of Science and Technology Information (KISTI) Supercomputing Center has selected NVIDIA Quadro® FX 5600 graphics cards to power the visual computing performance in its 146-computing node, high-definition visualization system.
"NVIDIA Quadro graphics cards are the only solutions for the most powerful 3D visualization systems," says Dr. Joong-kwon Kim, director of KISTI Supercomputing Center. "Our customers will now be able to take advantage of Quadro® graphics cards to increase their productivity for faster complex visual computing challenges such as manufacturing, design, scientific research and simulation."
NVIDIA Quadro graphics are engineered to deliver professional graphics performance for advanced visualization, medical imaging, scientific computing, digital film production, and HD broadcasting. With features such as a unified architecture, which dynamically allocates the workload to vertex or pixel shaders, Shader Model 4.0 technology for better photorealistic effects, GPU computing for complex visualization problems, and massive frame buffers for interactive visualization of large datasets, NVIDIA Quadro graphics cards pair impressive image quality with outstanding performance.
Koo Gee Bum, at KISTI explains why the Center selected NVIDIA Quadro FX 5600 to optimize the high-performance visuals: "We first considered using a less-powerful graphics card to drive our large-scale visualization system, but we soon realized that achieving advanced performance would require an advanced graphics solution. The obvious choice was NVIDIA Quadro graphics. With Quadro graphics cards in our systems, we achieve far superior performance over general-use graphics and can deliver an outstanding visual experience for the Center."
"Designed to provide the high-speed graphics performance required for challenging applications, NVIDIA Quadro graphics are being chosen by professionals worldwide for a variety of workstation and visual computing systems." says Walter Mundt-Blum, vice president World Wide Sales, NVIDIA Professional Solutions Group. "NVIDIA is fully committed to support and help developers and scientists at the KISTI Supercomputing Center to continue solving the complex and difficult challenges in visualization."
For more information about NVIDIA Quadro FX Series, please visit www.nvidia.in/quadro.
About KISTI Supercomputing Center
The KISTI (Korea Institute of Science and Technology Information) Supercomputing Center is the largest provider of supercomputing resources and high performance networks in Korea. The KISTI Supercomputing Center began as the computer laboratory of KISTI in 1967 and first became a provider of supercomputing capacity in 1988. Over the decades, the center has grown to provide high-end technologies in supercomputing and networking, along with active support and services, to various groups of research communities of academia, industry, research institutes, and governmental and scientific organizations. For more information, visit www.ksc.re.kr/eng/
About NVIDIA
NVIDIA (Nasdaq: NVDA) is the world leader in visual computing technologies and the inventor of the GPU, a high-performance processor which generates breathtaking, interactive graphics on workstations, personal computers, game consoles, and mobile devices. NVIDIA serves the entertainment and consumer market with its GeForce® graphics products, the professional design and visualization market with its Quadro® graphics products, and the high-performance computing market with its Tesla™ computing solutions products. NVIDIA's inaugural NVISION 08 conference will be held August 25-27, 2008 in San Jose, Calif. For more information, visit www.nvidia.in and www.nvision08.com.
Certain statements in this press release including, but not limited to, statements as to: the benefits, features, uses and performance of NVIDIA Quadro graphics cards; and the challenges of visual computing are forward-looking statements that are subject to risks and uncertainties that could cause results to be materially different than expectations. Important factors that could cause actual results to differ materially include: delays in ramping new products into production; our reliance on third parties to manufacture, assemble and test our products; unexpected loss of performance of our products or technologies when integrated into systems; development of faster or more efficient GPUs or technologies; the impact of technological development and competition; changes in consumer preferences and demands; design, manufacturing or software defects as well as other factors detailed from time to time in the reports NVIDIA files with the Securities and Exchange Commission including its Form 10-Q for the period ended April 27, 2008. Copies of reports filed with the SEC are posted on our website and are available from NVIDIA without charge. These forward-looking statements are not guarantees of future performance and speak only as of the date hereof, and, except as required by law, NVIDIA disclaims any obligation to update these forward-looking statements to reflect future events or circumstances.
Note to editors: If you are interested in viewing additional information on NVIDIA, please visit the NVIDIA Press Room at //www.nvidia.in/page/press_room.html