NVIDIA Corporation:
Varun Dubey
Product PR Manager - India
NVIDIA Ltd
vdubey@nvidia.com

FOR IMMEDIATE RELEASE: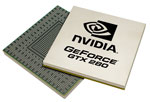 The GeForce GTX 280 GPU has 240 multi-threaded processing cores, and can convert high-quality video more than 18 times faster than the latest CPUs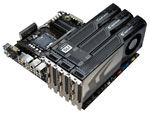 The new GeForce GTX 280 GPU can support 3-way NVIDIA SLI technology, delivering amazing performance scaling for the world's fastest gaming solution under Windows Vista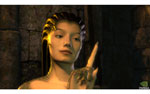 NVIDIA is ushering in a new era of realistic visual computing with Medusa, running on the new GeForce GTX 200 GPUs
Graphics Evolves Beyond Gaming with New NVIDIA GeForce GTX 200 GPUs
Revolutionary Processor Does Double Duty as the Most Advanced GPU Ever Built and a Second-Generation CUDA General Purpose Parallel Processor
SANTA CLARA, CA—JUNE 16, 2008—Imagine instead of taking over five hours to convert a video for your iPod, it only takes 35 minutes . Imagine using your PC to simulate protein folding to help find a cure for debilitating diseases. Imagine that your PC can dramatically accelerate everyday tasks, and deliver an exciting visual experience in the process. Today that imagination becomes a reality now that the leader in visual computing technologies, NVIDIA (Nasdaq: NVDA), has introduced its new family of GeForce® GTX 200 graphics processors (GPUs)—which includes the GeForce GTX 280 and GeForce GTX 260 GPUs—taking graphics beyond gaming and gaming beyond anything that's ever been possible before on a consumer computing platform.
"The advances NVIDIA continues to make in visual computing are simply incredible, and we are excited to be one of the first companies in the world to offer the technology in the new Exhilaration Edition of the award-winning HP Blackbird 002," said Rahul Sood, chief technology officer, HP Voodoo Business Unit. "Exceptional graphics quality and performance is important to our customers, and now the GeForce GTX 200 GPUs are bringing something else into the mix. By using the GPU to enhance everyday applications such as video encoding and manipulating photos, HP Blackbird 002 is one of the most cutting-edge PC platforms ever designed."
Graphics Beyond Gaming
One of the most powerful processors in the PC is the GPU. Rendering 3D images in real-time is just about the most mathematically intensive task your PC will ever undertake, but it's not the only one. As PC applications become increasingly visual, many ordinary tasks will benefit from the graphics horsepower provided by the GPU, including encoding and playing high-definition videos, editing photos, getting driving directions off the Internet, or simply running a new operating system like Windows Vista.
"Millions of users around the world know how time consuming it is to convert their home videos for use on video sharing sites such as YouTube or for downloading to popular media players such as the iPod," said Sam Blackman, CEO of Elemental Technologies. "Elemental has developed the BadaBOOM™ Media Converter, a consumer video application scheduled for release in August. By taking advantage of the massively parallel, general-purpose computing architecture of a GeForce GPU, we are able to transcode high-quality video 18 times faster than with CPU-only implementations. This unprecedented performance scaling is the reason why we have made sure that our RapiHDTM Video Platform takes advantage of NVIDIA GPUs."
By recognising that the value of a GPU transcends gaming, an increasing number of applications are also being written that use the GPU for straight, non-graphical computational tasks. For example, Stanford University's distributed computing computational program Folding@Home, combines the computing horsepower of millions of consumer GPUs to simulate protein folding to help find cures for diseases such as Alzheimer's or Parkinson's. With the computing processing power of the GeForce GTX family, applications such as Folding@Home and others can run upwards of 140 times faster on an NVIDIA general-purpose parallel processor than on some of today's traditional CPUs.
"GeForce GPUs will soon deliver the biggest boost in processing power we've seen in the history of Folding@Home," said Vijay Pande, Associate Professor of Chemistry, Stanford University. "The GeForce GTX 280 GPU runs Folding@Home 45 times faster than the latest 3GHz Core2 Quad CPU. If just one percent of the world's GeForce 8- and 9-Series GPUs ran Folding@Home, we would have 70 petaflops of processing power to help find cures for disease. That's 10 times more processing power than the world's top 100 supercomputers combined."
Gaming That's Beyond
The CUDA general-purpose parallel processing mode will usher in a new generation of ultra realistic games. Developers can use the supercomputing power of the "CUDA Computing" mode to simulate realistic, physically accurate effects then render beautiful images using the "GeForce GPU" mode. NVIDIA GPUs are also the only ones to support PhysX™ technology, the world's most pervasive physics engine that is already delivering dynamic 3D realism to more than 140 games across multiple platforms, and is being used by more than 25,000 developers worldwide. With PhysX, developers can incorporate effects such as rigid body dynamics, collision detection, and cloth simulation that dramatically change the way the games are played and how the on-screen stories unfold, and then accelerate those effects using the processing power of the GPU.
"I haven't been this excited about a new gaming technology in years," said Chris Taylor, CEO and founder of Gas Powered Games. "We're focusing all of our physics efforts on PhysX, and it already delivers the kinds of advanced effects in Space Siege that takes the whole experience to the next level. And in the near-future, you're going to see real-time, Hollywood cinematic-level environmental effects on GPUs like the GeForce GTX 280. We're talking about some wicked-cool technology here!"
Additional features of the GeForce GTX 280 and GeForce GTX 260 GPUs include:
2nd Generation NVIDIA Unified Architecture: Delivers 50% more gaming performance over the Company's previous NVIDIA GeForce 8800 Ultra GPU through 240 enhanced processor cores that provide incredible shading horsepower at resolutions as high as 2560 x 1600.
3-way NVIDIA SLI® Technology: Industry leading 3-way NVIDIA SLI technology offers amazing performance scaling by implementing 3-way alternate frame rendering (AFR) for the world's fastest gaming solution under Windows Vista.
NVIDIA PureVideo® HD Technology: The combination of HD video decode acceleration and post-processing delivers unprecedented picture clarity, smooth video, accurate color, and precise image scaling for movies and video.
NVIDIA CUDA Technology: With the power of NVIDIA CUDA™ technology and the new CUDA runtime for Windows Vista, programmers can now offload the most intensive processing tasks from the CPU to the NVIDIA GPUs, putting the power of up to 240 multi-threaded processor cores to work.
Graphics cards featuring GeForce GTX 280 GPUs will be available starting tomorrow from global leading add-in card manufacturers, such as: ASUS, BFG, Emtek, EVGA, Gainward, Gigabyte, Innovision, Leadtek, MSI, Palit, PC Partner/Zotac, Point of View, Unika, Unitek, and XFX. Graphics cards featuring GeForce GTX 260 GPUs will be available starting on Thursday, June 26, 2008.
(i) Testing for video encoding done using iTunes running on an Intel Core 2 Quad Extreme 3GHz CPU, and Elemental on a GeForce GTX 280 GPU. Results based on an extrapolation of 1 min 50 sec 1280x720 HD movie clip.
(ii) The number of processor cores varies by model. GeForce GTX 280 has 240 processor cores. GeForce GTX 260 has 192 processor cores. Weighted average performance improvement based on a comparison between the GeForce GTX 280 and the GeForce 8800 Ultra in a variety of benchmarks and resolutions.
(iii) NVIDIA SLI certified versions of GeForce PCI Express GPUs only. A GeForce GTX 280 GPU must be paired with another GeForce GTX 280 GPU (graphics card manufacturer can be different). SLI requires sufficient system cooling and a compatible power supply. Visit www.slizone.com for more information and a listing of SLI-Certified components.
(iv) Feature requires supported video software. Features may vary by product.
(v) Requires application support for CUDA technology.
About NVIDIA
NVIDIA (Nasdaq: NVDA) is the world leader in visual computing technologies and the inventor of the GPU, a high-performance processor which generates breathtaking, interactive graphics on workstations, personal computers, game consoles, and mobile devices. NVIDIA serves the entertainment and consumer market with its GeForce® products, the professional design and visualisation market with its Quadro® products, and the high-performance computing market with its Tesla™ products. NVIDIA is headquartered in Santa Clara, Calif. and has offices throughout Asia, Europe, and the Americas. NVIDIA's inaugural NVISION 08 conference will be held August 25-27, 2008 in San Jose, Calif. For more information, visit www.nvidia.in and www.nvision08.com.
Certain statements in this press release including, but not limited to, statements as to: the benefits, features, performance and capabilities of NVIDIA Tegra 650 processors and NVIDIA Tegra APX 2500 processors; timing of availability of NVIDIA Tegra-based products; next generation smart phones; and portable media are forward-looking statements that are subject to risks and uncertainties that could cause results to be materially different than expectations. Important factors that could cause actual results to differ materially include: loss of performance of our products when integrated into systems; our reliance on third parties to manufacture, assemble and test our products; manufacturing or software defects; delays in ramping new products into production; design defects; development of faster or more efficient processors; the impact of technological development and competition; changes in industry standards and interfaces as well as other factors detailed from time to time in the reports NVIDIA files with the Securities and Exchange Commission including its Form 10-Q for the period ended April 27, 2008. Copies of reports filed with the SEC are posted on our website and are available from NVIDIA without charge. These forward-looking statements are not guarantees of future performance and speak only as of the date hereof, and, except as required by law, NVIDIA disclaims any obligation to update these forward-looking statements to reflect future events or circumstances.