XenApp 6.5 with NVIDIA GRID
Introducing the ideal solution for users who want a true PC graphics-rich experience from applications that are virtualised, centralised, and managed in the data centre. Virtual application delivery with XenApp and NVIDIA GRID™ offloads graphics processing from the CPU to the GPU, allowing the data centre manager to deliver to all user types for the first time.
A key feature of GRID-enabled XenApp 6.5 is its ability to run NVIDIA's production driver for GRID K1 and K2 boards with full support for the key APIs: OpenGL 4.3 and DirectX9,10, and 11.
By using advanced server-side GPU rendering, XenApp enables users to perform at their best without interruption, from anywhere.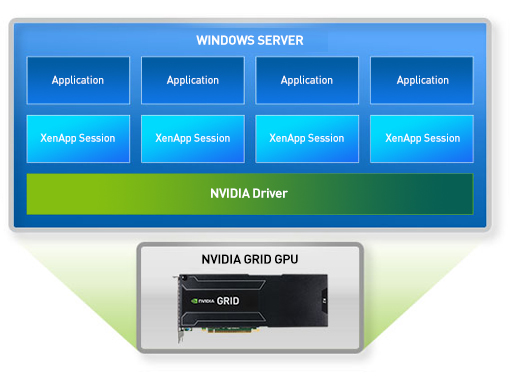 Architectural Diagram for NVIDIA GRID with XenApp.
What is XenApp?
"Citrix XenApp empowers users with on-demand self-service to enterprise applications. Used by more than 100 million people worldwide, XenApp is an application-delivery solution that enables any Windows® application to be virtualized, centralized, and managed in the data center and instantly delivered as a service to users anywhere, on any device."
Source: Citrix website
XenApp Resources
NVIDIA GRID in action
NVIDIA GRID News
Videos
RECOMMENDED SOLUTIONS