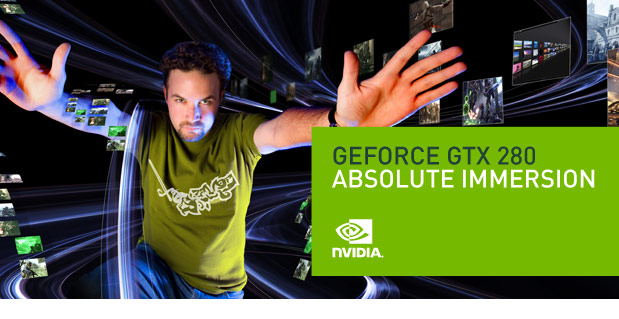 Get pulled deeper into the gaming experience and HD video than ever before with the NVIDIA® GeForce® GTX 280 GPU. With this GPU, both performance and immersion are absolute.

Experience high definition worlds, lifelike characters, and forces of nature so powerful that your palms sweat and your heart races with every frame. Beyond games, watch Blu-ray movies and transcode video up to 7X faster than traditional CPUs1.
Gaming that shakes you to the core
With more gaming horsepower than ever before and 1GB of memory, the GeForce GTX 280 GPU's 240 processing cores make games such as Age of Conan: Hyborian Adventures and Bionic Commando® feel like the real thing. Its powerful NVIDIA PhysX™ technology creates rich, immersive physical effects with stunningly accurate realism. Experience absolute immersion and a 50% pure performance boost than prior generation GPUs with the GeForce GTX 280 GPU.
Age of Conan: Hyborian Adventures. © 2008 Funcom, All rights Reserved, © 2008 Conan Properties International LLC. CONAN®, CONAN THE BARBARIAN® and related logos, characters, names, and distinctive likenesses thereof are trademarks of Conan Properties International LLC unless otherwise noted.
PicLens. © 2008 Cooliris, Inc.
The power to take you beyond
Beyond the field of play, GeForce GTX 280 seamlessly shifts tasks from the CPU to the GPU, allowing you to dive into the latest Blu-ray movie, surf the web in 3D, or transcode video to a personal video player up to 7x faster than traditional CPUs1. Now you can work and play at full speed

1 Requires application support for CUDA technology.

2nd Generation NVIDIA Unified Architecture: Second generation architecture delivers up to 50% more gaming performance over the first generation through 240 enhanced processing cores that provide incredible shading horsepower.

NVIDIA PhysX™-Ready1: GeForce GPU support for NVIDIA PhysX technology, enabling a totally new class of physical gaming interaction for a more dynamic and realistic experience with GeForce.

3-way NVIDIA SLI® Technology2: Industry leading 3-way NVIDIA SLI technology offers amazing performance scaling by implementing 3-way AFR (Alternate Frame Rendering) for the world's fastest gaming solution under Windows Vista with solid, state-of-the-art drivers.

NVIDIA CUDA™ Technology3: CUDA technology unlocks the power of the GPU's processing cores to accelerate the most demanding system tasks – such as video encoding – delivering up to 7x performance over traditional CPUs.

NVIDIA PureVideo® HD Technology4: The combination of high-definition video decode acceleration and post-processing that delivers unprecedented picture clarity, smooth video, accurate color, and precise image scaling for movies and video.

NVIDIA HybridPower™ Technology5: Lets you switch from the GeForce GTX 280 graphics card to the motherboard GeForce GPU when running non graphically-intensive applications for a quiet, low power PC experience.

1 The GeForce GTX 280 GPU ships with hardware support for NVIDIA PhysX technology. NVIDIA PhysX drivers are required to experience in-game GPU PhysX acceleration. Refer to www.nvidia.co.uk/PhysX for more information.
2 NVIDIA SLI-certified versions of GeForce PCI Express GPUs only. A GeForce GTX 280 GPU must be paired with another GeForce GTX 280 GPU (graphics card manufacturer can be different). SLI requires sufficient system cooling and a compatible power supply. Visit uk.slizone.com for more information and a listing of SLI-Certified components.
3 Requires application support for CUDA technology.
4 Feature requires supported video software. Features may vary by product.
5 Requires NVIDIA HybridPower™-enabled motherboard.


| | |
| --- | --- |
| | GeForce GTX 280 |
| Stream Processors | 240 |
| Core Clock (MHz) | 602 MHz |
| Shader Clock (MHz) | 1296 MHz |
| Memory Clock (MHz) | 1107 MHz |
| Memory Amount | 1G |
| Memory Interface | 512-bit |
| Memory Bandwidth (GB/sec) | 141.7 |
| Texture Fill Rate (billion/sec) | 48.2 |