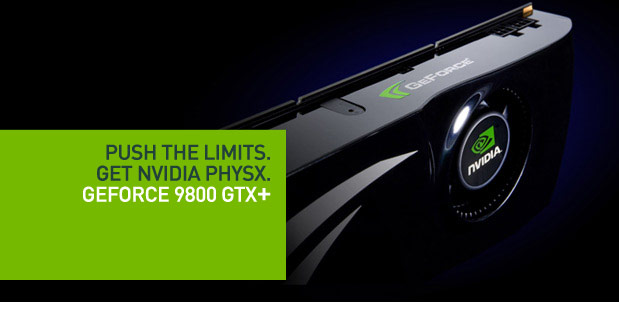 The NVIDIA® GeForce® 9800 GTX+ GPU raises the performance bar. With 128 cores, it sets a new standard for price and performance by offering everyone extreme HD gaming and a first-class entertainment experience.



The NVIDIA GeForce 9800 GTX+ GPU enables full-throttle lifelike game play while providing optimal power management with HybridPower™ technology1. The PureVideo® HD engine delivers unmatched video quality while the NVIDIA PhysX™ technology2 pushes the limit in ultra realistic game play. And with SLI® compatibility, provides amplified performance when coupled with NVIDIA nForce® SLI-ready motherboards. Dollar-for-dollar, this GPU packs great performance.
S.T.A.L.K.E.R.: Clear Sky. Developed by GSC Game World @ Transavision Ltd. 2008
Beyond your imagination
Gaming and video watching capabilities are taken to the next level. With 128 screaming fast cores each running at a record high of 1836MHz, this is our most powerful single GeForce 9800 GPU. The PhysX™ technology enables a completely new class of physical gaming interaction that will blow you away. And with features such as picture-in-picture content for an interactive movie experience and color stretch video processing for breathtaking picture clarity, this graphics card takes you further than your expectations.
A complete solution
Unlock next generation platform features. With SLI, the GeForce 9800 GTX+ GPU offers increased performance up to 2x in a dual SLI configuration and up to 2.8x in 3-way SLIv mode. Its HybridPower technology1 delivers graphics performance when you need it and low-power operation when you don't. So, enjoy heart-stopping entertainment or power savings for everyday computing.
1 - Check www.nvidia.co.in for supported motherboards.
2 - PhysX drivers are required to experience in-game GPU PhysX acceleration. Visit www.nvidia.co.in/PhysX for more details.


NVIDIA® PureVideo® HD Technology1
The combination of high-definition video decode acceleration and post-processing that delivers unprecedented picture clarity, smooth video, accurate color, and precise image scaling for movies and video.
3-way NVIDIA SLI® Technology2
Industry leading 3-way NVIDIA SLI technology offers amazing performance scaling by implementing AFR (Alternate Frame Rendering) under Windows Vista with solid, state-of-the-art drivers.
NVIDIA PhysX™ Technology3
GeForce GPU support for NVIDIA PhysX technology, enabling a totally new class of physical gaming interaction for a more dynamic and realistic experience with GeForce.
NVIDIA CUDA™ Technology4
CUDA technology unlocks the power of the GPU's processor cores to accelerate the most demanding system tasks - such as video transcoding - delivering incredible performance improvements over traditional CPUs.
NVIDIA HybridPower™ Technology5
Lets you switch from the GeForce 9800 GTX graphics card to the motherboard GeForce GPU when running non graphically-intensive applications for a silent, low power PC experience.
1 - Feature requires supported video software. Features may vary by product.
2 - NVIDIA SLI-certified versions of GeForce PCI Express GPUs only. A GeForce 9800 GTX+ must be paired with another GeForce 9800 GTX+, regardless of graphics card manufacturer.
3 - NVIDIA PhysX drivers are required to experience in-game GPU PhysX acceleration. Refer to www.nvidia.co.in/PhysX for more information.
4 - Requires application support for CUDA technology.
5 - Requires NVIDIA HybridPower- enabled motherboard.


| | |
| --- | --- |
| | GeForce 9800 GTX + |
| Stream Processors | 128 |
| Core Clock (MHz) | 738 |
| Shader Clock (MHz) | 1836 |
| Memory Clock (MHz) | 1100 |
| Memory Amount | 512 MB |
| Memory Interface | 256-bit GDDR3 |
| Memory Bandwidth (GB/sec) | 70.4 |
| Texture Fill Rate (billion/sec) | 47.2 |