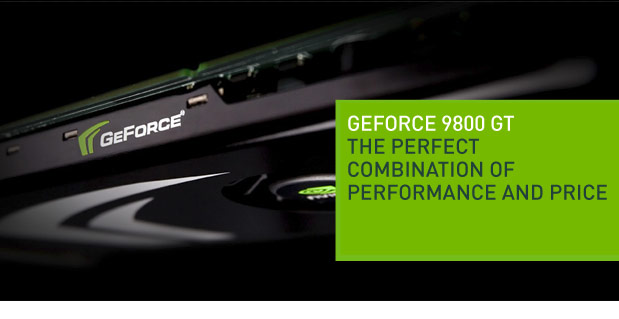 The SLI®-Ready NVIDIA® GeForce® 9800 GT has arrived. Enjoy industry-leading features such as NVIDIA PhysX™ technology* that brings your games to life and HybridPower™ for optimal power management. And with GeForce 9 Series goodness, 112 processor cores and a 256-bit frame buffer, this GPU's got the stuff hardcore gamers have been waiting for.

*PhysX drivers are required to experience in-game GPU PhysX acceleration. Visit www.nvidia.co.in/PhysX for more details.



© 2007 GRID™ and the Codemasters logo are trademarks of Codemasters.

The ideal mix
With each core clocked at a blazing-fast 1.5 GHz and a frame buffer interface running at 900MHz, this GPU is what gamers demand. Its graphics processing power allows for richer and more immersive game environments and is designed for the PCI Express 2.0 bus architecture, offering the highest data transfer speeds for today's games and 3D applications.



Bionic Commando® image captured on NVIDIA GPU. Provided by Capcom.

Let the games begin
The GeForce 9800 GT-based graphics card has industry-leading GeForce features such as NVIDIA SLI®, dynamic cloth and next generation volumetric effects. Add to that PhysX™ technology that captures true human character behaviors and atmospheric weather effects that you can feel and you get unrivaled game play.
Superior Visual Computing
With the power of NVIDIA® CUDA™ technology and the new CUDA runtime for Windows Vista™, programmers can now offload the most intensive processing tasks from your CPU to your GPU, delivering incredible performance improvements over your traditional CPU. HybridPower™ technology also delivers graphics performance when you need it and low-power operation when you don't. And with the second generation PureVideo® HD engine, poor Blu-ray movie quality is a thing of the past.

NVIDIA SLI® Technology1: Delivers up to 2x the performance of a single GPU configuration for unequaled gaming experiences by allowing two graphics cards to run in parallel. The must-have feature for performance PCI Express® graphics, SLI dramatically scales performance on today's hottest games.

NVIDIA® PhysX™-Ready2: GeForce GPU support for NVIDIA PhysX technology, enabling a totally new class of physical gaming interaction for a more dynamic and realistic experience with GeForce.

NVIDIA® HybridPower™ Technology3: Lets you switch from the GeForce 9800 GT graphics card to the motherboard GeForce GPU when running non graphically-intensive applications for a quiet, low power PC experience.

NVIDIA® CUDA™ Technology4: CUDA technology unlocks the power of the GPU's processor cores to accelerate the most demanding system tasks - such as video transcoding - delivering incredible performance improvements over traditional CPUs.

NVIDIA PureVideo® HD Technology5: The combination of high-definition video decode acceleration and post-processing that delivers unprecedented picture clarity, smooth video, accurate color, and precise image scaling for movies and video.

1 - NVIDIA SLI-certified versions of GeForce PCI Express GPUs only.
2 - NVIDIA PhysX drivers are required to experience in-game GPU PhysX acceleration. Visit www.nvidia.co.in/PhysX for details.
3 - Requires NVIDIA HybridPower-enabled motherboard.
4 - Requires application support for CUDA technology.
5 - Feature requires supported video software. Features may vary by product.

| | |
| --- | --- |
| | GeForce 9800 GT |
| Stream Processors | 112 |
| Core Clock (MHz) | 600 MHz |
| Shader Clock (MHz) | 1500 MHz |
| Memory Clock (MHz) | 900 MHz |
| Memory Amount | 512MB |
| Memory Interface | 256-bit GDDR3 |
| Memory Bandwidth (GB/sec) | 57.6 |
| Texture Fill Rate (billion/sec) | 33.6 |