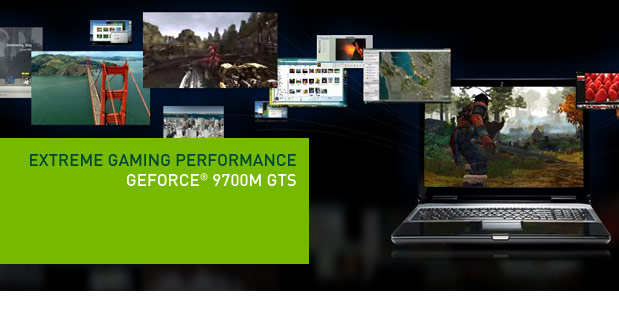 Extreme gaming reaches new levels with the NVIDIA® GeForce® 9700M GTS-based graphics cards, delivering optimized performance for immersive gaming on-the-go with intense visual computing power.

Extreme gaming reaches new levels with the NVIDIA GeForce 9700M GTS GPUs, delivering optimized performance for immersive gaming on-the-go. With increased performance over previous enthusiast class GPUs, the GeForce 9700M GTS GPUs powers the next generation of visual computing, blazing-fast mobile gaming, and the ultimate HD experience with PureVideo® HD technology. This product is also enabled for CUDA applications and is NVIDIA PhysX-ready.
Unreal Tournament 3 image captured on NVIDIA GPU. Provided by Epic.
Play the hottest new DirectX 10 games
Ultra-realistic smoke, rain, explosions, lighting, terrain deformation and motion blur enable jealousy-inducing, lightning-fast gameplay with enthusiast-class notebooks.
Intelligently switch gears between performance or battery life with HybridPower™
Turn on the discrete graphics card for extra performance when gaming or watching videos or instantly turn the discrete graphics off and use the GeForce motherboard GPU when you want to add more battery life.
HD Entertainment
Experience eye-popping Blu-ray movie picture quality on a notebook with second generation NVIDIA® PureVideo® HD engine.

Hybrid SLI® Technology
NVIDIA Hybrid SLI technology delivers multi-GPU benefits when an NVIDIA motherboard GPU is combined with an NVIDIA discrete GPU. With GeForce 9700M, the essential benefit of this technology is the ability to extend the life of your battery considerably with HybridPower.
NVIDIA HybridPower™ Technology
HybridPower technology is a key feature of Hybrid SLI, allowing you to unleash graphics performance when you need it, or instantly switch gears to a lower power mode from the motherboard GPU for longer battery life and quieter operation. This reduces system power consumption dramatically and extends battery life up to 40% longer on GeForce 9700M GTS GPUs.
NVIDIA PureVideo® HD Technology
Bring the latest Blu-ray movies to life with PureVideo HD technology. Sharp images, smooth video transitions, and vibrant colors are reproduced on the screen using very little power. Integrated with the leading HD movie software players, PureVideo HD does the video decoding, instead of the power-hungry CPU, extending your battery life, reducing fan noise and freeing the CPU for multitasking, so you never miss a scene.
Dedicated Display Interfaces for Every Display
Direct output from GeForce to notebook LCD, HDMI displays, DisplayPort displays, and standard VGA monitors allow you to do your work, play games, or watch movies wherever you like.
NVIDIA nView® Display Technology
You can spread your work across two displays with nView display technology so that you can easily compare information or multi-task with everything in sight.

| | |
| --- | --- |
| Hybrid SLI Technology | |
| Blu-Ray BD Live Support | |
| Vista Premium Support | |
| Processor Cores | 48 |
| Gigaflops | 180 |