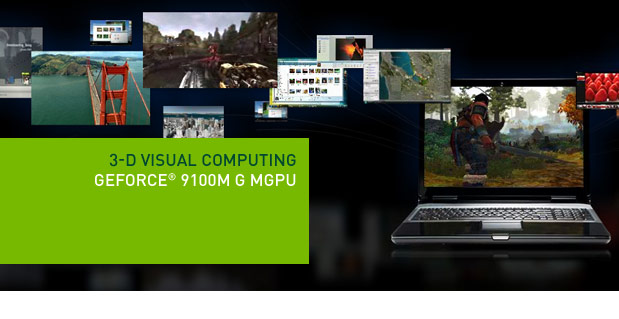 The NVIDIA® GeForce® 9100M G motherboard GPU brings enhanced system performance to the value segment. Enjoy longer-lasting performance while watching a Blu-ray movie or playing the latest DirectX 10 games. Available for AMD and Intel platforms.

The NVIDIA® GeForce® 9100M G motherboard GPU brings enhanced system performance to the value segment. Enjoy a Blu-ray movie with NVIDIA PureVideo® HD. When combined with a GeForce 9M series discrete GPU with Hybrid SLI® technology, system performance level can increase by up to 80%, supporting visually-intense applications and game-play without breaking your wallet. This product is also enabled for CUDA applications.


Get more visual computing everyday and everywhere
Get up to 3x the performance over Centrino 2 notebooks1 with GeForce 94100M G optimized notebook PCs for everyday visual computing, such as high-definition videos or graphically intense applications gives you great long lasting performance.

Home-Theater Quality at Your Fingertips
Advanced NVIDIA® PureVideo® HD engine provides the processing power that you need for premier movie watching on your notebook PC. So, whether you're relaxing at home or on the other side of the world, you can experience picture quality with breathtaking details.

Built-in NVIDIA CUDA processor accelerates next-generation applications and games
Transcode videos to your portable media player faster or experience realism in games or social networking virtual worlds.

Extra Boost of Performance
When combining a discrete GPU (GeForce 9300M GS or GeForce 9200M GS) with GeForce 9100M G motherboard GPU, GeForce Boost technology kicks in for an increase of performance. This results in a higher discrete GPU class performance.

Motherboard GPU
Discrete GPU
Resulting Brand
GeForce 9100M G
GeForce 9300M GS
GeForce 9400M
GeForce 9200M GS
GeForce 9400M

1 – Centrino 2 (Montevina, Intel GM45 chipset. Perf numbers are 3dMark Vantage.

NVIDIA PureVideo® HD Technology
GeForce 9100M G includes a PureVideo HD processor that takes on all the complex and demanding video decode processing, bringing HD video to life while using less power, so you can watch the latest high-definition video unplugged for much longer than with any other solution.
Hybrid SLI® Technology
NVIDIA Hybrid SLI technology delivers multi-GPU benefits when an NVIDIA motherboard GPU is combined with an NVIDIA discrete GPU. With GeForce 9100M mGPU, the essential benefit of this technology is the ability to boost graphics performance with GeForce Boost.
HybridPower™ Technology
HybridPower technology unleashes graphics performance when you need it, and lets you switch gears to a lower-power mode for longer battery life and quieter operation when you don't. This reduces system power consumption dramatically and extends battery life by up to 20% longer.
GeForce Boost Technology
GeForce Boost technology spreads the graphics-processing over both GeForce GPUs (discrete GPU and motherboard GPU) in a Hybrid SLI notebook, increasing gaming performance up to 80%.
NVIDIA MediaShield™ Storage Technology
NVIDIA MediaShield technology provides easy access and safeguards your most important digital media assets -- reliably and scalably. In notebooks with more than one hard drive, you have the option of saving data on both drives for real-time, safe backup of all your data or you can stripe data across both drives for ultimate performance.
NVIDIA PowerMizer® System Extensions
The dedicated PowerMizer microcontroller constantly monitors application and device activity to turn devices on when needed and put them back to sleep when not in use. Microsecond responsiveness delivers power savings without adversely affecting performance.

| | | |
| --- | --- | --- |
| | INTEL | AMD |
| GPU Engine Specs: | | |
| Processor Cores | 8 | 8 |
| Gigaflops | 26 | 26 |
| Texture Fill Rate (billion/sec) | 3.6 | 3.6 |
| Memory Clock (MHz) | DDR2 800 | N/A |
| NVIDIA PureVideo® Technology | | |
| NVIDIA PhysX™-ready | | |
| NVIDIA CUDA™ Technology | | |
| HybridPower™ Technology | | |
| GeForce Boost | | |
| Microsoft DirectX | 10 | 10 |
| OpenGL | | |
| Certified for Windows Vista | Vista Premium | Vista Premium |
| NVIDIA PowerMizer | | |
| SATA Speed Type | SATA 3 | SATA 3 |
| Maximum Digital Resolution | 2560 x 1600 | 2560 x 1600 |
| Maximum VGA Resolution | 2048 x 1536 | 2048 x 1536 |
| Standard Display Connectors | DVI, HDMI, DP, VGA | DVI, HDMI, DP, VGA |