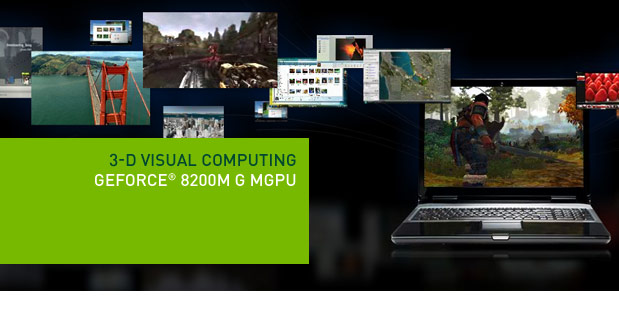 The NVIDIA® GeForce® 8200M G motherboard GPU brings enhanced system performance to the value market. Enjoy longer-lasting performance while watching a Blu-ray movie or playing latest DirectX 10 games. Available for AMD and Intel platforms.

The NVIDIA® GeForce® 8200M G motherboard GPU brings enthusiast features with longer battery life to the value market. Best-in-class high def video and audio provide eye-popping movie enjoyment with a Dolby surround-sound experience, while proven DirectX10 capabilities lets you play the latest games – all without breaking your wallet.


Visual computing everyday and everywhere
Optimized notebook PCs for everyday visual computing, such as high-definition videos or graphically intense applications gives you great long lasting performance.

Home-Theater Quality at Your Fingertips
NVIDIA® PureVideo® HD engine provides the processing power that you need for premier movie watching on your notebook PC. So, whether you're relaxing at home or on the other side of the world, you can experience picture quality with breathtaking details.

Balancing Performance and Battery Life
Various technologies such as PowerMizer® SX or SmartDimmer™ help monitor your system to maximize performance or battery life.
NVIDIA PureVideo® HD Technology
The GeForce 8200M G includes a purpose-built, 1080p, high-definition video processor core that brings the latest Blu-ray to life. Sharp images, smooth video transitions, and vibrant colors are reproduced on the screen using very little power. Integrated with the leading HD movie software players, PureVideo HD does the video decoding, instead of the power-hungry CPU, extending your battery life, reducing fan noise, and freeing the CPU for multitasking, so you never miss a scene.

High-Definition Digital Display Outputs
The GeForce 8200M G mGPU full support for HDMI allows you to connect to an HD 1080i HDTV or other HDMI display and view the latest Blu-ray movies.

High Performance Storage, High Definition Audio, Networking and USB
GeForce 8200M G packs more than just a leading edge GPU into a small package, it also includes high performance processing for the latest standards in SATA storage, high definition audio, gigabit networking, multiple USB 2.0 ports, PCI Express 2.0, and other peripheral options for a small, lightweight solution with centralized power management control. All the essentials for a fully-featured notebook can be found in GeForce 8200M G.

| | | |
| --- | --- | --- |
| | INTEL | AMD |
| GPU Engine Specs: | | |
| Processor Cores | 8 | 8 |
| Gigaflops | 19 | 19 |
| Texture Fill Rate (billion/sec) | 3 | 3 |
| Memory Clock (MHz) | DDR3 1066 / DDR2 800 | DDR3 1066 / DDR2 800 |
| NVIDIA PureVideo® Technology | Partial | Partial |
| NVIDIA Pure Video | PVHD | PVHD |
| NVIDIA PhysX™-ready | | |
| NVIDIA CUDA™ Technology | | |
| HybridPower™ Technology | | |
| Microsoft DirectX | 10 | 10 |
| OpenGL | | |
| Certified for Windows Vista | Vista Premium | Vista Premium |
| NVIDIA PowerMizer | | |
| SATA Speed Type | SATA 3 | SATA 3 |
| Maximum Digital Resolution | 2560 x 1600 | 2560 x 1600 |
| Maximum VGA Resolution | 2048 x 1536 | 2048 x 1536 |
| Standard Display Connectors | DVI, HDMI, DP, VGA | DVI, HDMI, DP, VGA |